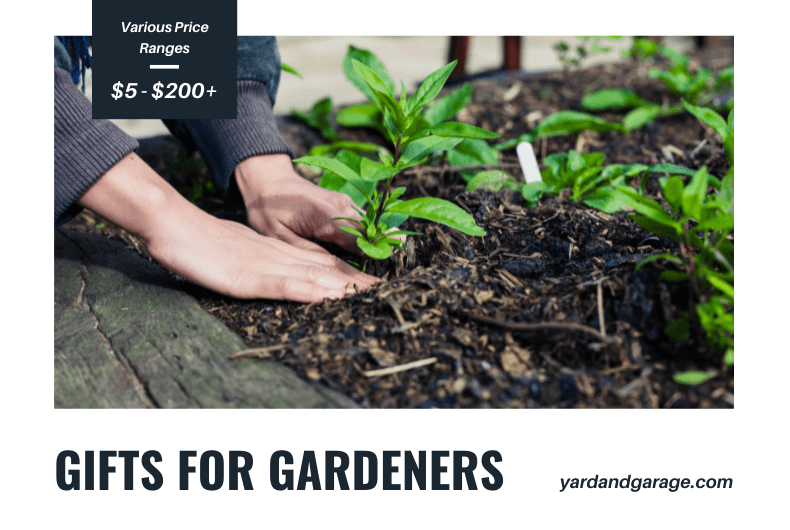 Disclosure: This post contains affiliate links. If you click through and make a purchase, I'll earn a commission, at no additional cost to you. Read our full disclosure here.
The garden is where life can flourish, and some people love working in their yard or garden so much, they'd spend more time outside if it weren't for the weather. However, not everyone knows the ins and outs of gardening and are hard to shop for.
People who like yard work want tools that are handy and understand that a lot of planning goes into how one builds their backyard before the project ever comes to fruition.
Listed below are 39 awesome gift ideas for the gardeners in your life:
1. Exotic Vegetables Growing Kit

Experimenting with the exotic vegetables growing kit (Amazon link) can add so excitement to the traditional gardening routine.
The kit includes five unusual vegetables: black corn, purple carrots, rainbow Swiss chards, romanesco broccoli, and yellow cucumbers. A detailed gardening guide, potting soil discs, biodegradable potting plants, and plant labels also come included.
This kit provides a general planting experience for kids as well as adults and can be used for indoor or outdoor planting.
---
2. Heirloom Vegetable Seed Kit

Sometimes the most practical gifts are the most desirable. Planning for the spring quite often means having seeds germinated while the ground is still warming. This heirloom vegetable seed kit (Amazon link) comes with 32 types of garden vegetable seeds: tomato, corn, cucumber, radish, broccoli, pepper, carrot, lettuce, onion, and celery.
Included in the bag of 15,000 seeds is a handy growing and seed-saving guide.
---
3. Seed Keeper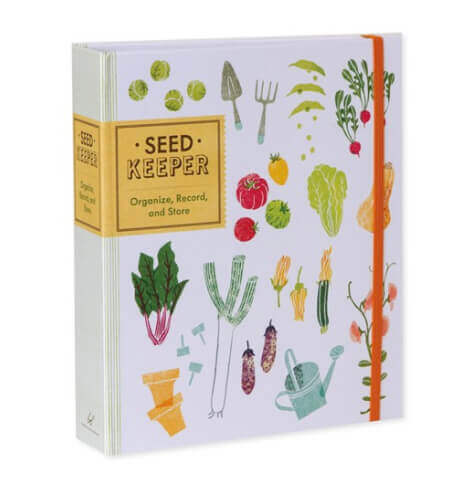 Collected seeds need a place to be stored, and seed keepers can help get those seeds organized before the spring.
This seed keeper helps keep the gardener organized throughout the seasons while providing space to keep notes on planting dates, weather conditions, and other important details. The keeper is hardcover, wire-bound, and contains twenty seed packet holders of two different sizes.
The Kraft paper envelopes have die-cut windows so gardeners can glance through their collection more efficiently.
---
4. Well-Tended Gardener's Kit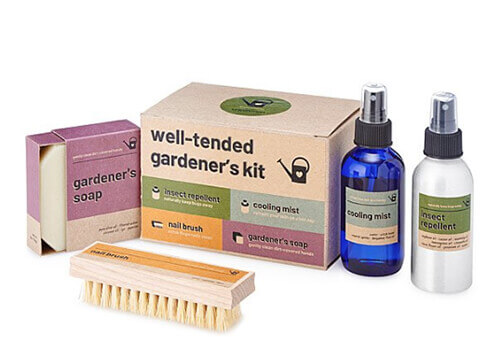 Tending a garden can be hard work, and the labor can take its toll on the body. This well-tended gardener's kit is ideal for anyone working hard in the garden.
This kit includes accessories like bug spray, cooling mist, a bar of pumice soap, and a nail brush made of vegetable-fiber for dirt removal. All the products in this kit are made from all-natural ingredients.
No matter how large the garden, this kit could make a great gift for this Christmas.
---
5. Nutscene Jute Twine (Lots of useful ideas from this)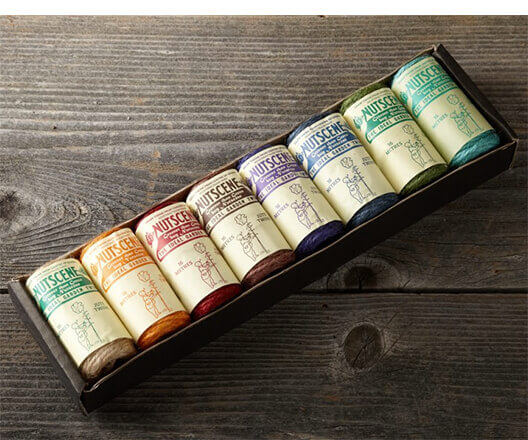 Another low-priced buy but practical gift to aid hard work in the garden is twine. Twine can be used to make many small adjustments all over the garden, and this Nutscene jute twine collection of colorful twine may awaken some new uses.
Each spool contains fifty inches of biodegradable twine which can be used outdoors to do things like support plants and even indoors to help with household tasks.
The soft yet strong texture of Nutscene's twine makes it a preferred brand.
---
6. The Waterfall Rain Gauge by La Crosse Technology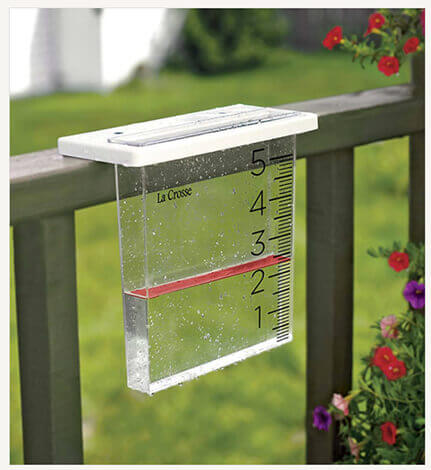 Picking up on daily differences is important to any gardener. A rain gauge can be a great addition to the backyard. The waterfall rain gauge is inspired by a cascading waterfall.
This rain gauge features large print and an easy-to-read red floating rain level marker. It can measure up to five inches of rainwater, and it is easy to empty and clean. This hanging rain gauge can be kept on the deck or porch, and due to its design, it can also be read from a distance.
---
7. Snow Gauge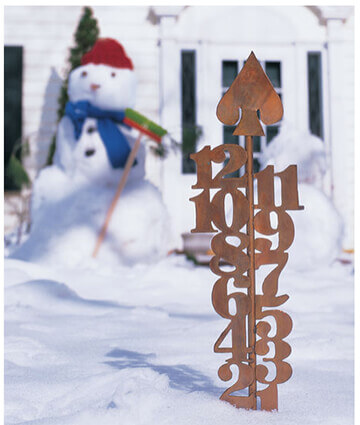 Like rain gauges, snow gauges can help give us an idea of what the weather has in store for us and our backyard. This copper-plated snow gauge measures up to two feet of snow.
The copper frame ages into a classic verdigris patina, and each curved number is easy to read at two inches tall. Perfect for the coming winter, this snow gauge is easy to read from the window before venturing into the cold.
For those who expect more than two feet of snow at a time (easily), two-foot extensions are sold separately.
---
8. Shiitake Mushroom Log Kit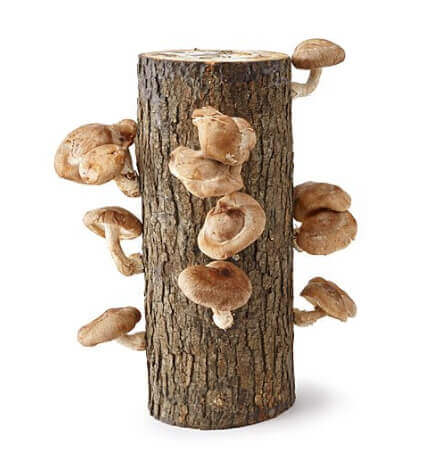 For gardeners who like dabbling in more than the traditional fruits and vegetables, a mushroom kit could be a delightful surprise. A shiitake mushroom log kit can provide educational value for those broadening their knowledge of the natural world while collecting shiitake mushrooms for up to three years.
These smoky-flavored mushrooms can be harvested about every six weeks. The early beginnings of spring might be the perfect time to start such a project since the spore-covered log must be stored in a cool, damp place.
---
9. FarmSteady Foraging DIY Kit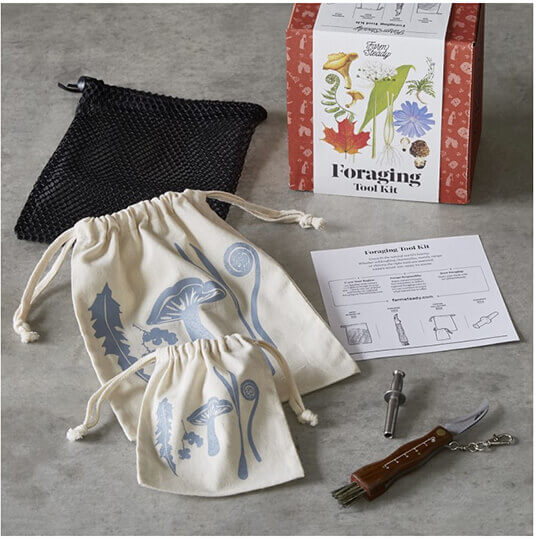 Knowing the garden is only one part of knowing nature. Knowing the environment outside of what is planned and planted helps in understanding the natural world a little better. The FarmSteady foraging DIY kit is sure to ignite the spirit of country adventure this Christmas.
The kit comes with a mesh bag that ventilates stored food, one small and one large canvas bag to contain edibles, a sugaring spile to collect and contain the sap of maple trees, and a foraging knife made of stainless steel and rosewood.
---
10. Kitchen Composter (Make black gold in the Kitchen!)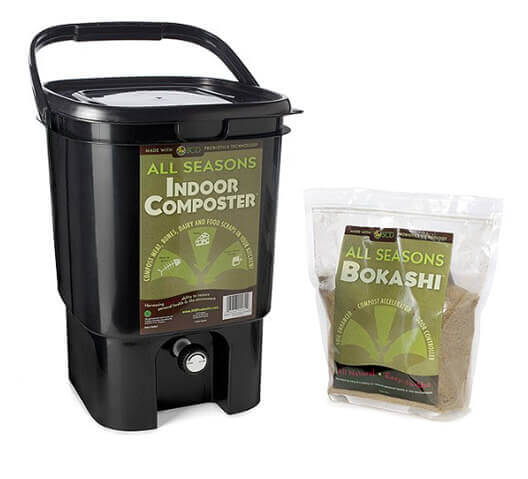 Among all the preparations of the winter is gathering food for the soil which will be growing more food (or at least providing a green carpet for the yard). Composting can be a great way to save money and practice green habits.
The kitchen composter has an air-tight lid which helps contain the odors of a few weeks worth of compost, holding about five pounds of waste.
The composter comes with a one-gallon bag of bokashi (compost starter; refills are available). The compost replaces the freshest soil within about one month.
---
11. Compost Aerator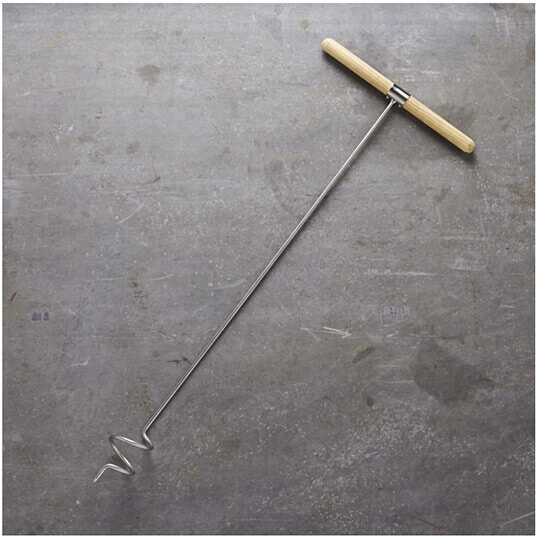 Winter is a great time to start composting if the process hasn't already begun. When compost is decomposing, it is odorous. Aeration helps to prevent odors (which helps with pests), and using this pine-handled compost aerator will also help speed along the decomposition.
The shaft is nearly four feet long and made of corrosive-fighting stainless steel. For those involved in recycling organic matter, composting for the spring will be made easier and more efficient work with a compost aerator.
---
12. Pulaski Ax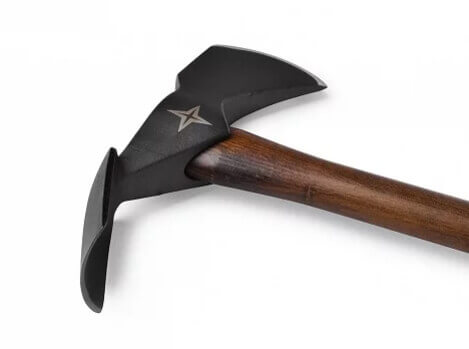 Perfect for handymen and those splitting wood, the Pulaski ax is made of 1055 carbon steel and a beech wood handle. A steel pommel (for hammering and trenching) is featured at the base of the 21-inch handle.
The horizontal mattock blade stays sharp. The ax only weighs about six pounds and has a removable hex nut for easy handling.
The ax also comes with a hex key and leather sheath (for storage). This tool requires little maintenance, mainly just to clean it with a damp cloth.
---
13. Tree of Life Hose Holder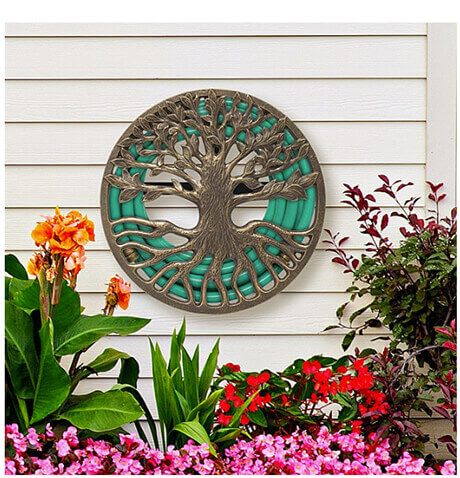 Keeping a tidy yard is on every gardener's agenda. This tree of life hose holder helps keep the garden hose collected, untangled, and ready for use.
This handmade piece also acts as a reminder that all garden life depends on water. Designed from bronze, this hose holder is stylish and easy to install.
This gardening gift serves a purpose while adding a little personality to the side of the house, garage, or garden shed.
---
14. Vremi Nine-Piece Garden Tools Set

Eventually, a gardener gathers too many tools to carry (by hand) at one time. The Vremi garden tool set (Amazon link) comes with an organizing carrier bag that contains six rust-resistant aluminum hand tools with comfort grip handles.
A trowel shovel, weeder, spade, pruning shears, rake hoe, and cultivator tool is included. The carrier bag has eight exterior pockets and a large interior for tools, a watering spray bottle, gardening gloves, and any other tools the gardener can add to this nearly all-inclusive tool tote.
---
15. SwitchStik Interchangeable Tool System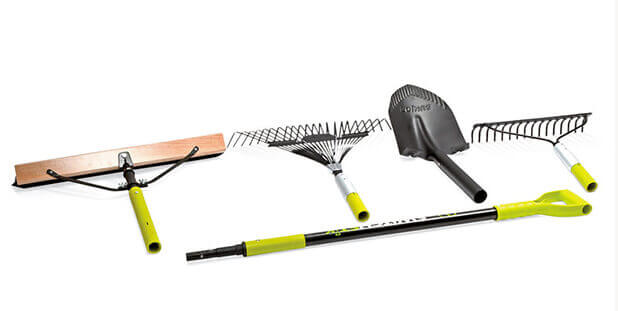 Gardeners require a lot of tools; those tools take up space, so it would be a big help to save them space while providing them with a good set of tools.
The SwitchStik interchangeable tool system includes a fiberglass handle, about three and a half feet long, and a quick release system that makes changing attachments easier.
A rake, garden rake, shovel, and broom end come in this set with hanging hardware (to save more space).
---
16. Pocket Pruner Multi-Tool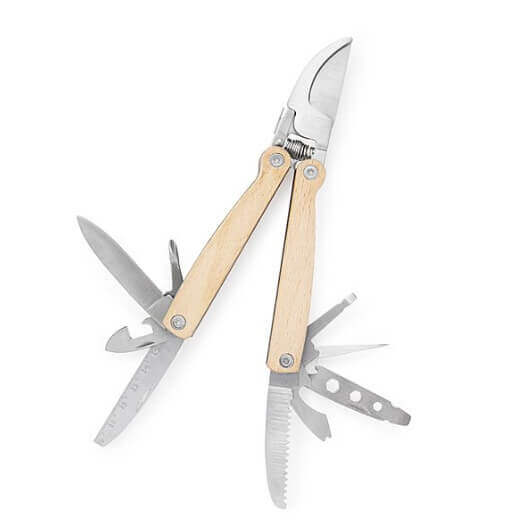 Having many tools in one accessible unit could save time and help productivity. Made of beech wood and stainless steel, this pocket pruner multi-tool includes a small set of blades, screwdrivers, a file, ruler, wrench, awl, and can opener.
This multi-tool is also a great help to campers who don't want to risk losing a bunch of tools. Having only one piece to remember makes it harder to forget.
---
17. Pocket Trowel Multi-Tool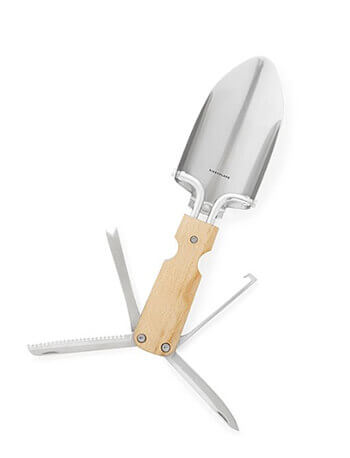 Pocket-sized multi-tools are perfect gifts for the handymen of the world. Often times gardeners tend to their plants when they're not really working in the garden (for there's always work to do in the garden).
This pocket trowel multi-tool is fashioned from beech wood and stainless steel and features a trowel, pruning knife, root remover, weeder, and saw.
This multi-tool could be a great gift for those who want easy access to many tools but don't want to sacrifice the space it takes to contain so much equipment.
---
18. Wooden Garden Trug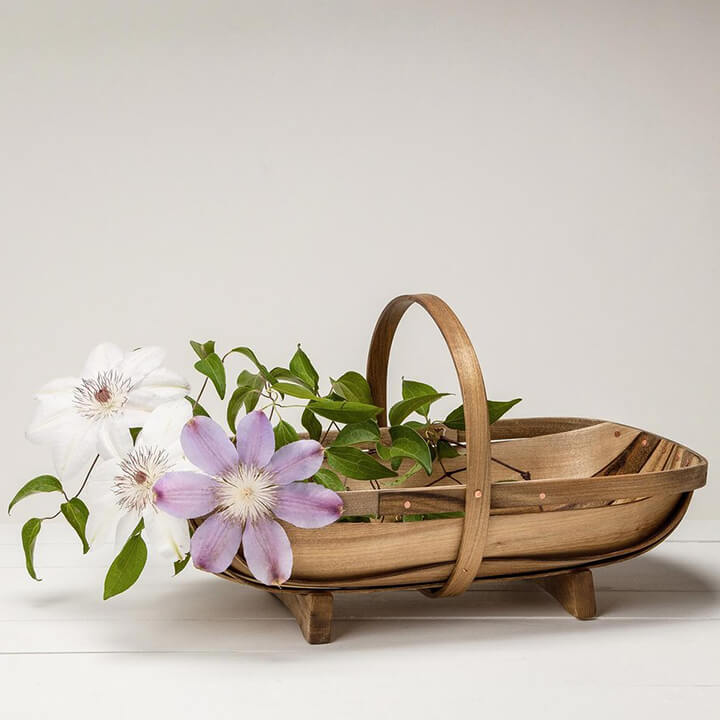 If your gardener loves to gather vegetables or flowers, a trug is a super-chic accessory.
These baskets are handmade in the US and made from myrtlewood with beautiful copper fasteners. It comes in two sizes so whether you are bringing in root vegetables or long-stemmed roses, you will be able to find one that suits the gardener in your life. It can even serve double-duty as a table centerpiece.
These trugs are made by a former boat builder so they should last decades.
---
19. Collapsible Outdoor Folding Wagon

For larger projects, larger contraptions can help efficiency. The collapsible outdoor folding wagon (Amazon link) can be quickly assembled and weighs less than twenty-five pounds.
Although it is so lightweight, this collapsible wagon can hold up to 150 pounds. It can be easily cleaned and stored inside its carry case and no assembly is required.
Two mesh cup holders keep drinks while hauling gear for whatever event, within or outside the garden.
---
20. Paper Pot Maker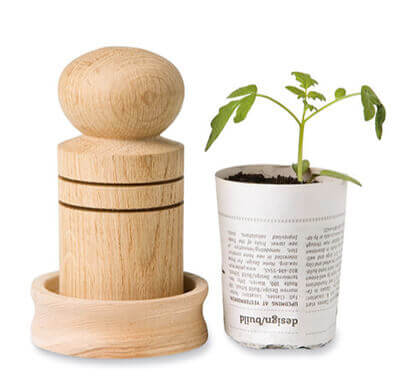 Supplying pots for the garden can get costly. This paper pot maker can make pots from newspapers in moments. The half-foot tall, solid oak device produces seed starting sized pots for thrifty gardeners.
These pots are biodegradable and can usually be planted directly into the ground. One piece of newspaper can produce a few biodegradable pots.
This pot maker is the perfect gift for eco-friendly gardeners looking to help the environment or save some time and money on potting plants.
---
21. Fish Out of Water Gardens Stakes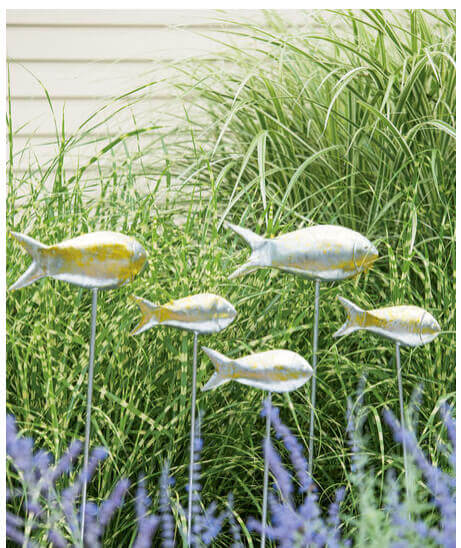 People want eye-catching ornaments decorating their gardens. These steel sculptures come in a set of five, two large and three small. The metallic finish is applied by hand and reflects the sunlight, drawing attention to the garden while adding a little personality.
The fish out of water garden stakes hover in tall grasses, around the perennials, or even above the water.
The stakes holding fish out of water are one-inch thick and weatherproof.
---
22. Gardener's Log Book: A 5-Year Planner

Staying organized is important for any dedicated gardener. Keeping a gardener's log book (Amazon link) can help keep the outdoors in order while recording mistakes alongside successes.
This five-year planner can be a great long-term learning tool to help the gardener grow as a person. The logbook is waterproof and contains years worth of grids for documenting what is planted, useful reminders for each season, and appendices providing common information on gardening tasks like pruning, composting, and container gardening.
---
23. Down the Garden Path by Beverly Nichols

Since the holidays are right around the corner and the cold will have us committed to some neglected indoor activities – like reading. Down the Garden Path (Amazon link) is a gardening classic, though it isn't focused on unloading a wealth of knowledge on the reader.
Nichols wrote this book as a newcomer to gardening, and it has withstood the test of time. The timeless book is centered around the underlying emotional aspects which find expression in the garden.
---
24. A Gentle Plea for Chaos by Mirabel Osler

A Gentle Plea for Chaos (Amazon link) is another book which gardeners can relate to while they await the spring.
Osler shares snippets of wisdom from memorable gardening philosophers. She also writes of the alchemy of gardens and information left behind by nineteenth-century plant-collectors and plant illustrators.
This book is lively and funny, focused on the journey from thinking like a collector of the material to obsessing over the life growing (and dying) in the garden.
---
25. Recycled Metal Ostrich Planter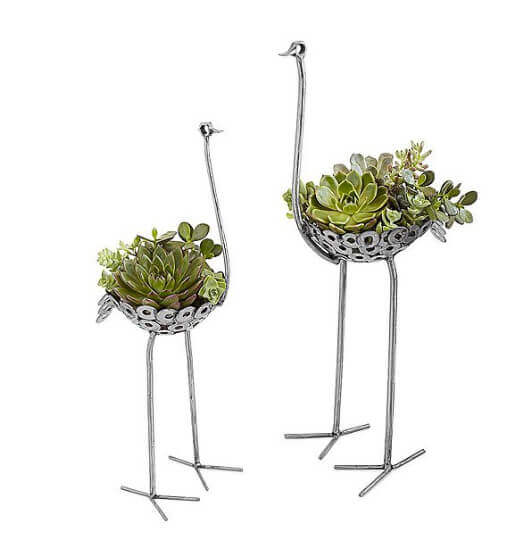 Planters add personality to the garden while providing a home for a special plant or a couple of plants. These recycled metal ostrich planters come in a variety of sizes and can be used to host one or many succulent plants.
These planters can be used for inside and outside plants and come in the hanging basket or floor model variety. Made from recycled materials, these handmade planters are welded from scrap metal pieces and will all vary slightly in design, unique for each owner.
---
26. Glass Greenhouse Christmas Gift Ornament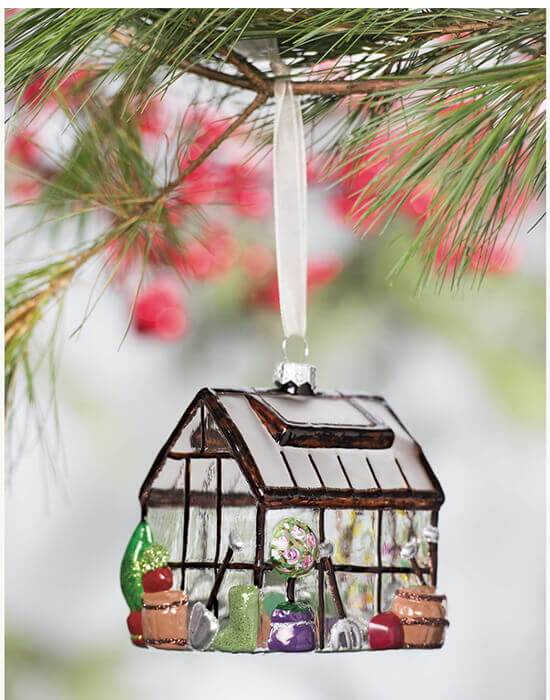 For those flush with Christmas spirit, more personalized Christmas ornaments are always are a heart-warming gift. This glass greenhouse Christmas ornament is personalized for those who love working in their garden (maybe even their greenhouse).
Made of hand-painted, blown glass and ribbon, the ornaments details (like the frosted roof) are gentle reminders of the short rest before the abrupt coming of spring.
---
27. Smoked Oak Candle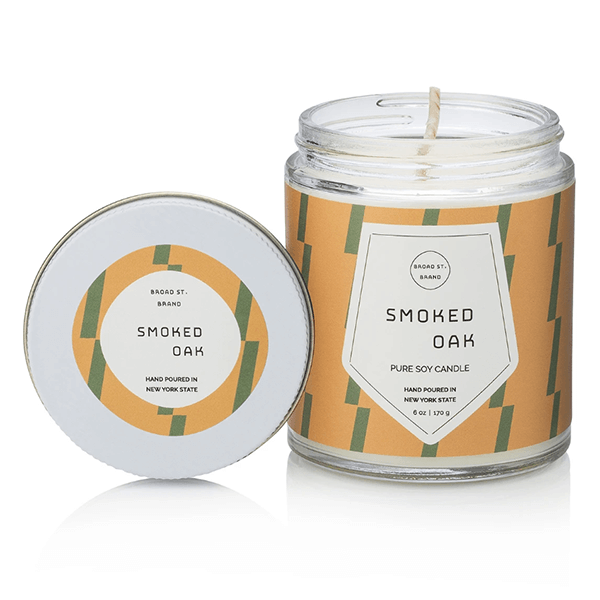 Gentle reminders, like a smell, take us back to our past experiences while we plan to make more. The Burke Decor Smoked Oak candle burns a rich and multi-layered smell and does so for approximately sixty-five hours depending on the size you select.
This candle is made using a deep mahogany and oak base with a hint of tobacco. Other woodsy scents are available using combinations of Japanese black pine and cedar or sandalwood and cardamom.
---
28. Birdseed Wreath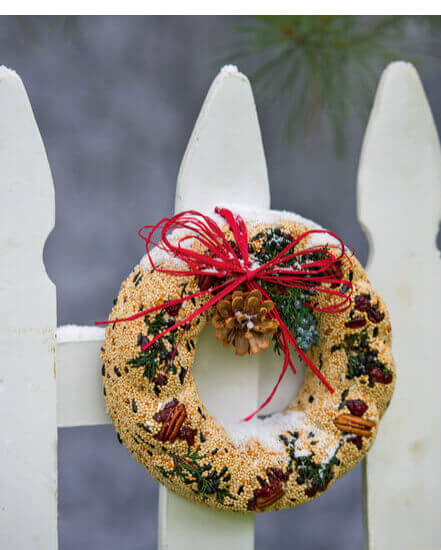 Wreaths are a Christmas favorite, and a birdseed wreath puts a unique twist on wreath design for those who love being different (and for those who don't want to store or throw away their wreaths once the holiday season ends).
If a gardener in your life glows with holiday spirit and simply loves feeding the birds, this birdseed wreath might be ideal.
It has an eight-inch diameter and is decorated with a raffia bow and pine cone.
---
29. Birdseed Cottage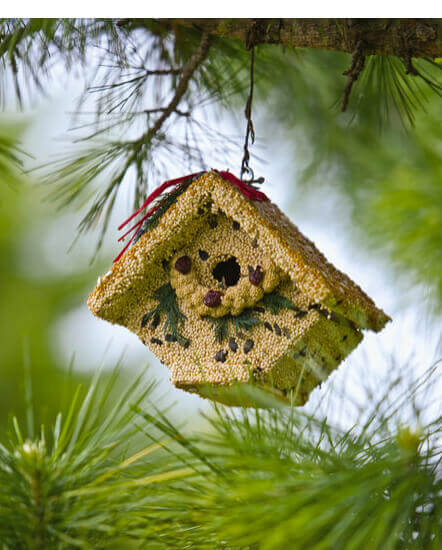 Similar to the birdseed wreath (though without the Christmas-feel), this birdseed cottage is made primarily of birdseed. Cranberries and juniper berries are also contained within the mixture.
Unlike the wreath, the birdseed cottage can be reused. Birdseed can be reapplied to the wooden house contained within the first layer.
Peanut butter and birdseed can be used to coat the cottage once it is stripped clean, and all the while it can provide shelter to feathered friends.
---
30. Red Squirrel-Proof Birdfeeder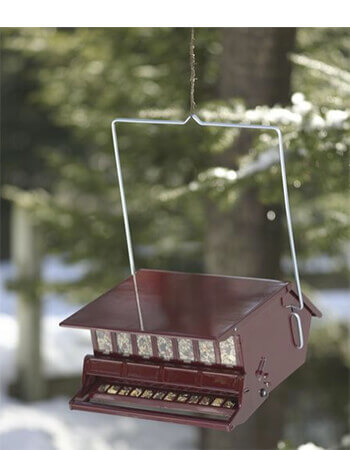 For those who want to feed the birds, but don't want squirrels stealing all the feed, this squirrel-proof bird feeder may be more ideal than a birdseed-covered cottage (though it doesn't do much for shelter).
The perch closes off access to the seed when creatures heavier than birds try to get a snack from the feeder.
The weight settings can be adjusted to keep squirrels and larger birds from eating from the nine pounds of birdseed this feeder can contain.
---
31. Stacking Solitary Bee Hive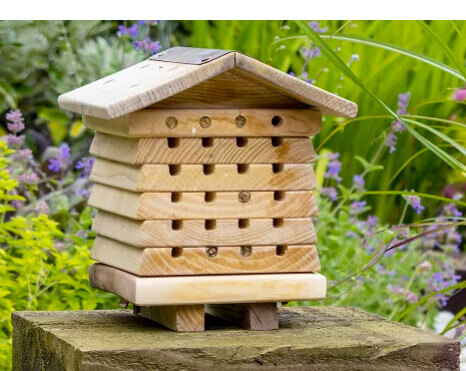 Some of the best guests for a garden are bees. They pollinate fruits, vegetables, and flowers while they're there. Made of timber wood, the stacking solitary bee hive is designed to attract non-swarming bees.
This makes it safer for the family to enjoy the yard while the bees enjoy pollinating the plants. The stack-able hive is light in weight, but the wood is naturally durable.
Having a beehive in the backyard also provides the opportunity to educate others on the usefulness of bees.
---
32. Flamingo-Away Sculpture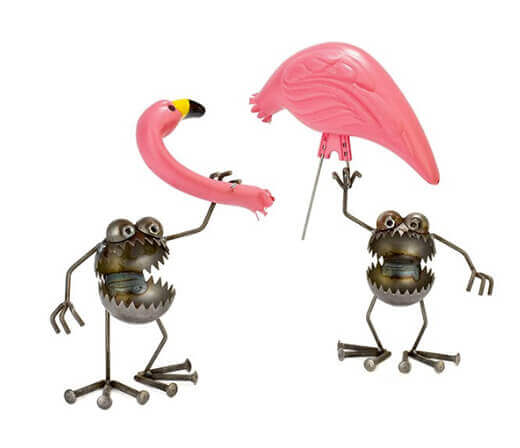 For those with a sense of a humor, this flamingo-away sculpture is hand-crafted from both new and recycled parts.
The sculpture features two goofy-looking creatures, each holding pieces of a broken flamingo. The image is quite striking and is sure to grab the attention of the neighbors and many passers-by.
Pink flamingos will never again invade the yard with these humorous little critters guarding the garden against pesky, brightly-colored birds. For even more unique garden decorations, check out our page on cool garden gnomes.
---
33. I Just Wet My Plants Shirt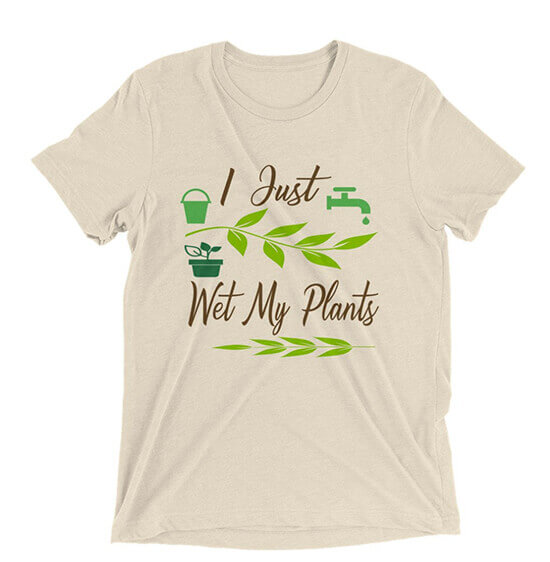 Passionate gardeners like to share their passion outside of their gardens. This shirt features the phrase, "I Just Wet My Plants."
This gardening pun t-shirt is made of polyester, cotton, and rayon and is available in sizes XS to 3XL. The fabric is durable, and it is a comfortable fit. For those who have a sense of humor, this shirt could provide an opportunity to laugh while indulging in some garden news or recent growing projects or experiences.
---
34. Firebuggz Marshmallow and Hot dog Fishing Pole Fire Roaster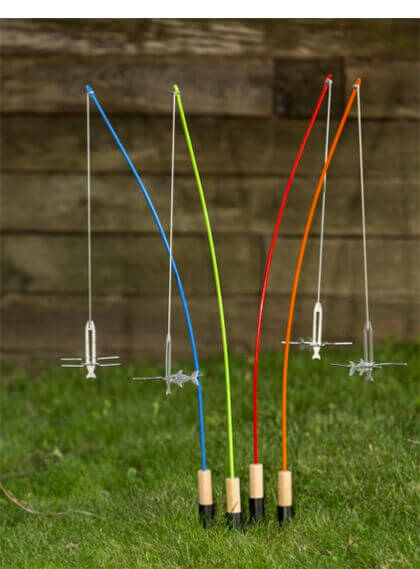 Gardeners have a love for the outdoors that usually includes the camping lifestyle. Roasting marshmallows and hot dogs are among other traditional camping activities.
This fishing pole fire roaster holds two hot dogs or four marshmallows (or one hot dog and two marshmallows) while someone dangles it over the campfire.
The rod can be jigged to flip the cooking food–this can make for a more even roasting. Firebuggz puts a spin on roasting wieners on a stick that is unique and fun, perfect for camping, hiking, or just hanging out in the backyard.
---
35. BBQ Grill Tool Set

Enjoying the yard and garden is always better with food. This BBQ grill toolset may not be the gift garden lovers expect, but it's surely a gift all can appreciate (at least all those who enjoy grilling).
This grill tool set (Amazon link) comes with an aluminum case and each tool is made from stainless steel and has heat-safe handles.
Great for Christmas, this sixteen-piece set includes a Swiss knife, corn holders, spatula, tongs, basting brush, cleaning brush, and skewers.
---
36. Bug Repellent Slap Bracelet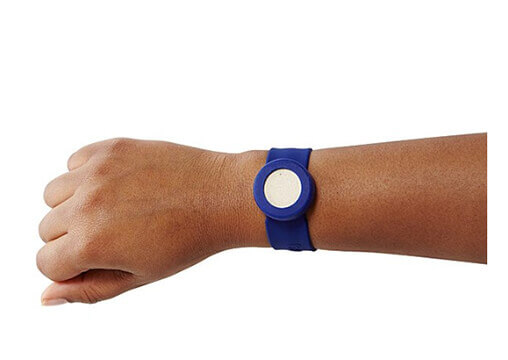 Nature is something we all enjoy, though none of us enjoy all aspects of it. People need to protect themselves in the garden, sometimes from larger animals but almost always from insects.
The bug repellent slap bracelet is easy to use and is made to fit everyone. The face of the bracelet includes a compartment for citronella. The citronella comes included.
The bracelet is designed to be worn on the wrist or the ankle and is sure to keep the bugs away while one enjoys the outdoors.
---
37. Mosquito Repellent Bath Soap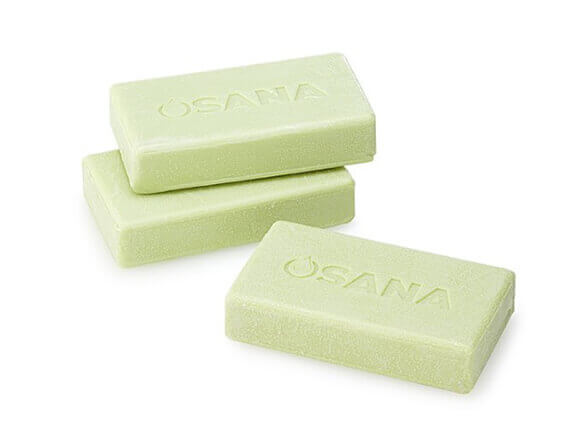 Most don't spend every day in the garden; however, there are times people spend almost a whole day in the garden. For those days, and days they'll be outside more than inside, this mosquito repellent bath soap is ideal.
Unlike most bug repellents, this mosquito repellent soap is made from nontoxic, natural ingredients like citronella and menthol leaf extract. This soap can be used every day and is maximally effective after three days of use.
---
38. Cottage Garden Board Game

For those who love playing games while they anticipate the spring, the Cottage Garden (Amazon link) board game can make for a delightful reminder of what work and growth awaits.
Cottage Garden is based on a game called Patchwork, but Cottage Garden involves more players and gameplay. Players can even play alone. The goal is to fill empty beds with plant pots and planting bells to earn points and a fresh gardening bed.
---
39. Do Good Cotton Hammock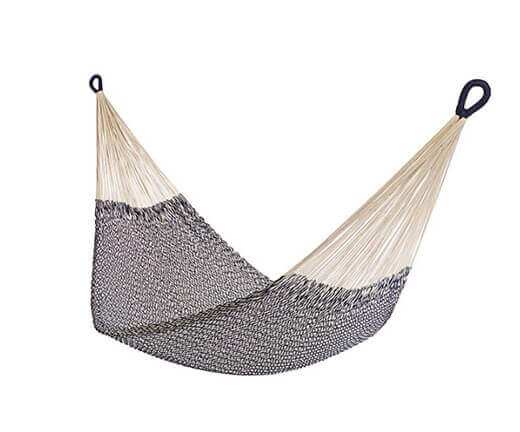 After a hard day's work in the garden, it can be nice to kick back and enjoy a brief rest. This do good cotton hammock is hand-woven from three miles of soft cotton cord. This hammock can support four-hundred pounds of weight and is built wider to contain two people in a sitting position.
The tote bag that comes with the hammock is made from weather-safe canvas. Additionally, sales help support the Mlabri people of Thailand who take about a week to hand-craft one woven hammock.
---
40. Bronze Plant Stands Set

Most gardeners are always on the lookout for additional stands to display their creations. These three-tier plant stands feature a checkered pattern and scrolled legs.
Imagine your gardener's delight as they expand their showcase of beautiful potted plants.
---
41. Rolling Gardening Seat & Cart

Show your gardener that you care with this wonderful rolling garden cart. No more aching back and knees thanks to an adjustable seat that also swivels.
It also comes with a handy basket so that they keep their garden tools close at hand.
---
42. DIY Converting Bench Table

Multi-purpose items make for interesting finds, and the DIY converting bench table (Amazon link) serves two purposes while granting a project.
A flip top bench at first, this piece of unique furniture converts into a table and back in moments. Two bench tables can be used to make a full-sized picnic table. Unfortunately, this kit will require one to install their own 2x4s.
However, if someone is willing to make the investment, this bench table can make for a useful and durable addition to the backyard furniture.
—
We hope you've enjoyed our list of gardening gifts perfect for the holidays, birthdays, retirement or whatever!
Whether it's a gift for your gardener, or to get them interested in doing more yard work this season, we're sure there is something on this list that will please just about anyone.
Now go and buy something before they run out of stock!