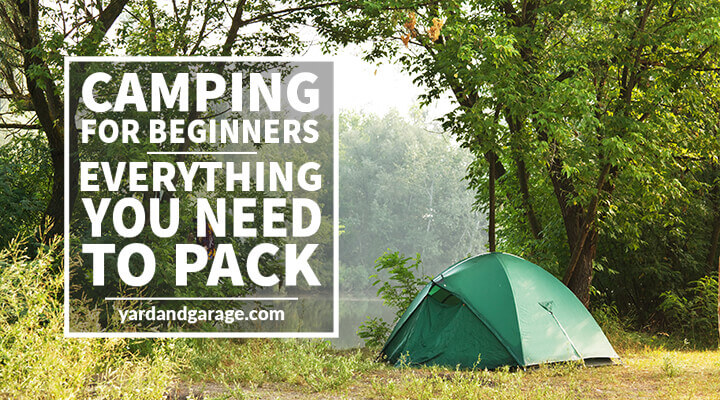 City people often long to get out of the city, away from the daily grind, noisy traffic, and non-stop activity. They want to get out in the woods to enjoy a camping adventure with their family and friends.
Everyone can breathe in the fresh air, go for a walk in nature, swim in the lake and sit around the campfire roasting marshmallows. It's a perfect way to spend a few nights, for the well-prepared.
Here are a few of the best tips for beginning campers on what you need to pack that will lead to a fun, and safe camping trip:
Necessary Supplies
There are a few supplies that make a camping trip both comfortable and survivable.
The kid's (or fur baby's) favorite stuffed toy, or a special pillow.
Necessary medications to last the duration of the trip.
Insect repellent and sunscreen.
A first-aid kit.
Baby wipes, toilet paper, and paper towels.
Drinking water.
Shelter
Having some shelter from the elements is essential. The most basic tent will do the job, so long as it is sturdy enough to stand up and large enough for everyone.
The easiest type of tent for a beginner is a pop-up style dome tent.
Tents made of rip-stop nylon are lighter and easier to put up than a canvas tent.
Tents with a removable rain fly allow proper ventilation plus rain protection.
Bedding
Sleeping on the hard ground doesn't sound appealing, especially for someone with back troubles. There are a variety of ways to overcome the problem.
Air mattresses come in a variety of sizes, from twin up to queen size and are a great way to pad the sleeping area to avoid backaches.
Simple pool mattresses also work well in a pinch, and they are available at dollar stores everywhere.
Sleeping bags are great, but blankets and sheets work just as well.
Hammocks are another popular option for those who like to sleep under the stars.
Cookware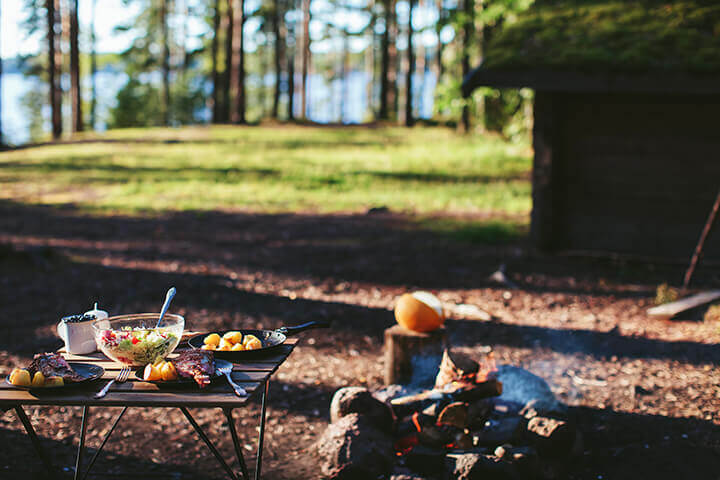 It's not necessary to pack an entire gourmet kitchen full of tools and equipment to cook great meals outdoors. Just a few items will do the job:
A heavy cast iron frying pan, stainless steel pots and pans, a few knives, cutting board, and a spatula will get most of the cooking done.
Heavy aluminum foil is great for lining the grill, or for making packets to cook on the fire.
Pot holders and a kitchen towel or two also come in handy for food prep and clean-up.
Dishes and Silverware
Most people don't want to wash dishes while they are out camping, but it's the most environmentally friendly.
Sturdy paper plates and a box of plastic utensils are the tools of choice for campsite meals.
Always dispose of paper products properly in designated trash cans.
For the eco-friendly, a small bottle of dish soap and plenty of water is a better option.
Food and Beverages
Being stuck in the woods at a campsite is no time to be experimental, and camping is hungry work. It's best to pack only the things that the people camping will use.
Basics like eggs, sugar, coffee, bread, peanut butter, and pancake mix are excellent.
Raw meat should be stored separately from both cooked products and other fresh items.
Canned items last longer than fresh items.
Fresh drinking water is imperative, at least one gallon per person, per day, is optimal.
Appropriate Clothing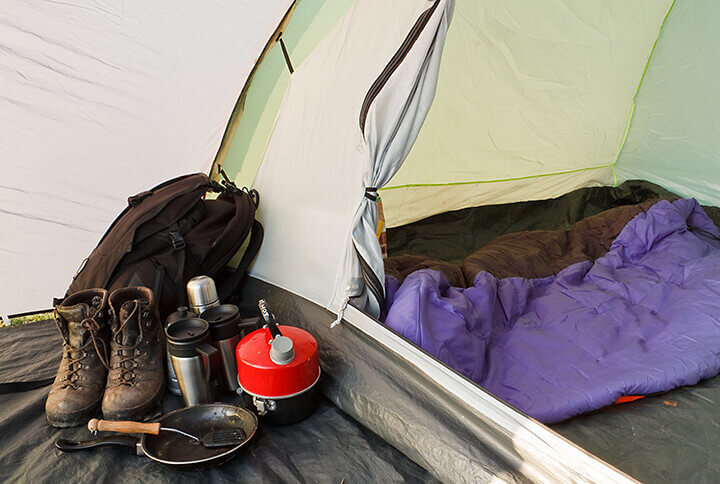 Nature likes to play tricks on campers and surviving a camping trip means being prepared for anything, no matter what the weatherman says. Smart campers make sure they have options:
Sunscreen, swimsuits and towels, shorts and tank tops for the sunny days.
A pair of long pants, a warmer shirt, light jacket, socks, and shoes, just in case it gets chilly.
Rain jackets, or ponchos, in the event of rain.
Personal Items
Most of the time, campgrounds have shower facilities, and sometimes even a place to do laundry. A hot shower can make all the difference between a fun camping trip and a disaster.
Soap, shampoo, and oral care products, in sample sizes, are great to carry along.
A hairbrush, dry shampoo, deodorant and a package of baby wipes will do the job if there isn't a shower available for a couple of days.
Baking soda and white vinegar make for excellent, natural laundry products on the road.
Creature Comforts
A campsite doesn't have a big-screen TV and cozy recliner in which to relax. For total comfort, most campers take along a few pieces of portable furniture.
Lounge chairs, a small fold-up table or bucket with a lid, cover the seating needs.
A stand-alone canopy helps create a shady place to sit, and a protected area to cook and eat.
For die-hard tech addicts, who can't leave home without a device or two for entertainment, some campsites have electric hook-ups.
Basic Tools
It's essential to carry a couple of basic tools to pull this camping thing off successfully. A small crate or box should hold everything needed for an average camping trip.
Hand tools like a good knife, hatchet, small rake, and a mallet will go a long way.
Duct tape is suitable for fixing the tent and putting all kinds of stuff back in working order.
A tarp at least as big as the tent and another for back-up are also essential.
Setting Up Camp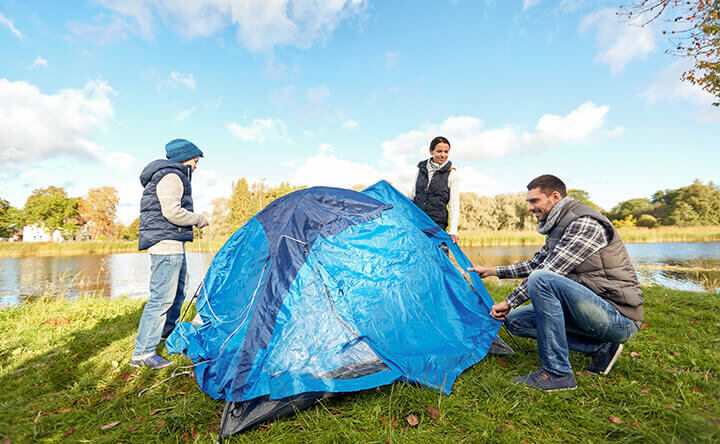 Packing up and hitting the road is only part of the adventure of camping. Upon arriving at the campground, several steps must be taken to prepare and secure the campsite.
Prepare the Site
Walk the site and clear out any rocks and stones, tree debris like branches, twigs, pine cones, nuts, and bark.
Set aside all those pine cones and dry sticks aside, they make excellent tinder for a fire.
Determine which direction the tent and other equipment will face and clear that area very carefully.
Pay attention to any overhanging branches that could pose a problem if the wind comes up.
Put Up the Tent
Before popping up the tent, spread a tarp out on the ground. It acts as a ground cloth, keeping moisture away from the floor of the tent, and protecting it from punctures.
Put the tent in the center and follow the instructions to pop it up.
Position the tent on the site to take advantage of the best views, shade, or sunlight.
Unpack the Stuff
Get the bedding set up inside the tent so that there's a nice spot to relax when the work is done.
Some campers keep clothing and personals inside the tent, so they're readily accessible.
After that, it's all about pulling out the chairs and positioning the picnic table.
The cooler should be either left in the vehicle or put in a shady spot, to keep the ice from melting.
Start a Fire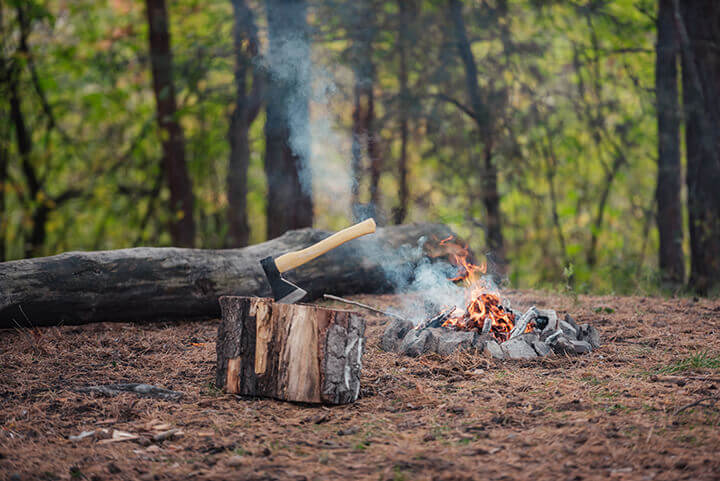 Gather plenty of kindling (tiny pieces of dry material), slightly larger tinder pieces, and some larger pieces of firewood.
Dry paper, lighter fluid and a match make starting a fire super-easy.
Clear the area around the campfire, and avoid placing it under low-hanging branches.
If no one can start a fire, or it's too wet, or windy, a propane stove is a great option.
Safety First
Avoid problems with wildlife by locking food items in the vehicle.
Never eat or keep food inside the tent.
Carefully clean up after preparing and cooking food.
Change clothes before going to bed.
Carry bear spray when out in the wild, and make plenty of noise when hiking.
The tips discussed here are meant to help even the most novice campers have a great time camping this summer. It is, by no means, a complete list of everything someone should take, or be aware of, but it's a good start.
The best thing that any camper can do when they're out in nature is to be in the moment. When a person takes the time to appreciate the beauty of nature and the precious time they get to spend with their loved ones, camping becomes a joyful experience.