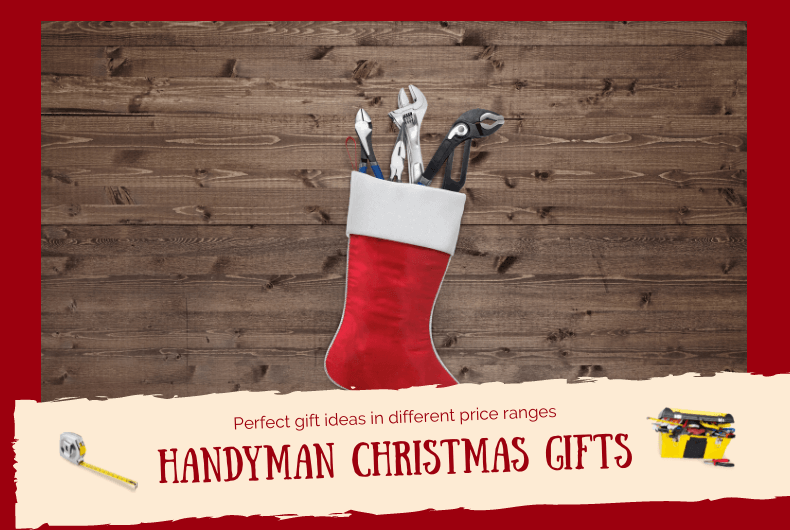 Disclosure: This post contains affiliate links. If you click through and make a purchase, Yard and Garage will earn a commission, at no additional cost to you. Read our full disclosure here.
There are so many expectations for gift-giving during the holiday season. We want to get a gift that shows how much we care, but at the same time, we're stumped as to what that gift could be!
And for the handyman in your life, this is especially difficult. After all, this is the person who takes care of your home, your car and maybe even your yard.
If you're looking for something to make the handyman (or handywoman!) in your life smile this Christmas, please read below for some great suggestions.
I am sure this list will help you find the perfect gift for the handyman or DIYer in your life – maybe even something for yourself.
---
Lower Price Range Gifts
Just because you have a minimal budget doesn't mean that you can't find some great gifts. Slip one of these in their stocking while you munch on Santa's cookies the kids left out.
---
Channel-Lock Nutbuster Pliers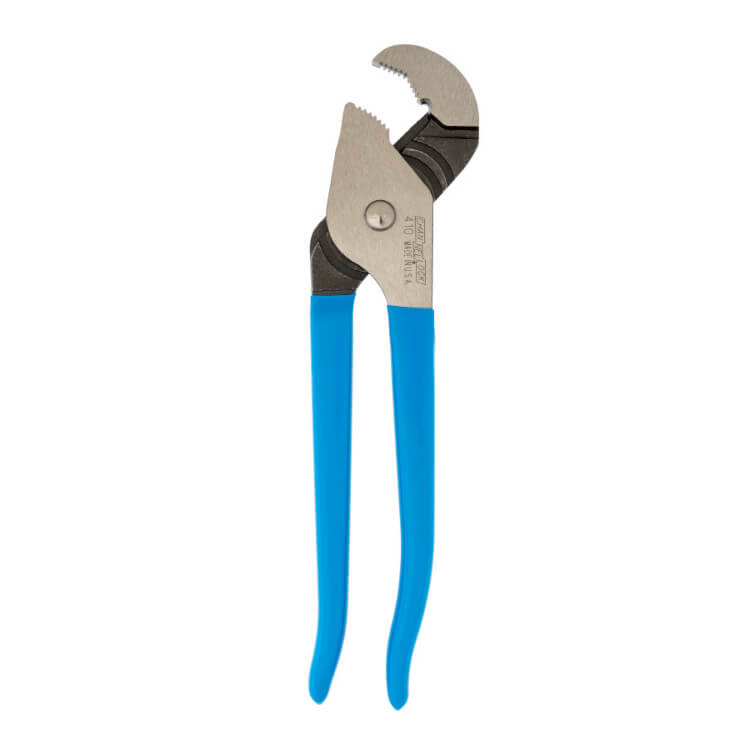 Are those dang nuts taunting you with their round-bodied glory? Who's laughing now? With these 9.5″ parrot nose pliers, all your problems are solved!
Built to last with patented reinforcing edges and laser-hardened teeth, these pliers can handle any nut wandering around your workshop.
Made in the USA!
---
Stanley 32050 FatMax Power Claw with Grounded Power Strip

I know that a power strip doesn't sound very exciting, but I can tell you from experience that being able to have flexible grounded outlets is wonderful (Amazon link). The clamp is just brilliant and lets me attach it to anything from a vertical 2×4 to a workbench.
It allows me to avoid having multiple extension cords when I'm working on short-term projects around the house.
---
Wizsla Magnetic Wristband

This wristband is one item I'm putting on my wish list for this Christmas. I can't even tell you the number of times that I have dropped nails or screws while holding them between my teeth.
This magnetic wristband set (Amazon link) comes with a pair of two, but they are different sizes. I could see my wife using the smaller wristband for some of her projects.
---
Magnet 3 x LED Magnetic Pickup Tool

This is another one of those great combo items – it's not just a flashlight, it's also a magnet (Amazon link). And I love the fact that it is telescopic and flexible. For me, the magnet is just a bonus.
I love the fact that I can now get light into those tight spaces in my car, behind the water heater, etc.
---
Multi-Purpose Yard Tarp
This durable tarp is tough enough to handle any yard project your handyman can throw at it. Need to move leaves, plants or even a mound of dirt – no problem!
This yard tarp also comes with a drawstring so you can cinch it and make sure that nothing falls out while you're moving it. Give one (or two!) to your handyman and see what he can accomplish.
---
Black & Decker AAW100 8-Inch Auto Wrench

Another great tool for tight spaces is this auto-adjusting wrench (Amazon link). A standard wrench would require you to manually adjust, but this can be difficult if you're working behind a drain pipe or other area with limited visibility.
This tool allows you to ensure a tight fit in those situations.
---
Stortz Paint Scraper – 3pk Starter Kit

These are not just your everyday paint scrapers (Amazon link). These have rounded edges to help get into corners, crevices, and other tight spaces.
If your handyman has some window stripping in his future, these are the tools he needs to succeed.
---
Screw It Coffee mug

If you're looking for something a little more irreverent, who wouldn't love to receive this cheeky little coffee cup (Amazon link). Although this might not be for everyone, if your handyman has the right personality let him start the day off with a profound statement!
---
Mid Price Range Gift
You may be willing to spend a bit more to get your father, brother or significant other something that they usually would not get themselves.
---
Firecore F333R Red 3-Point Laser Spot Alignment with Self-Leveling

If the handyman in your life does a lot of renovations or carpentry projects, they will love this laser self-level (Amazon link).
It even does 90-degree for plumb lines in addition to the standard level line.
---
Knipex 7102200 8-Inch Lever Action Mini-Bolt Cutter – Comfort Grip

A bolt cutter is not a tool that one uses every day, but it can certainly make the job easier. This mini bolt cutter (Amazon link) can cut up to 1/4 inch but can be used for more common everyday tasks.
This is an excellent option for even the junior handyman in your family.
---
WORX WORXSAW 4-1/2″ Compact Circular Saw WX429L

Every handyman has a few saws but may not have this great compact circular saw (Amazon link). It's small enough to be used with one hand but still strong enough to trim plywood and 2x4s and can handle tile or metal as well.
The portability is so helpful because your handyman won't lose time having to carry the wood to and from the table saw.
---
Stanley Wet/Dry Vacuum

Projects are messy whether they are inside or outside. This wet/dry vacuum (Amazon link) will allow your handyman to quickly clean up spills in the garage as well as sawdust or other leftovers from those construction projects.
It's also handy to use for cleaning your car or camper.
---
Underhood LED Light Bar Kit

If you have a car enthusiast on your list, this is a great work light (Amazon link) which will eliminate those dark spaces under the hood. And because it's battery-operated, there's no need to worry about extension cords.
It comes with both a wall charger as well as a car charger, so you're covered either way.
---
IWISS F1807 1/2″&3/4″ Combo Copper Ring Crimping Tool

Okay, I confess. This is another item I'm putting on my own Christmas list. My sister has a house full of that old tubing, and she has at least 1-2 leaks a year. To do a proper replacement with PEX tubing, you need these crimpers (Amazon link). If I have my own, I no longer have to rent them from Home Depot!
If you have a handyman who is plagued with plumbing repairs as I am, this gift would be well appreciated.
---
KAIWEETS Digital Clamp Meter

A multimeter is one of those tools that everyone needs (Amazon link). Need to test batteries, outlets or do other electrical work around the house then your handyman will find it invaluable.
There is even a no contact tester to validate that the voltage is off and avoid any electrical shocks. We have reviewed the top digital multimeters here if you need a general model.
---
EAGems Digital Caliper, Rugged Stainless Steel IP54 Water Resistant Electronic Measuring Tool

Some projects require precise calculations and a pair of digital calipers are a great asset (Amazon link). With an easy-to-read digital display and easy conversion between US and metric measurements, your handyman will feel extremely confident.
He may even be able to just "measure once, cut once!"
---
WORX WX550L 20V AXIS 2-in-1 Reciprocating Saw and Jigsaw

For most people, a jigsaw is one of the first tools that they invest in. A jigsaw can cut curves and be angled up to 45 degrees to make beveled edges. This saw can convert to a reciprocating saw easily.
A 2-in-1 saw like this (Amazon link) is an excellent gift for almost anyone in the family.
---
Scuddles Garden Tools Set

Maintaining a garden is an enjoyable pastime for many. This garden tool set (Amazon link) is a great gift idea with a sturdy tote bag, gloves and multiple tools so you can stay organized even while working in the dirt.
Be sure to pick this up for the person in your family that has that green thumb.
---
SKIL 7-Inch Wet Tile Saw

Now keep in mind that this is not a saw set for everyone. But if you've got someone on your Christmas list that loves to do remodeling and will need to cut tile, then this is the gift for them (Amazon link). It would generally be considered a luxury and can be rented when necessary.
Just think how proud your handyman would be to be able to say he has one of his own!
---
SEEKONE Heat Gun Industrial Hot Air Gun Kit

Here is another tool that a lot of DIYers need but won't break down and buy one for themselves. A heat gun has a lot of uses (Amazon link) from removing paint, manipulating plastics and thawing out frozen pipes.
This is a valuable tool that your handyman will use routinely and think fondly of you while doing so.
---
OBD2 Universal Car Code Reader

If you've got a gearhead in your life, I can guarantee that this gift will show that you're thinking of them. This tool will diagnose car issues (Amazon link) and even reset that pesky engine light.
Empower your loved one to take control and abandon the car repair shop – or at least visit them on his terms.
---
R-Dawgs 11 Pocket Heavy Duty Leather Tool Belt

Help your handyman to look the part. He can have all the tools in the world, but without a great tool belt, he hasn't arrived.
This belt is fashioned out of comfortable leather (Amazon link) and has multiple pockets and hammer loops. Take your handyman to the next level with this excellent tool belt.
---
Red Kap Men's Oversized Long Sleeve Twill Action Back Coverall

Tinkering in the garage can get cold and working under the house can get dirty. What if you could get a great set of coveralls at an affordable price (Amazon link) to help keep your loved one warm and clean?
These Red Kap coveralls are made of sturdy twill and have multiple pockets. Before you order, make sure you grab the necessary measurements.
---
Upper Price Range Ideas
if you're looking to indulge, we've got quite a few options.
---
Precision Screwdriver Bit Set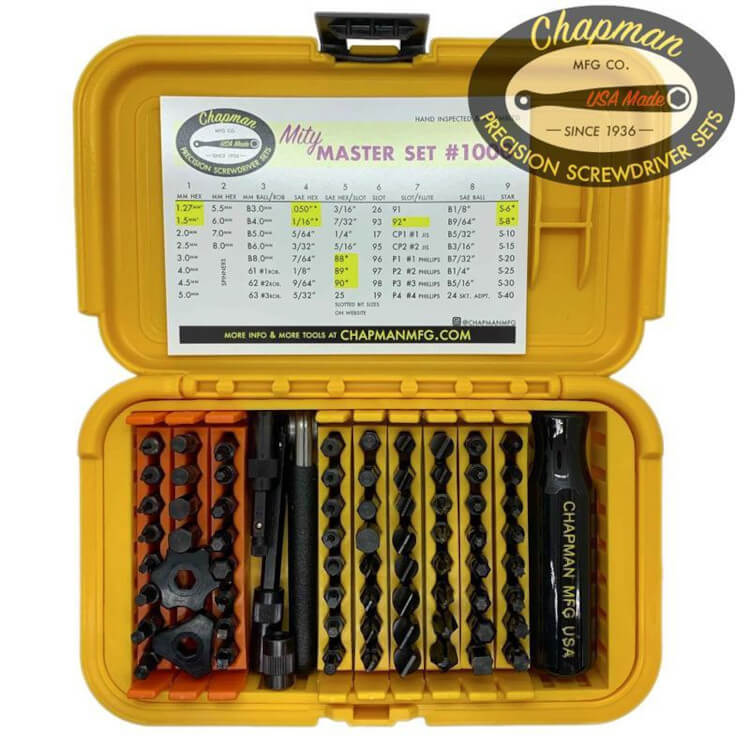 Wanna be the envy of your handyman Facebook group? Need that one specialty screwdriver head to complete your set or try out one for that ultimate garage project you're working on? Or maybe you're an overconfident do-it-yourselfer looking to completely change up your life.
With Chapman's Mity Master Precision Bit set, you'll never curse in the garage because you can't find the right screwdriver bits. These tough guys are made out of USA steel and come packaged in a rust-proofing finish so they can take anything the world throws at them!
---
WORKPRO Rolling Creeper, Padded Mechanic Stool, Garage Shop Seat with Sockets and Tools Set in 2 Draws, 136-piece

You know what a creeper is – the rolling board that mechanics use to slide under cars. Well, this is a creeper that will save your knees (Amazon link) on those different projects in the garage and home. This one also contains two storage drawers and a tray to be even more efficient.
And with this purchase, the company is also providing a 135-piece tool kit so that your handyman won't have to drag his or her tools to various places.
---
Portable Electric Outdoor Heater

Cold hands in the workshop? Stay toasty with this portable electric heater. With an attractive and resilient powder-coated finish, this space heater is perfect for keeping you warm inside while providing comfort throughout the winter months.
Find your ideal level using its easy-to-use dial control thermostat – just turn it to set how much heat you want! Boasting sleek stainless steel construction, this handy little gadget will warm up any room in no time!
---
Classic Maglite Flashlight Bundle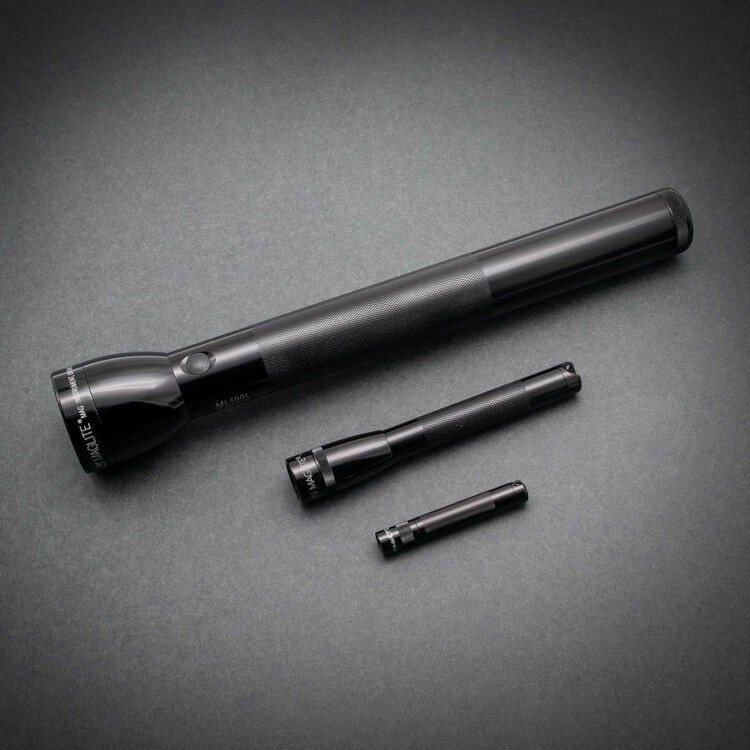 Getting into the dark by yourself is no fun, but with this bundle of Maglites you can navigate through any dark situation! Whether it's in your home or on-the-go, our four varied tools are ready to be whatever light you need.
The ML300L 4D LED Flashlight will provide hours of power for your bigger needs – 18 days worth actually!! This pocket/purse sized Mini Maglite Pro LED Flashlight takes up nearly zero space and has just enough juice to get you through a last minute chore during the day.
Give all three today and your handyman will never be left alone in the dark again!
---
Rockwell JawHorse Portable Material Support Station RK9003

Gone are the days when a portable workstation was a piece of plywood through over two wooden sawhorses. This workbench even has an adjustable clamp (Amazon link) which can support the majority of items that you're working on.
It leaves your handyman's hands free to focus on the planing, painting or whatever work you're performing.
---
PORTER-CABLE PCFP12236 Brad Nailer and Compressor Combo Kit

Carpentry projects abound from molding installations to cabinet repairs. Give your handyman the help he needs with this nailer and compressor combination (Amazon link) and free him from his hammer.
This also comes with hose, coupler, and a starter pack of nails. Don't forget to pick up some safety glasses.
---
25. Bosch GSR12V-140FCB22 12V Max Flexiclick 5-In-1 Drill/Driver System

This drill is an excellent choice for woodworkers, cabinetmakers, and carpenters (Amazon link). It has multiple attachments which allow you to get into tight and angled spaces.
It also comes with two batteries and a charger so your handyman won't have to worry about losing power and can finish his project.
---
Professional 1400 Watt Premium Pond & Muck Vacuum

Does your handyman have to worry about cleaning and maintaining koi ponds or hot tubs? If so, this vacuum is excellent in that comes with four different nozzles (Amazon link) to handle algae, sludge, etc.
It also has a great auto restart once the tank has drained.
---
Sturdy Fire Pit with Log Rack

The Sunnydaze Cast Iron Fire Pit is the perfect Christmas gift for your patio or backyard. The iron construction provides an unbeatable classic look that displays our country's historic love of fireplaces while being durable enough to withstand daily use without rusting!
What better way to enjoy a nice weekend outside, marveling at your well-groomed landscapes and gazing at flickering flames while catching up with friends or cozying up with a good book?
---
Weller WE1010NA Digital Soldering Station

Electrical projects abound for most handymen, and many require joining components together. To do this, you'll need the ability to solder.
This station has an LED digital display (Amazon link) and reaches temperatures between 200-850 degrees Fahrenheit. It's a great gift idea for those budding electricians in your life.
---
I hope you found these handyman gift ideas helpful and that you're able to celebrate the handyman in your life with the perfect gift (or gifts)! And if you happen to find one that you like as well we won't tell!
Share this post on Pinterest!