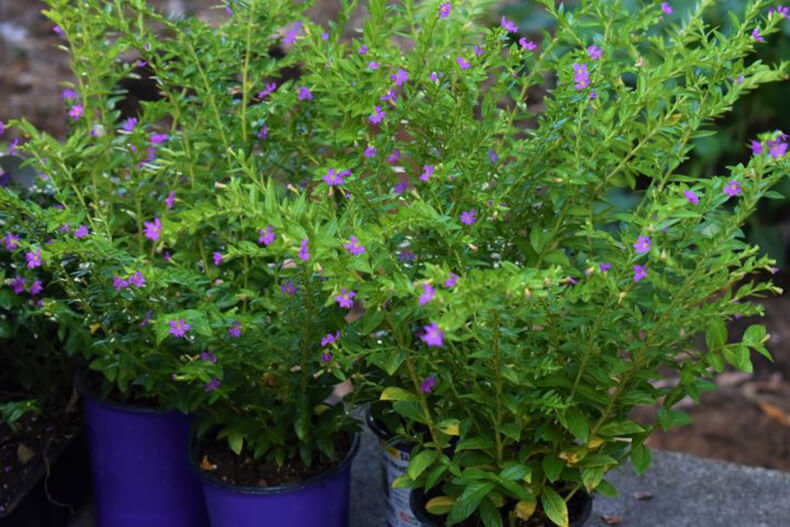 I went to see my dad this weekend. He's working in the yard, as usual, laying sod to fill in some bare spots. In addition to the sod, I see that he has purchased a dozen or so of his favorite plants – Mexican Heather.
My dad absolutely loves this plant. My parents travel a lot since they are retired and he says that no matter how long they are gone, these plants never die.
About Mexican Heather
Mexican heather (Cuphea hyssopifolia) is also referred to as False Heather. This is because it is not that Bonnie heather that grows up in the Scottish Highlands.
Mexican Heather
Botanical Name: Cuphea hyssopifolia
Sun: Full Sun / Partial Shade
Plant Height: 2 feet
Plant Width: 2.5 feet
Landscape Uses: Borders, edging, accents
As the name implies it is native to Mexico and some neighboring Central American countries. It does well here in Alabama as we're zone 8 and the zone range for this plant is 8-11.
The plant is a great groundcover that flowers for most of the year. Depending on the variety, you can have white, pink or light purple flowers. We have always chosen lavender flowers.
Mexican heather is a wonderful choice for your mailbox area, borders along walkways or as filler in your flower beds. The small, delicate purple flowers can add a wonderful pop of color to your landscaping.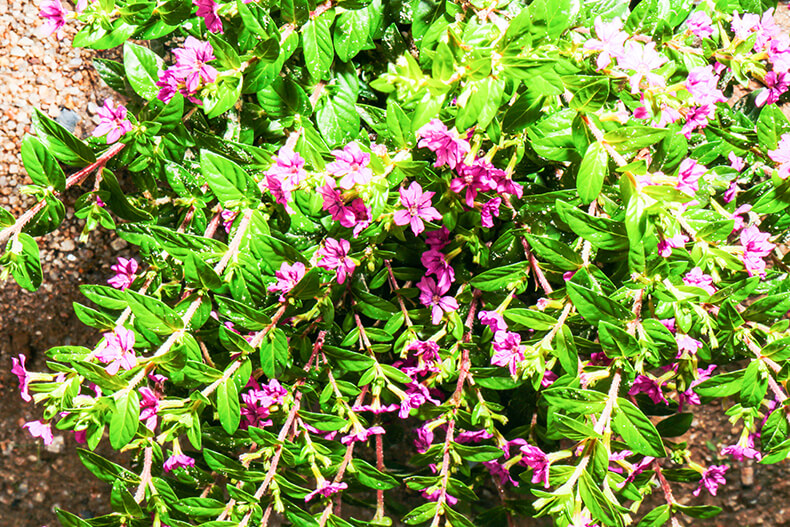 Maximum height outside of a container is generally a little over 12-24 inches tall and it will spread out a bit.
Mexican heather can be either a perennial or an annual. In our experience, my dad has always had to replace the majority of the plants each year. I think our zone is on the cusp so if you live elsewhere, you may be able to have the plants come back year after year.
How to Grow and Care for Your Mexican Heather Plant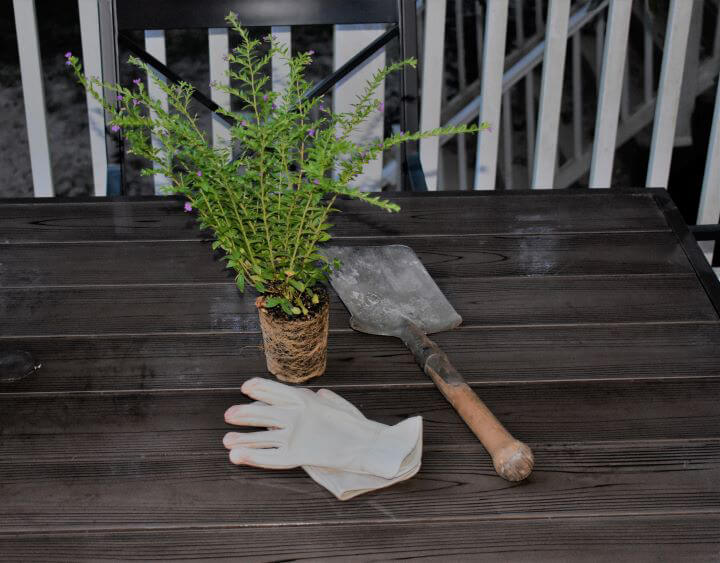 Zone
The hardiness zones for Mexican heather plants are definitely geared towards warmer climes. The range for these plants is 8-11 which covers the majority of the southeastern United States as well as extreme western edges of California, Oregon and Washington.
Sun
Choose a location that will get full sun to partial shade. If Mexican heather receives too much sun, you will notice that the foliage will start to fade a bit. The plants are pretty hardy so it should not be difficult to find a location.
Soil
You will want to plant Mexican heather about 2-3 feet apart in soil that drains well. It will need to be irrigated frequently but should align with your regular watering schedule for your lawn. Of course, during the summer you may need to water more often.
Moisture Level
If the soil is dry to your touch about an inch or so under the soil then it is low on moisture.
Pruning
My dad lets his Mexican heather plants grow pretty freely. If you have planted them along a walkway or other border area, you may need to prune them to keep them in check.
Insects
As I've noted before, Mexican heather plants are super hardy and we've never had any issues with insects. Others though have noted that Mexican heather can be quite attractive to flea beetles so be on the lookout for them.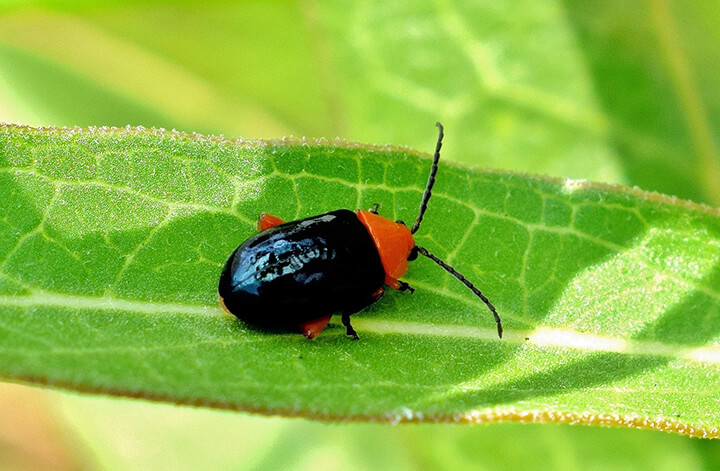 They are small black insects with long antennae and they love to chew holes in plant leaves. If you do find them in your garden, there are both professional and homemade remedies to get rid of them.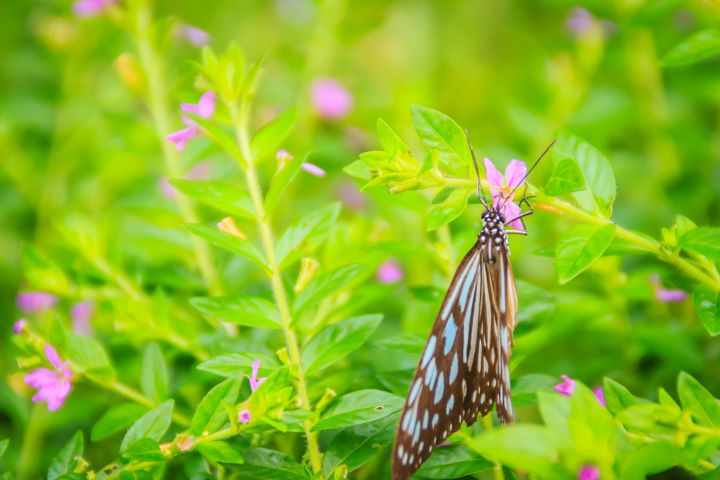 Summary
If you are a novice gardener, or maybe just a busy one, I think you will find Mexican heather to be a great choice. It's an attractive, hardy plant with an extremely long blooming period.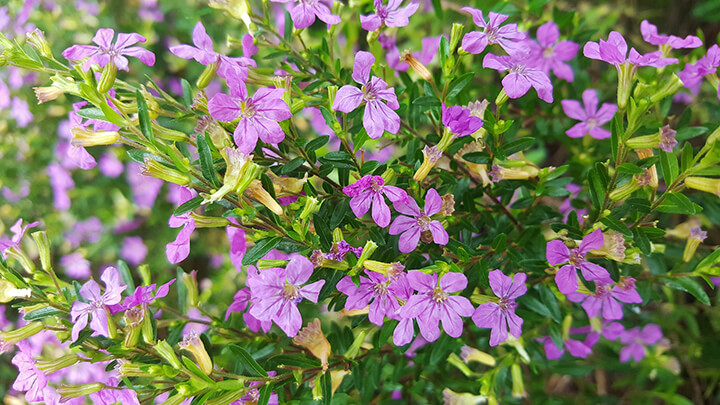 Mexican heather is a plant that will thrive in areas where other plants may have struggled.