The following are the tools and gear I use to take care of my half acre yard. These are all items I own and recommend based on their performance and cost. Most can be found at your local Home Depot, Lowes, Ace Hardware, Tractor Supply or online at Amazon.
Lawn Mower
For lawn mowers, I recommend getting a self-propelled or walk behind mower. After looking at the top models I picked the Honda based on personal experience with the brand.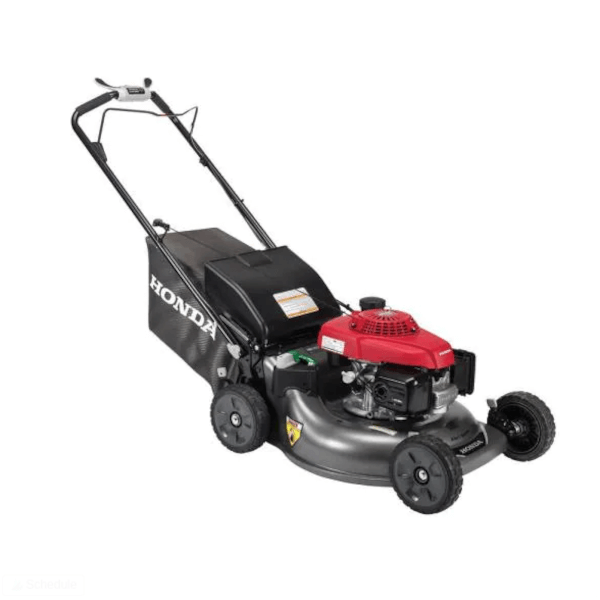 This image links to Home Depot
I own a slightly different model, which isn't available any longer, the HRR2168VKA, for over 5 years now. It is still running great after all this time and the next mower I buy will be a Honda as well.
---
Weedeater / Edger
Although this model doesn't have the best feedback, I have loved using mine. The 40V models aren't that expensive.
I have been using the same battery for over 5 years. Prior to getting this, I had a 2 cycle gas powered trimmer. This is much easier, just plug in the battery and go. The swivel head allows you to switch from trimmer to edger easily. It is much lighter than a gas powered trimmer so it's easy on the arms.
Update October 2021: The original battery lasted around 6 years. I was able to pick up a replacement on eBay and it has worked fine, even though it is not OEM. I also replaced the motor the same year. It is cheaper than the battery, but a little tricky to install.
The only cons I have about this are the string needs to be pulled manually. I did have to replace the end cap after it wore down but it was only a few bucks.
Even if you don't get this model, I would highly recommend getting a battery-powered unit that has a swivel head for edging.
---
Tool Storage
I wrote a review about the top 5 under $500 tool chests a few months ago. In it, I selected a 3-drawer Craftsman tool box. I use the same one at home. I also have the Craftsman 4 drawer rolling cabinet underneath. I would have included it in the review but it would have pushed the total price over the $500 cutoff by a little.
A sturdy tool chest is something that is going to be with you for life so don't skimp on it. I've had mine for close to 20 years and it's still in perfect shape.
---
Garage Storage
I have 6 of these plastic shelves from Home Depot in my garage. Metal shelving is more useful with adjustable shelf height, but the price of these plastic shelves is why they are recommended.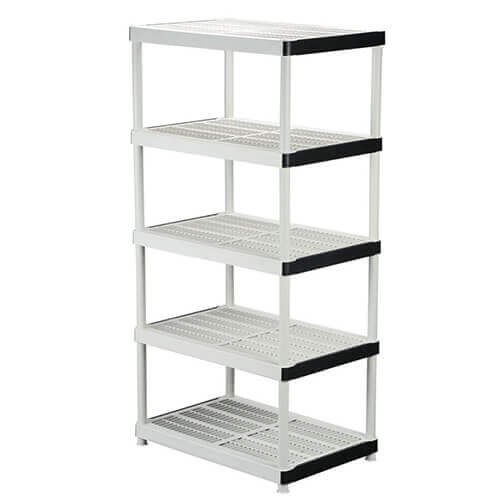 I have the 6'Hx3'Wx2'D versions shown here. Only $50.
---
Electric Blower
I've had this leaf blower for around 5 or 6 years. Previously, I used a gas powered version but the engine would not start reliably. Electric for everything except the lawn mower is working great for me. Less hassle keeping up with multiple engines.
It is a corded electric leaf blower manufactured by Toro. I have been thinking about getting a battery-powered model that would work with the existing 40V battery on my Ryobi trimmer. But at such a low price point and the fact that it still works like a champ, I haven't seen a need to replace it.
---
Pole Saw
This is one item I rarely use. It is a Ryobi telescoping cordless pole saw.
It mainly comes out once per year when I need to trim up the Crape Myrtle branches that are overhanging my roof. I like the Ryobi brand and stayed with it, even though it has a different battery than my trimmer.
No complaints about it, although I haven't really put it to serious work as I don't use it very often.
---
Composting Bins and Tumblers
After trying a few different composting methods over the years, I have settled on the Jora 270 tumbler. It has two separate containers which allow you to keep adding fresh materials while the original batch composts. I wrote up a little article about it here.
---
Wheelbarrows / Carts
Four wheels really are better than one. You can load more and have an easier time moving things around with a cart than a wheelbarrow. I won't lie, this Gorilla Carts 1200lb capacity dump cart is a little pricey but it is well worth the money. I used one to haul a dump truck load of pea gravel to a new fire pit area and I didn't spill one pebble. Not sure I could say the same with a wheelbarrow.
It's easier on the muscles to pull a cart than balance a wheelbarrow so if you are older – or younger – this cart can help you move trash, leaves, compost, rocks, whatever where you need it.
It is claimed it will hold 1500lbs but I don't think you would be able to pull it. Gorilla Carts makes smaller versions for hauling 600 and 1200lb loads in case you have a smaller yard. The only negative I have is it takes more precious garage space than a tilted-on-its-side wheelbarrow.
---
Hedge Clippers
With the distance our Jasmine vines are from the nearest electrical outlet, we had to go with a battery-powered hedge trimmer. It is a Greenworks model and while it does work ok, the battery does not last long enough to cut the full length of our vines and bushes.
That's why (if your bushes are close to an electrical outlet) I recommend purchasing the Greenworks 22 inch Corded Hedge Trimmer. My review of the top models is here.
It has the right power, weight and blade size to do most any clipping job a homeowner could throw at it. If my cordless model craps out I will be purchasing this one.
---
Other Useful Gear
These are more items that are used all the time while taking care of my yard.
Leaf Bin
I try to compost all of my clippings, but after a good rain there are too many to put in my bin. I have to bag them up and set the by the curb. This handy little collapsible bin from Worx has proven very helpful. It is large enough to hold a whole hopper full of clippings at a time.
When its not in use, I set it by my wife's car so she can have a trash can out in the garage. It is useful to also have a large bagged can when we want to throw away something bulky. I buy 39-gallon bags from my local Ace Hardware to use with it.
---
Lawn and Garden Gift Guides
Looking for the perfect gift for your yard-work loving family member? Check out these gift guides that feature many unique and cool outdoor gifts. Prices range from $20 to $200 so you can find something for any budget.