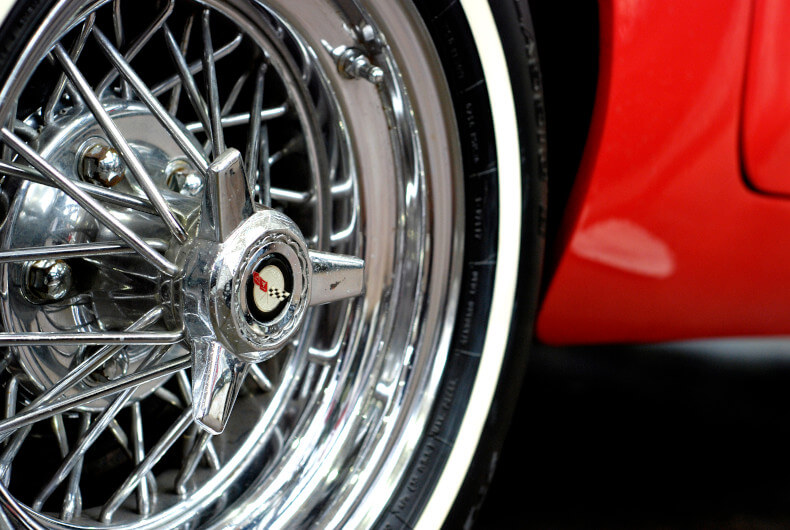 A habit of keeping car rims clean reveals two admirable traits of car owners.
First, they understand that it prevents damage from corrosion and promotes safe driving.
Second, it shows respect for the vehicle by enhancing its beauty. Car washes make a car look good, but they cannot do the high-quality job on rims a car deserves.
Understanding the purpose of car rims and the different materials that manufacturers use can help you decide the best way to keep them clean.
About Your Car Rims
Steel, aluminum, and chrome have pros and cons that give you cost, durability, and beauty options.
While you focus on cleaning the rims, you can learn how to clean your tires to create a well-kept appearance that complements you as an owner.
Steel
An advantage of steel rims lets you spend less money to buy them, but they can cost more to drive. Heavier than aluminum, they can require more fuel, but they provide better traction in snow.
In addition, while salt in the atmosphere can create rust, steel can benefit from reconditioning.
Rust creates a constant need to provide maintenance and upkeep for steel. Dish soap and water can remove road grime, but rust requires gentle pressure with a chemical rust remover.
Alcohol can remove other stains before you apply a protective coating to prevent rust.
Aluminum
Regular and frequent care of aluminum wheels can keep the lightweight car rims in good shape, and it starts with rinsing them with a garden hose.
Household products such as baking soda in your laundry room can mix with dish soap to remove greasy stains.
Pitting can result when you delay removing road grime and dirt, brake dust, and oily substances.
If you are removing corrosion, it is a much more complicated process that requires commercial cleaners and a series of precise steps.
Chrome
A hose down with a garden hose can provide a start to the process of removing dirt and road grime. However, the beauty and complexity of chrome car rims require special treatment with home products or chrome cleaners.
After hosing the rims with pressure from a hose nozzle, focus on cleaning one at a time.
Frequent cleaning to remove the corrosion from brake dust, heat, and friction help protect your shiny chrome rims.
Cleaning the Rims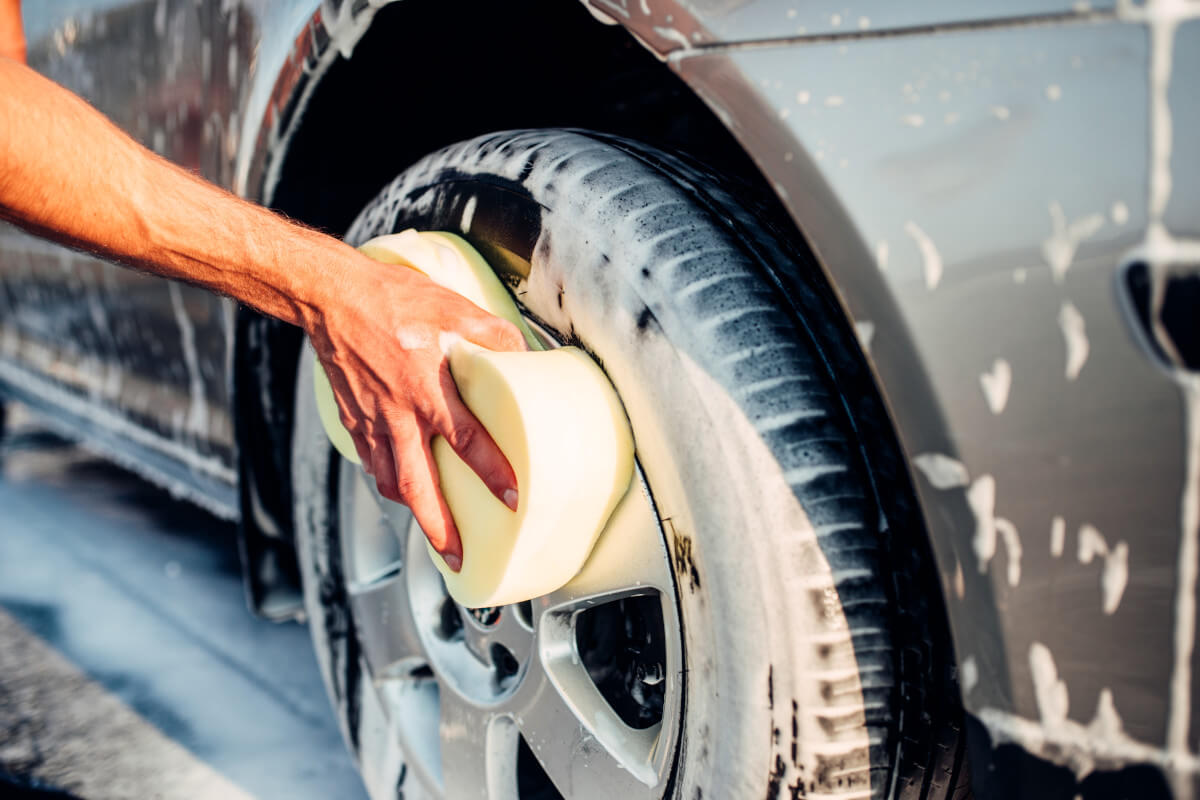 The process of cleaning car rims starts with understanding that it takes time to do it right.
Shortcuts do not work, but patience and persistence can produce the results you want.
While steel, aluminum, and chrome may require different cleaning products to handle problem areas, dish soap offers a safe way to start the process.
1. Cool Surfaces
While it may seem a good idea to clean the rims while hot, you get better results if you wait until your car cools down after travel.
2. Water Pressure
An ordinary garden hose with a nozzle can apply enough water pressure to remove loose dirt and debris.
3. Cleaning Solution
Mix a teaspoon of Dawn or other concentrated dish liquid into a gallon bucket of water to produce a safe cleaning solution.
4. Scrubbing Gently
A soft cloth or sponge can loosen grease and grime when you make gentle, circular motions.
But, again, starting from the outer edge and working toward the middle produces the best effect.
5. Clearing the Soap and Grease
Rinse the loose residue of grime and grease with water from a garden hose without a nozzle.
Start at the top and rinse until no soap bubbles appear.
6. Drying
Use a soft, clean towel to wipe away any water droplets on the rims.
7. Finish
Stand back and admire your work before you take your car for a spin.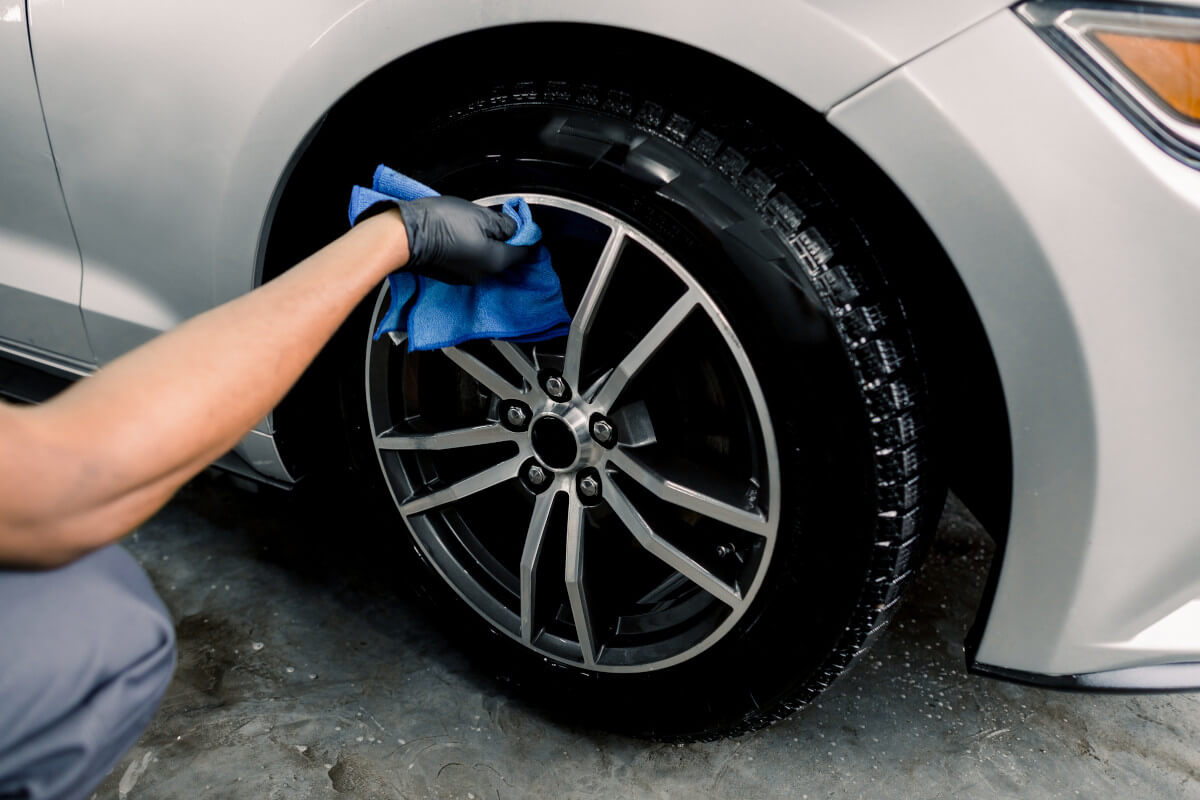 Other Cleaners You Can Use on Rims
Some DIY cleaners that you find in your kitchen or bath may work well for your rims and help resolve specific issues.
However, while some contain highly abrasive ingredients that can remove almost any stain, they pose potential health hazards.
Lemon Juice and Baking Soda
Streak-free windows present an appearance of cleanliness, and the lemon juice that creates them works well on your car rims when you combine it with water and baking soda.
You can mix two tablespoons of lemon juice and half a cup of soda with a cup of tepid water in a spray bottle to prepare a solution.
Then, start spraying the DIY cleaner in the center of the wheel and on a clean, super-absorbent cloth to remove stains on the rim and tires.
Long-standing favorites of car enthusiasts are chamois and microfiber cloths.
Carbonated Soft Drinks
Your chrome wheels can shine again when you let the phosphoric acid and carbonation in Coke dissolve grease and tarnish on your lug nuts and exterior surfaces.
After you spray the drink on your tires and rims, give it a few minutes to work. First, use an old toothbrush or a tire brush to access tight areas.
Next, removing the sticky, sweet residue requires a mixture of 1 cup each of dish soap and vinegar in a bucket of water before you can rinse with a garden hose.
Oven Cleaner
When the accumulation of dirt, road grime, stains, brake dust, rust, and oils on your chrome wheels becomes too hard to clean with simple cleansers, oven cleaners can take care of it.
However, some precautions can prevent injury to your skin and eyes. Give the powerful oven cleaner 10 minutes to work, and you can go ahead and spray all the rims at one time.
A toilet brush can scrub the areas that need it that the cleaner alone cannot treat. Stubborn stains and rust may take longer to remove and maybe another coating with the cleaner.
In addition to wearing glasses and gloves, keep a cup of vinegar within easy reach to neutralize any chemical that gets on your skin.
Rinse thoroughly with water from your hose.
Toilet Bowl Cleaner
When you consider the power of a chemical that can clean a toilet that contains water, you can realize the risk involved in cleaning car rims with the hydrochloric acid in some toilet bowl cleaners.
Nonetheless, it can clean almost any kind of stain from alloy car rims and tires.
Essential safety equipment includes glasses and rubber gloves.
Halfway fill a spray bottle with water and add 6 tablespoons of soda to prepare a neutralizer.
Squirt a little of the cleaner into a large and easily accessible glass bowl.
Carefully apply the cleaner to spots on your rim that need cleaning.
Leave the chemical on each area for no more than 15 seconds.
In addition, rinse each application with your neutralizer spray.
When you finish cleaning and neutralizing, rinse the wheel with hose water.
What Not to Do
Some mistakes in cleaning car rims can prove irreversible, while others make the job harder.
Abrasive steel wool can destroy a finish and mar a protective covering.
Letting the oven cleaner work on all wheels while you clean one of them provides an exception to the rule of handling one at a time.
Spots that remain on your rims can lessen the beauty of a job you work hard to achieve. Instead, use chamois or a microfiber cloth to absorb every drop of water.
Cleaning the Tires
Sequence matters when tires need cleaning, and the proper order can prevent extra work.
Before you start, mix a cup of baby oil with half a cup of water and a few drops of dish soap.
Then, spray it on the tire and a soft cloth for applying it. The sweet aroma can make you feel as though the tires enjoy the pampering.
Wash the tires before the car's body. The grime and grease that you remove may splash on the vehicle, making you rewash it.
Clean the tires before you work on the rims and wheel face to prevent a stream of filth from covering the work you just finished.
Rubbing the surface with water only can damage it and not clean it at all.
Frequently Asked Questions
As a beginner in cleaning your car rims and tires, everything may seem new. However, some questions others have asked may give you the knowledge you need to do a great job.
How do you clean rims without scrubbing?
Choose a gentle cleaner that can remove the grime and dirt.
For stubborn stains, use a more powerful cleaner.
How do you clean rims that have oxidation?
Lemon juice or white vinegar in equal parts with water can remove oxidation from aluminum rims.
Apply the solution as soon as you see a powdery coating on your rims.
What household cleaners work well with cleaning rims?
Dish soap provides the mildest cleaner, but oven cleaner and toilet bowl cleaner can remove stubborn stains.
Do I need to apply wax to the rims after cleaning?
Yes, a quality wheel protectant can seal the surface and give your wheels a great look.
—
The care that you give your car with cleaning can reward your efforts and make you proud.
In addition, tires and wheels can attract attention and draw admiration from anyone who sees your well-cared-for vehicle.