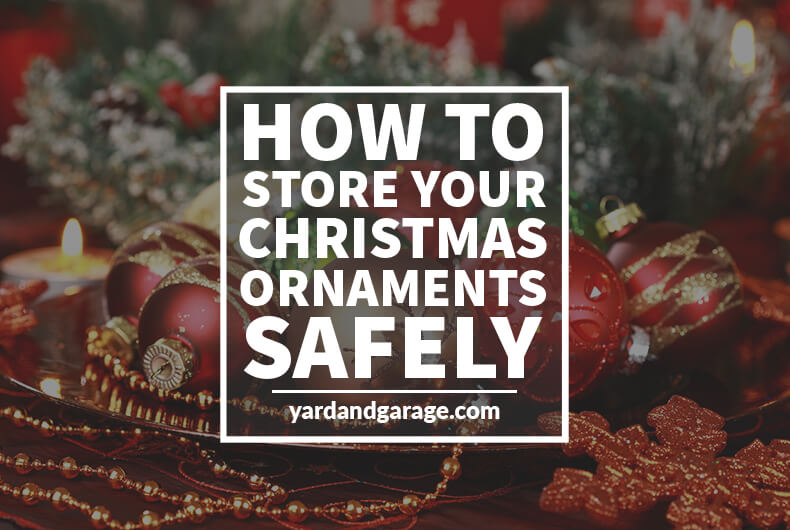 The holiday season has passed, and you're ready to start the new year! And although putting up the tree and all the trimmings is great fun, none of us really like the cleanup and storage.
But if you want to preserve your ornaments and other Christmas decorations for another holiday season, we've got some tips on how to safely store everything until next year. It may require a little extra effort, but you will be glad you did so in the end.
---
Ornament Storage
These are generally your most prized Christmas possessions. You probably have a collection of beautifully decorated globes as well as hand-made gifts from your kids while in elementary school.
To protect them you'll need to find a container that will keep them secure without damaging the glitter, appliques or painted fingerprints.
Here are a few options to protect these ornaments for next year.
Keep Original Packaging for Christmas Decorations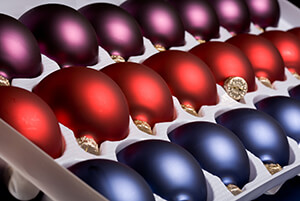 I try very hard to save the boxes that my store-bought ornaments come in, particularly if they contain a separator for the balls.
I know that they will fit and it's generally easy to stack them in a larger container.
Egg Cartons
Some ideas for smaller ornaments such as bells or angels are empty egg cartons or small storage bins. These are also easy to stack and store in another container. Be sure to include tissue paper, felt or something similar to give some extra protection.
Commercial Storage Boxes
There are multiple options to purchase a commercially-made box designed specifically for ornament storage.
I would certainly consider this if you have delicate vintage ornaments or perhaps some unique ornaments from vacations or trips overseas. Some of them are even multi-layered and can hold 60+ ornaments.
---
Holiday Wreaths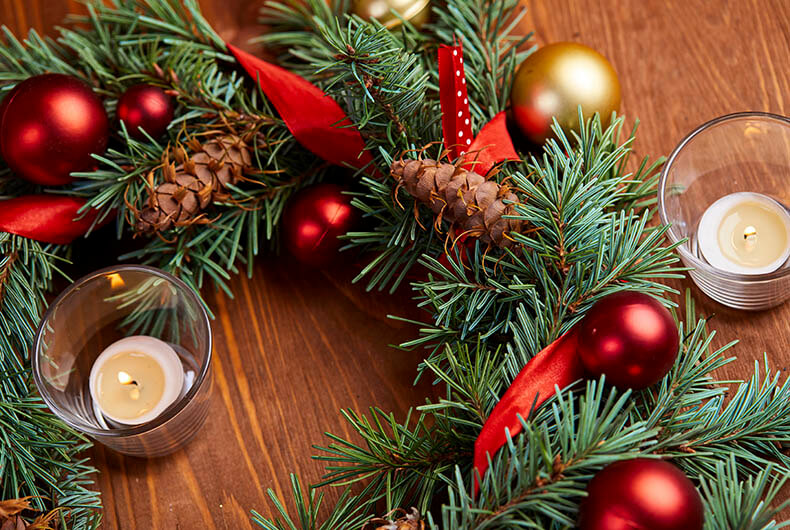 You may be thinking that wreaths are so bulky that there is no easy way to store them. Actually, I don't find it that difficult.
My favorite method is pretty easy. I wrap them in old towels that have seen better days and then stack them in a large plastic storage tote along with the door hangers.
If you have hat boxes laying around, they are also good. Some people have taken elaborate steps to create a special hanging wreath storage, but I've never felt the need.
There are commercial wreath storage bags if you want to shell out a few dollars.
---
Tree Storage Ideas
Obviously, if you're a traditionalist and love decorating a live tree each year, this is one item you can skip. I always swore that I would never get an artificial tree but my parents gave me one a few years ago, and I was hooked!
I did have to find an alternate storage method though because the cardboard box didn't make it after the first year. It's difficult to find a plastic tote large enough to hold a 7-8 foot tree.
You will most likely need to purchase a specific tree storage bag (Amazon has quite a few to choose from) to maintain its shape and avoid compressing it. This is especially important if your tree has built-in fiber-optic lights.
---
Lights
Lights are especially tricky to store given how easy they are to get tangled. I admit that I've gotten so frustrated with them that I've just thrown them in a box in a giant ball. But boy how I paid for that the next year.
There are several ways to store lights and keep them tangle free.
Old Wrapping Paper Roll
This is my preferred method now and really quite simple. You need only an empty wrapping paper tube or two.
I take the tube and cut a slit in either end.
After this, you simply insert one end of the lights in the top slit and then begin to wrap the lights around the tube.
You can use the bottom slit to secure the cord end of the lights. If it is an unusually long string of lights, you can add a second tube fairly easily.
I have done a double wrap around a single tube, and you have to take care not to have the lights themselves intertwine. It can be done, but it takes a little more effort to wrap them such that the bulbs alternate on each row.
Cardboard Spools
A similar process is to use a large piece of cardboard to wrap the lights. The cardboard inserts that come in the boxes of Christmas gifts are well suited to this.
You'll need to make a slit at the just like with the tube and then begin wrapping the lights vertically around the cardboard.
The good thing about this method is that you can easily find cardboard in different sizes so you can have one for smaller strings as well longer strings of lights.
Clothes Hangers
Almost everyone has some extra hangers lying around so put them to use this post-holiday season. And if you have smaller sets of lights, this will be a pretty easy solution.
You'll need to make sure the hangers you use have the notches on top for straps. Just attach one end of the lights around the strap notch and then begin wrapping vertically around the hanger. If you have a rack or bar in your attic just hang the hangers there until the next holiday season.
You can secure them with clear plastic wrap as well for easier long-term storage.
---
Holiday Gift Wrapping Supplies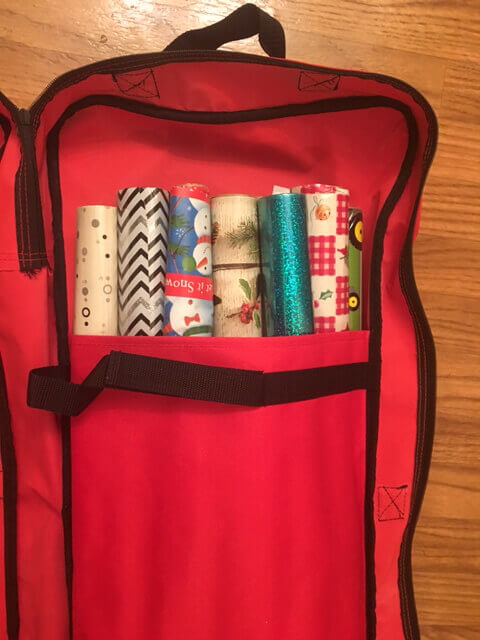 This is probably one of the easiest items to store because of the number of off-the-shelf solutions readily available.
I personally use a large red zippered tote that I bought during one of my daughter's school fundraisers a few years ago.
It can easily hold about eight rolls of wrapping paper and has interior pockets to keep scissors, tape, ribbons, bows, etc. I love that all my supplies are in one bag and I can carry it easily wherever I need it.
Another option that I have seen is re-purposing an old garment bag. This is a pretty simple storage solution for your gift wrap and other supplies.
---
Yard Decorations
Outdoor decorations are going to be the most difficult to store by far. They are bulky, vary in size and are generally more expensive than any of your other holiday decorations.
You want to make sure you protect your investment.
Original packaging
One of the easiest options would be to reuse the boxes that your decorations came in as those boxes would be of a regular size and easier to store.
Smaller boxes could be consolidated into a larger tote and stored in an attic or basement.
Plastic totes
Except for some of your largest decorations such as animated reindeer, plastic totes would do well for most decorations.
Nutcrackers, blow-up Santas and nativities should be able to be housed in large 18-30 gallon totes or large cardboard storage boxes. I would put some bunched newspaper, moving pads, or other material in between the items to protect them from inadvertent damage.
---
Christmas Cards
Although most people choose to throw away any cards they've received after the Christmas holiday, you may have sentimental reasons to keep them.
Perhaps it's a hand-made card from your child they've created for you in school. I have one card that I have kept for over 10 years because it has my daughter's little handprint from when she was in kindergarten.
Storage Boxes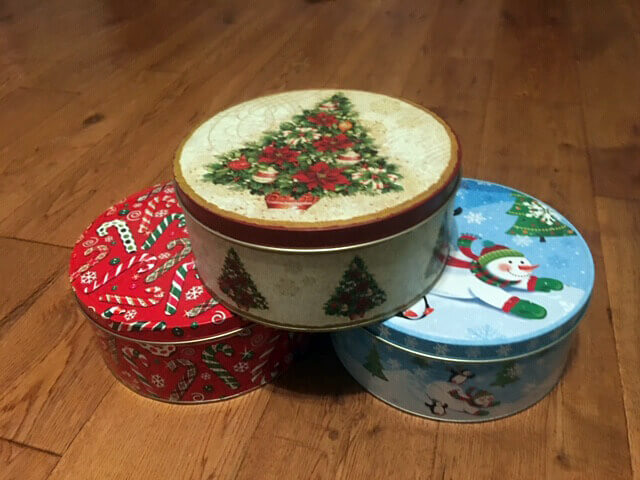 Several keepsake-type boxes or holiday-themed tins are attractive and are perfect for housing your Christmas cards.
You can then store the boxes in a closet and pull them out when you're ready to travel down memory lane.
Bound Book
If you look on Pinterest, several crafters have bound their cards into book form using hoops and spiral bounding. If you're looking for something more artistic that you could leave out on the coffee table, this might be an option for you.
---
I hope that these ideas are useful to your organizing efforts as the holiday season comes to a close. Ensure your Christmas decorations are safe and sound until next year's holiday season.