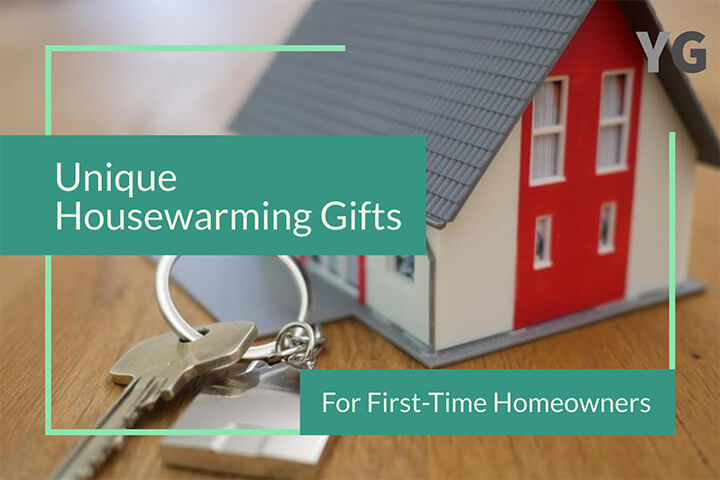 Disclosure: This post contains affiliate links. If you click through and make a purchase, Yard and Garage will earn a commission, at no additional cost to you. Read our full disclosure here.
Whether you want to welcome your new neighbors or celebrate your daughter's first home, the right housewarming gift can really help them get started in style. Finding the right gift can be a challenge, especially if you don't know them very well.
In any case, here are some creative, thoughtful and unique housewarming gift ideas for first-time homeowners in 2021 that will help bring smiles.
---
---
New Kitchen Gift Ideas
Let's start in the kitchen where there are so many utensils, cookware, and tools that a couple just moving into a house for the first time might not have. These aren't your typical plates and saucers found on a bridal registry.
---
Personalized Cutting Board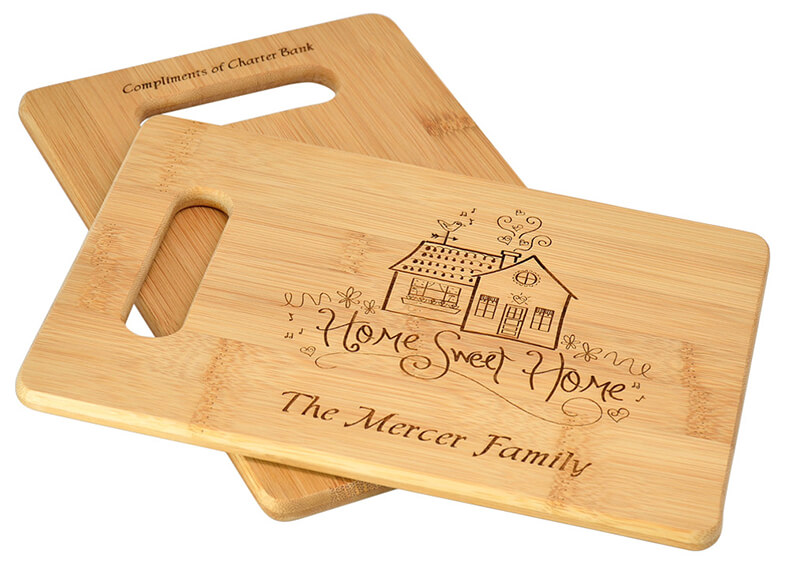 Something personalized is a perfect housewarming gift for brand-new homeowners. Give them something of "their own" and the tools they need in the kitchen to make great meals and prepare their favorites with this custom bamboo cutting board.
The new homeowners can cut their favorite vegetables, fruits and other meal ingredients without damage to their counter or table. Add up to 38 characters that will appear under the cutest Home Sweet Home design. They'll be sure to thank you.
That's My Pan – $13.99
---
Tovolo Sphere Ice Molds (Set of 2)

Help the new home-buyers celebrate their new home with ice orbs that keep their wine or other drinks cool for a long time. These sphere ice molds (check price on Amazon) add fashion to any cold drink and melt slower than typical ice cubes.
They can use them right away and place them in sodas, beer, wine, liqueur, juice, or any other drink they desire.
Amazon
---
Sea Stone Splash Sponge Holder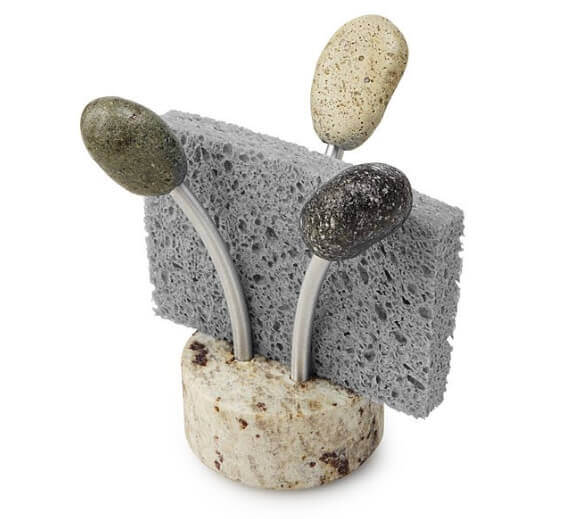 If you really want to help accent their kitchen, this sponge holder is perfect for first-time homeowners and replaces those dull, boring holders with something beautiful to actually look at.
This artistic sponge holder is made with stone top pieces and a granite base, along with three aluminum rods to hold the stones in place. The sponge wedges in between with plenty of drying space.
Uncommon Goods – $24.00
---
Kitchen Dish Towels Set

Another thoughtful kitchen gift idea are a set of soft kitchen towels (Amazon link). Made from 100% natural fibers, these durable towels will leave dishes and linens sparkling clean.
These dobby weave cotton dish towels are 15 x 25 inches and come in a tasty combo of black on white or black on ivory. Give your friends something to take care of their first big kitchen mess that comes their way.
Amazon
---
Bubble Glass Pitcher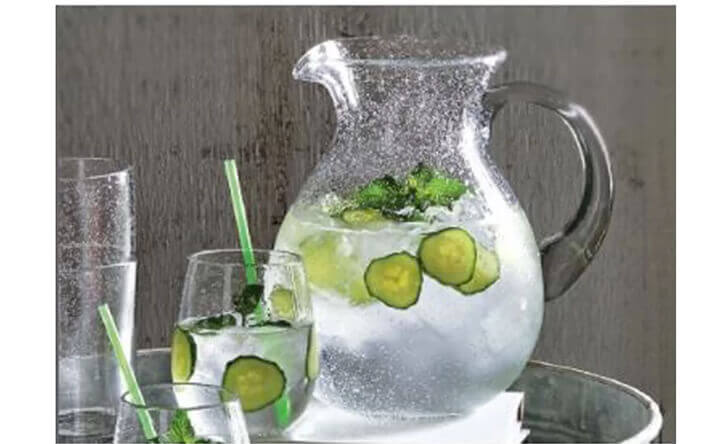 Everyone needs pitchers for their favorite cold beverages, but how about one that adds flair and style in a way that is different from the norm? Give them a stylish, bubble glass pitcher that feature elegant curves and a handle that graces the circumference with the look of a hole through the pitcher.
They can use it for parties, to accent their kitchen, and even to decorate with a floral arrangement.
Wayfair – $41.95
---
12-Bottle Bamboo Wine Rack

Celebrate their home acquisition with a 12-bottle bamboo wine rack (check price on Amazon) that blends with any décor. This rack is available in black (espresso) or natural and is a great way to kick-start their wine collection.
It can also just provide a place to store existing wines.
Amazon
---
Keurig K55 K-Cup Single Serve Coffee Maker

Everyone needs coffee, but you often have to wait for it to brew. This instant, one-cup coffee maker (check price on Amazon) lets the new homeowners enjoy a quick cup of coffee anytime they need during their busy day working or getting situated in their new home.
Amazon
---
Veggie Smart Storage Containers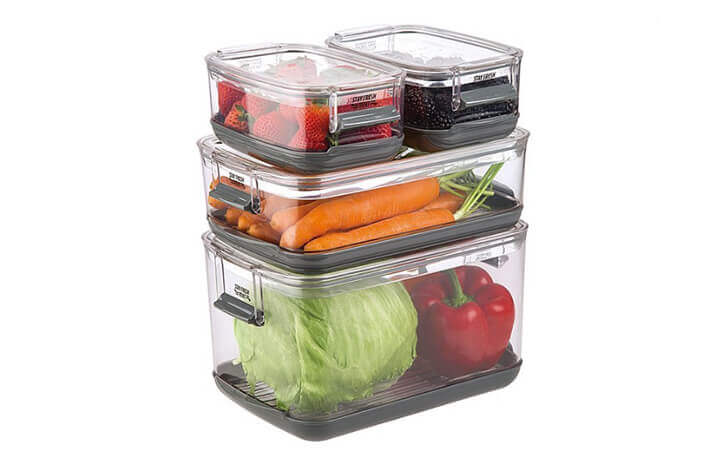 Help your new friends keep their vegetables and fruits fresh for a longer period of time with a set of smart containers designed to conserve space.
Each piece stacks together and includes a tall one for lettuce and other large vegetables, a slimmer one for things like carrots and celery, and two small containers on the top for strawberries, blueberries, and more. The slotted bottoms can also serve as a colander while the closable vents on the sides control air flow.
There are also charts on the lids to help keep track of freshness.
Uncommon Goods – $55.00
---
Polka Dot Stacking Mugs Set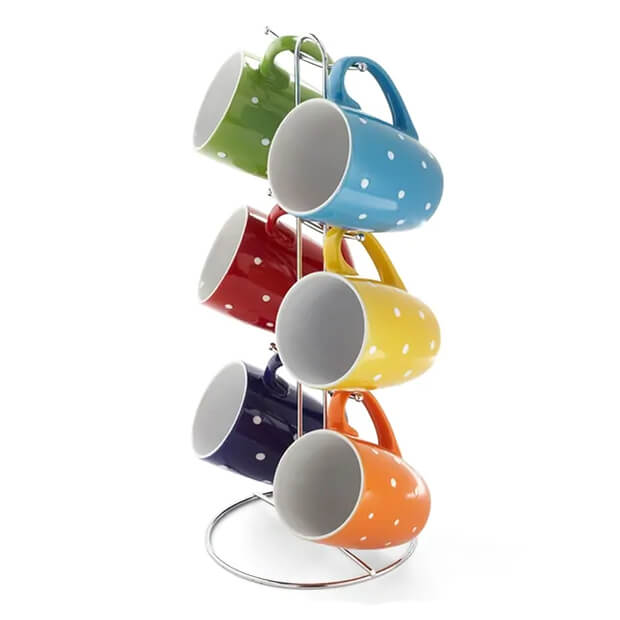 If your new neighbors don't place these stacking mugs on the counter, they will surely save space in their cabinet.
The set includes six 11 oz stoneware coffee cups each with a different polka dot design that easily stack in a chrome-plated steel rack.
They are dishwasher safe.
Overstock – $31.49
---
Monogram Elegance Cookie Jar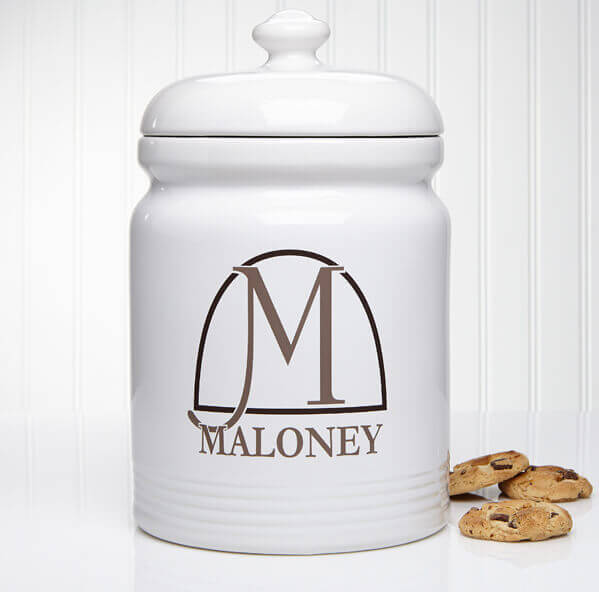 Offer a personalized way to store cookies or other similar treats by giving the new homeowners a chip-resistant, stone cookie jar.
This white jar is available in six color choices for the custom monogram you choose and it provides an airtight seal to keep the cookies fresh.
Bed Bath and Beyond – $43.99
---
Gifts for the Yard / Outside the Home
Personalized gifts are always highly valued as they aren't ho-hum off-the-shelf presents you spent 30 seconds grabbing at Wal-Mart. The recipients will immediately feel a connection with a gift that is unique to them. Here are a couple for the outdoors.
---
Family Initial and Name House Doormat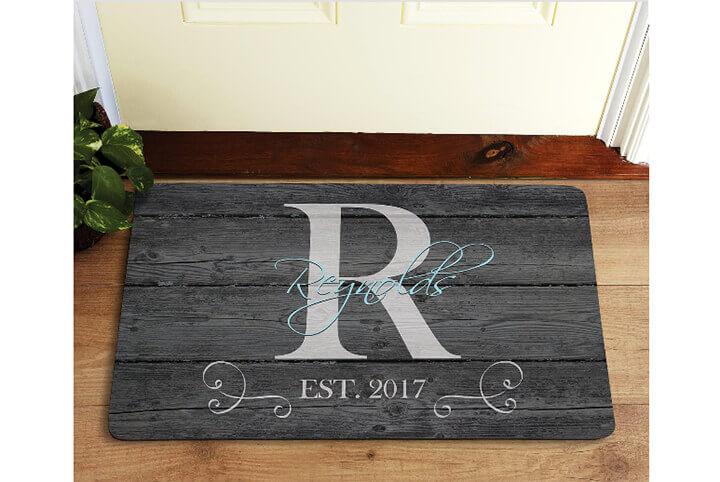 Help them welcome guests to their new home with a customized doormat made with an easy-to-clean polyester surface and a non-slip backing material.
Everyone loves personalization that shows you care and this 27″x 17″ mat includes an initial, a name up to 25 characters, and a 4-digit year for the established line.
Personal Creations – $24.99
---
Q Tech Bluetooth BBQ Grill Thermometer

Everyone loves to BBQ when the weather allows it. Give the gift of this Bluetooth, wireless BBQ thermometer (check price on Amazon) so that they can monitor the inside temperature of the meat without constantly checking it.
Amazon
---
Whimsical Garden Gnome

Help your new homeowner get started on their garden gnome collection with this little fisherman. Floyd comes perched on his rock with his catch of the day still on the line.
He will be happy to provide your homeowner with some company as they work on their garden or even greet guests as they arrive at the front door. Standing at 12 inches, Floyd can also be brought inside to add a little fun to any nook or corner.
---
Lighted Copper Flowers Solar Garden Stake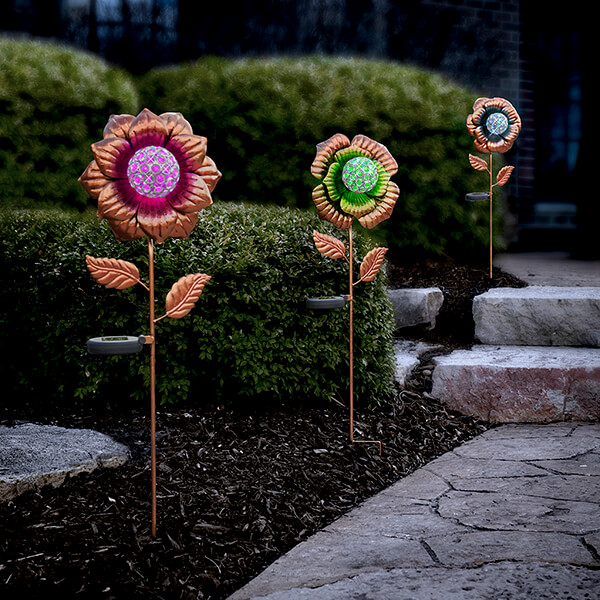 Whether the new home is a rental or a purchased one, give them a gift to enhance their outdoor area. This gift available only from Hammacher Schlemmer includes a set of three solar-powered copper flowers. The center of each of the flowers contains a different LED light so it is an energy-friendly way to add color and beauty to the landscaping.
It is one sure way to welcome them into their new place.
Hammacher Schlemmer
---
Good Living Room / Den Ideas
Some of these ideas are fun and some are highly practical. These items will get out in the open and be viewed every day so I didn't go overboard with any odd design choices. Again personalization makes an entrance here!
---
Personalized Monogram Wall Key Holder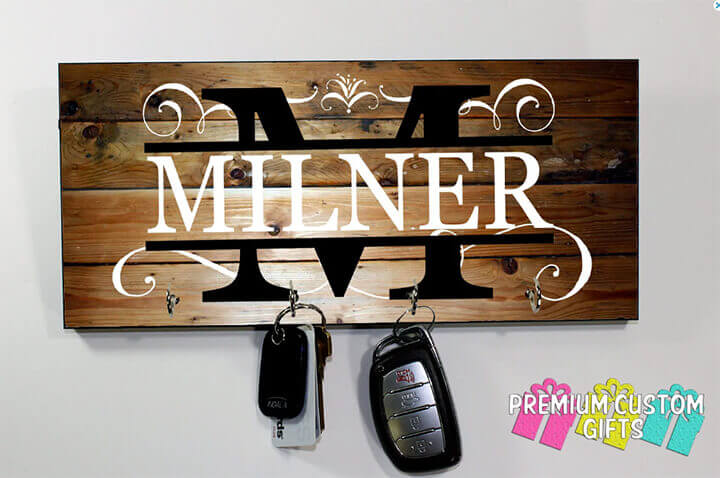 Help your new homeowner(s) know where their keys are at all times. This customizable, wall-mount key hanger features four metal hooks and will add that extra touch to the home while also helping them stay organized.
The MDF material creates a smooth surface and the background can be customized to match the home.
Etsy – $19.95
---
Three Tier Tabletop Fountain

The flowing water of a fountain can add a sense of tranquility to any home. This tabletop version is a great housewarming gift.
The water flows over each of the three lily designs to a basin below. It even has a LED night so the fountain can provide a focal point even in the evening.
Since it is a tabletop fountain there is no need for plumbing and each tier can be easily removed for cleaning. Your new homeowner will be able to enjoy their new gift immediately.
---
His and Hers Key Holders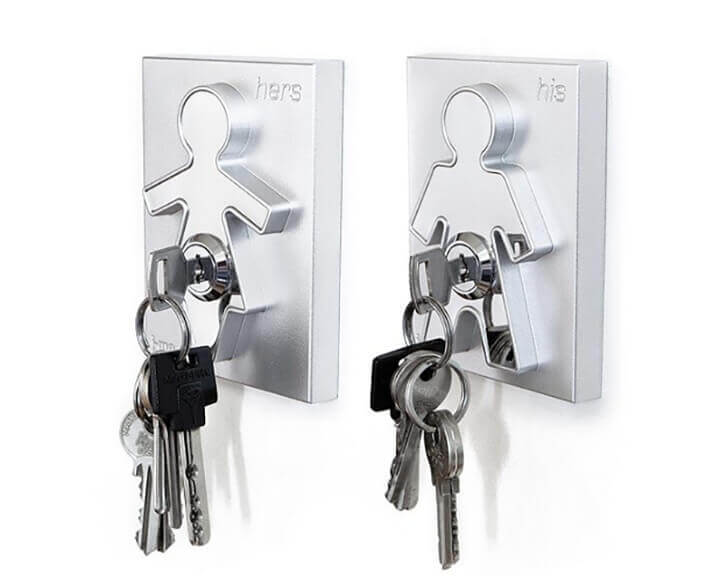 For those that want to give a key holder that is unique and different, this set is the ticket to make the new homeowners smile. The his-and-hers pieces mount directly on the wall and include actual locks to insert the keys while the rest hang down like they do in your car.
They just pluck them out easily and quickly when they need to go. Each piece features a zinc base with a protruding person that delivers a mirrored reflection made from chrome.
Uncommon Goods – $17.00
---
Marble Coasters (Set of 4)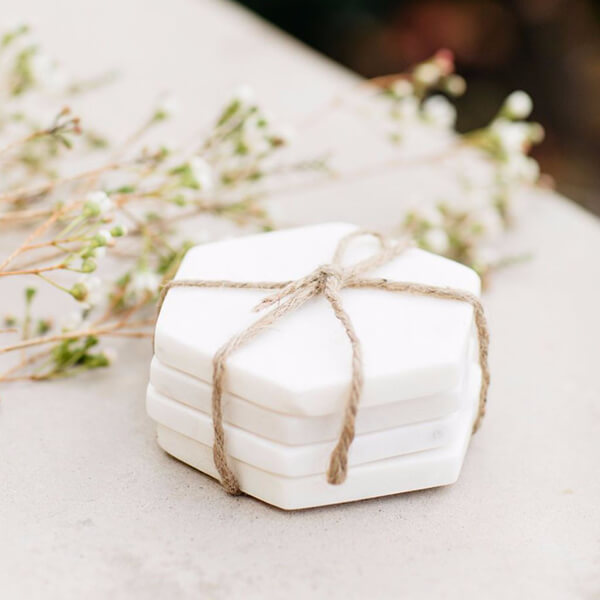 Everyone needs coasters to protect beautiful surfaces from drink condensation damage and beverage drips that run down the side.
Welcome your new neighbors with a beautiful, durable set of marble coasters, featuring a classic white design that blends with any house theme. The hexagon shape also serves as a nice change to the traditional square or circular varieties.
Each coaster includes 4 foam feet to protect any surface they place them on.
Couleur Nature – $50.00
---
Bliss Gardens Air Plant Terrarium Kit

Give new homeowners something to do and something to accent any room they desire with this beautiful glass terrarium kit (check price on Amazon) that features colorful plants and a 4-inch round design.
It easily fits on shelves, counters, tables, and more. The purple, awe-inspiring Amethyst gemstone adds life and beauty in conjunction with the Tillandsia Air Plants that help purify the air around the room.
Amazon
---
Rustic Home Framed Print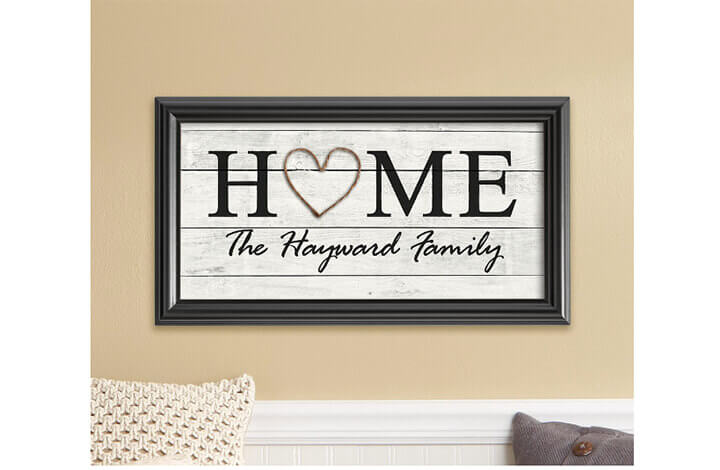 Give new homeowners something to enhance their living room, hallway, or a bedroom like this rustic home framed print with a black, wooden frame and a glass cover.
The print is customizable up to 25 characters and is often used for the family's name.
It has quite a few positive reviews so your new neighbors will surely enjoy it.
Personal Creations – $34.99
---
Where Memories Are Made Throw Pillow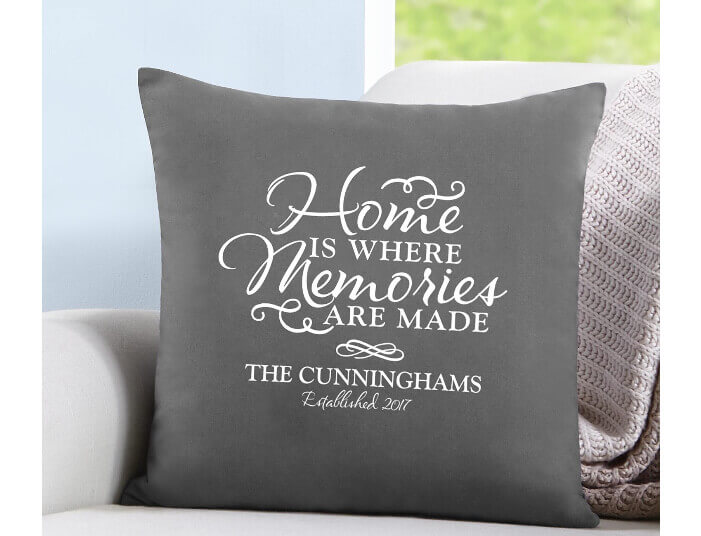 Give the gift of comfort with a 15-inch, personalized throw pillow that features the words "Home is Where Memories are Made." Customize it with 16 characters underneath that and a year for the established line.
They will enjoy it because the canvas is made of 100% cotton and it can be used anywhere they desire without affecting the theme of the room.
Personal Creations – $34.99
---
Better Homes & Gardens Mosaic Glass Stake Light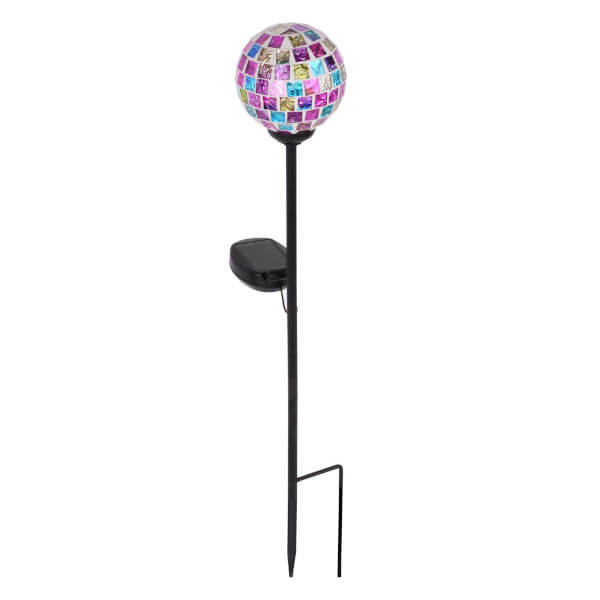 Whether the new home is a rental or a purchased one, give them a gift to enhance their outdoor area. This Better Homes & Garden solar stake includes an orb with amazing mosaic detail. And they're actually so inexpensive you can grab a few and still not break the bank.
Walmart – Under $20.00
---
Custom Home Accent Light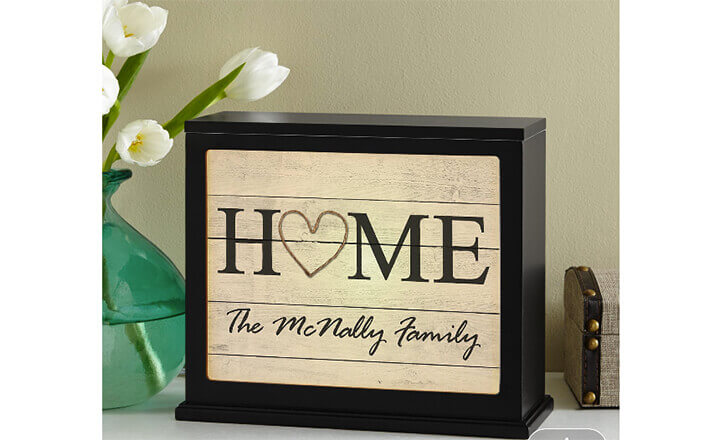 When you have some new homeowners to celebrate with, this personalized, tabletop light does the job well.
It's made of wood and acrylic materials and you can personalize for them with any message up to 25 characters that will appear below the home image. It measures 10-1/4″ wide by 8-3/4″ high.
Personal Creations – $49.99
---
Google Chromecast Ultra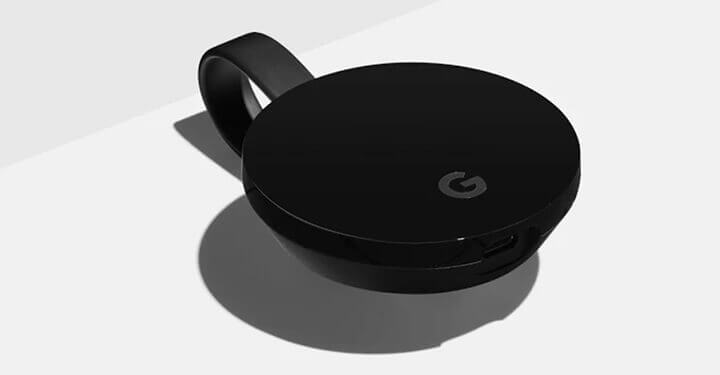 This one may be slightly off to the far side of housewarming gifts, but it definitely makes a good one. Everyone needs access to the entertainment they love and the Chromecast Ultra gives the new homebuyers access to all their favorite videos, movies, and shows.
It mirrors their Android or iPhone devices so they can sit back on the couch and enjoy that long-needed binge break or browse pictures on their phone.
Google – $59.00
---
Printer's Home Office Letter File Bin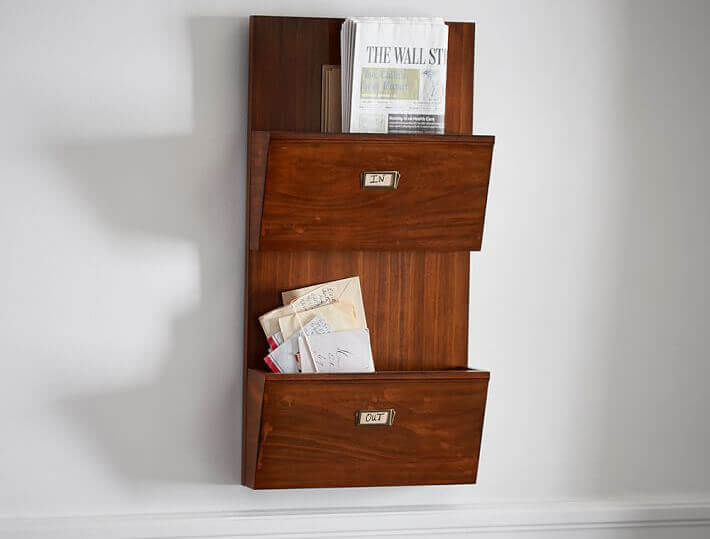 Organizing is one thing that everyone can benefit from and a letter file bin is a perfect addition to keeping an office or room free of clutter.
This new homeowner gift is made of pine with a Tuscan chestnut finish. It features two roomy slots for mail, letters, and other paper materials. Give them easy access while also giving them less clutter and less lost mail.
Pottery Barn – $99.00
---
One Last Thing
I hope one of these gift ideas will make these new homeowners feel welcome. The personalization of some of the gifts is a nice touch and everyone loves a piece of unique home decor.
Need even more gift ideas? Try the Gift Idea Generator from Generators List. Click endlessly to get new gift ideas.
What have you given as a housewarming gift recently? Let me know in the comments below. I'm always looking to keep track of good ideas for welcome gifts as we live in a military town with a lot of turnovers.
—-
Pinterest Image