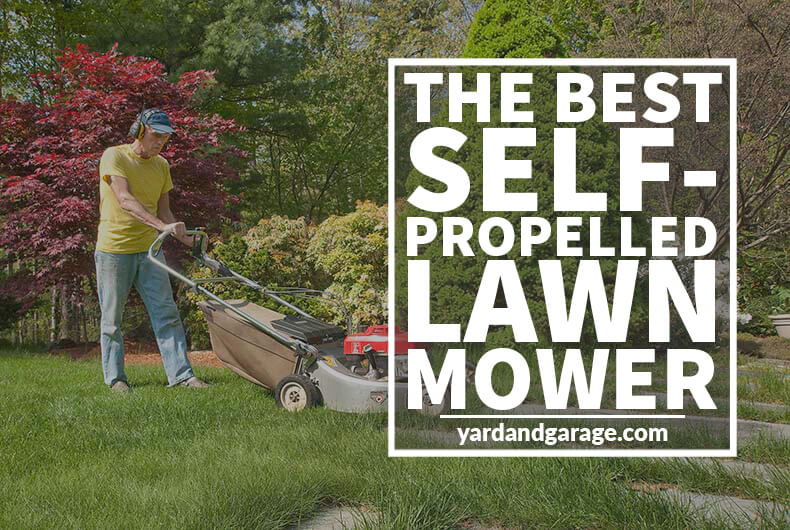 Disclosure: This post contains affiliate links. If you click through and make a purchase, I'll earn a commission, at no additional cost to you. Read our full disclosure here.
Self-propelled lawn mowers are an excellent way to make your yard work more enjoyable while saving some money. They simply push themselves, all you need to do is guide them to help control their path!
Self-propelled mowers operate much like regular push mowers, except they work on a drive system that requires you to squeeze a bar on the handle. This will engage the mower and the drive mechanism, and from there on out it will move on its own.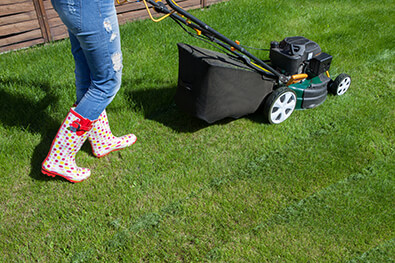 They are propelled forward by either rear-wheel drive, or front wheel drive depending on the model. Some models even have both front and rear -wheel drive, making mowing on hills easier to accomplish as well.
They are perfect for reducing fatigue, allowing you to have more energy, and save your back for whatever else the day has in store for you. As we all know, traditional push mowers can be exhausting, especially for those of us who have property around the one-acre mark.
Self-propelled mowers make cutting your lawn less demanding. It is for this reason that professional lawn care workers utilize self-propelled mowers to help with some of the extra work they may have on the job.
After using a self-propelled-lawn mower, and seeing how much easier it is to use when cutting your lawn, you won't want to go back to a regular push mower.
Here are the five best self propelled lawn mowers currently available:
Quick Mower Comparison Table
Table could not be displayed. Table could not be displayed.
In this article, we will review five of the best models of self-propelled lawn mowers of 2021. We will explore some of their features, the pros, and cons of each of the models, give you any model specific information, and even link you to where you can see them for yourself.
This could help you make a more informed decision on what exactly it is that you need for your own yard work.
OK, I'm sold on self-propelled lawn mowers. Just take me to the reviews.
---
Why Should I Purchase a Self-Propelled Mower Online?
Several things should be taken into consideration when deciding to purchase your lawn mowers online or at a local dealer.
Image source © Deposit Photos

The first of which, there are a wider array of options to choose from. When going to your local hardware store, you may notice that the options are few, far and between. If they do not carry what you need, they will simply order the item online themselves, then sell it to you at a markup price.

This brings me to my next point, that shopping online is cheaper. Many times, you can find the deals online, and this is what is great about living in the 21st century. In today's day and age, we have to find every opportunity to save money where we can, and purchasing your mower online can help you to achieve this goal.
One of the best reasons to purchase online is the ease of ordering and shopping. All the information you need is right there at your fingertips, and there are countless resources on the internet that can help you to answer any questions you may have.
You also cut out the salesmanship, as honest reviews placed by customers who have purchased the mower you are interested in are available.
---
What Should I Look for in a Self-Propelled Mower?
Self-Propelled mowers have all the great features previously mentioned, but what you are really looking for is longevity, capability, and ease of use.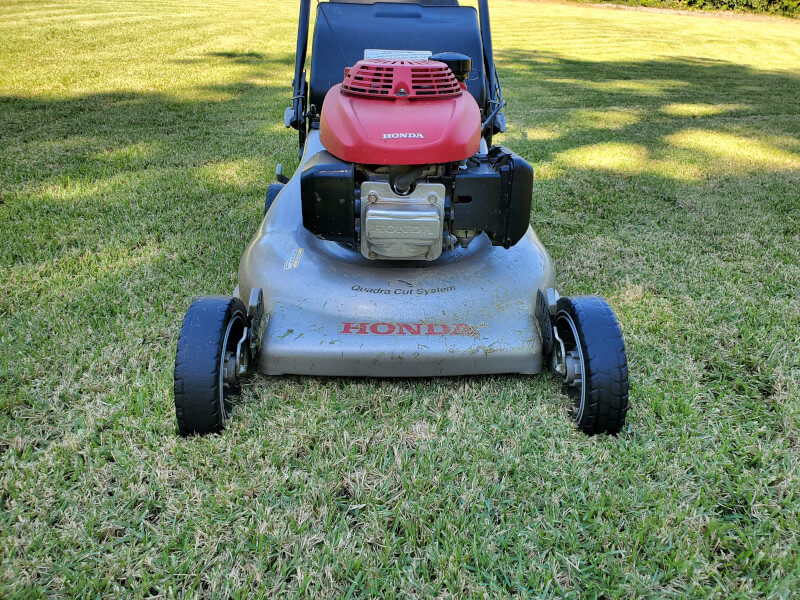 You'll want to make sure any mower you choose has a mulching option and comes with a detachable bag for catching grass clippings. I have wanted to get around to posting an article on the benefits of mulching and bagging for your lawn but haven't gotten around to it yet.
The short of it is that you aren't helping your lawn by letting large clippings pile on your lawn. You need to either bag your lawn clippings for composting/removal or you need to use the mulching attachment so any clippings are very fine and break down easily. This leaves your lawn looking its best without messy clippings everywhere.
Self propelled mowers are a hot ticket item for many homeowners, and they easily fit in a garage, shed, or wherever it is that you plan on storing them. They are smaller than riding mowers, making it easier to keep in your garage and still have room for your vehicle, and working areas.
If you have an average sized suburban lawn, I do not recommend electric lawn mowers yet. A gas mower is still your best best. If you have a postage stamp sizes lawn, then electric may be a better choice.
Which Model is the Top Self Propelled Lawn Mower of 2021?
---
#1. PowerSmart 21 inch Rear Wheel Drive Lawn Mower
A 170 cc OHV engine is what drives the mower. It features a 3-in-1 mulch, collection, and side discharge options. It also has a 21-inch steel cutting width, allowing for ease of cutting your grass.
Has a 5 position cutting height. With just a simple height adjustment, you can transform the cutting height to suit any occasion and going from 1.18 inch of grass to 3 inches of overgrown tall grass with this tool makes it easier than ever!. A soft grip handle makes for a comfortable lawn mowing experience.
Quiet idle run. Ease of pull / easy to start is another nice feature on this model.
Pros:
Easy setup, user friendly
One pull start after first use
Cons:
Hard plastic wheels have less traction than rubber.
Does not come with required pint of oil.
---
#2. Honda 21″ Electric Start Mower
The gas-powered Honda HRN216VKA self-propelled lawn mower sits at the best of its class. A mulching option is available, and it has micro cut twin blades to ensure a precision cut experience.
This model also features a variable speed control lever, allowing you to change the pace to fit your comfort.
This self-propelled lawn mower features great maneuverability around corners and sports a rear wheel drive. The mower is built to last, with longevity being a major highlight of the product. It has a solid steel deck and provides 21 inches of cutting surfaces.
The Honda engine lives up to its reputation, providing excellent power, and drive capabilities to ensure a quick, easy, and painless lawn mowing experience to the customer.
Pros:
Packaging is well-done, helping prevent damage to the product during shipping.
Motor is fully assembled on arrival, with oil in the box, making the initial set up process a quick and easy process.
Multiple cutting adjustable height setting for the mower, making it easy to discern height of grass for each cut.
Easy Start up, user friendly.
Cons:
Some users have reported to tighten the wheels before first use.
---
#3. Black and Decker 21-inch Lawnmower
Powered by a 140cc engine, this lawnmower is equipped with a 21-inch cutting deck, letting even more ground get cut at once. Dual levers allow adjustments between 6 different trim heights so any kind of lawn can get all leveled out.
This model features 3-in-1 side discharge capabilities, mulch, or rear bag. 8 by 8-inch-high performance wheels and an adjustable ergonomic handle make this mower easier to use.
This nimble mower is lightweight and has a proven, workhorse engine that will get your mowing jobs done.
Pros:
First pull recoil start.
Lightweight and easy to maneuver.
Bar-treaded tires help with traction on slick grass.
Cons:
A little pricey for 140cc engine.
---
#4. PowerSmart PSM2022 21-inch RWD Lawn Mower
The PowerSmart PSM2022 22-inch rear wheel drive Self-Propelled Lawn Mower has a whopping 200cc engine, and comes with a generous 3 year warranty. This mower also features large 11 1/2 inch rear wheels, 5 setting adjustable height preference, and a 3-in-1 side discharge, rear bag, or mulch option. The bag is pretty hefty at 14.6 gallons, keeping you cutting longer between clipping dumps.
With the previously mentioned height adjustment, you can get your cut from a 1.2 inch scalp to a leafy 3.5 inch height. The PowerSmart ships with standard plastic wheels. An upgrade to rubber wheels would be a great project.
This mower is very easy to set up and works great on initial use. The user-friendly model comes with a manual, one-pull startup, and a sleek black paint job to allow you to mow in style.
Pros:
Runs smoothly, and easy to use.
One Pull start-up.
Large rear wheels give great mobility.
Cons:
Speed may be too much for some homeowners.
Plastic wheels lose traction on wet grass.
---
#5. Lawn-Boy 17732 21-Inch Lawn Mower
The Lawn-Boy 17732 21-Inch 6.5 Gross Torque Kohler XTX OHV, 3-in-1 Discharge Rear Wheel Drive Self-Propelled Lawn Mower features a rear wheel drive system to ensure better traction and control on hills.
The manufacturer guarantees a 3-year Tru-start commitment, stating it will start in one or two pulls, or Lawn-Boy will fix it for free.
A two-point height cut system allows you to adjust the height of the mower. The model has a 149cc OHV engine. It is CARB compliant for the state of California.
Pros:
Easy to fill gas spout.
Rear wheel drive ensures a power-driven experience.
Handles corners well.
Cons:
The height adjustment feature is on the side of the mower, and is not as easy to use as a lever adjuster.
Assembly is not as easy as some other models.
---
My choice for the best self-propelled mower.
These mowers are a great starting point for those who are looking for a good quality cut and easy to use lawnmower for their yard work. Each has their own unique benefits, some lawn mowers handling hills and corners better, while others feature better assembly, startup, and overall performance.
Many people who cut their own lawns may have their own personal preference on the features they require, but one mower, in particular, seems to stand out by having all the features one may need already built in.
The clear-cut winner of the roundup and my vote for the best self-propelled lawn mower is the Honda HRN216VKA.
No products found.
The value of the mower, its customer ratings, and its longevity make for an excellent investment for those looking for a strong performance they can count on throughout the years.
It is no wonder why so many of the customers who purchased this self-propelled mower had many pros to highlight, with very few complaints.
I have owned a slightly different model, the HRR2168VKA, which doesn't come with an electric start, for over 8 years now. It is still running great after all this time and the next mower I get will be a Honda as well.
---
Share this Post on Pinterest