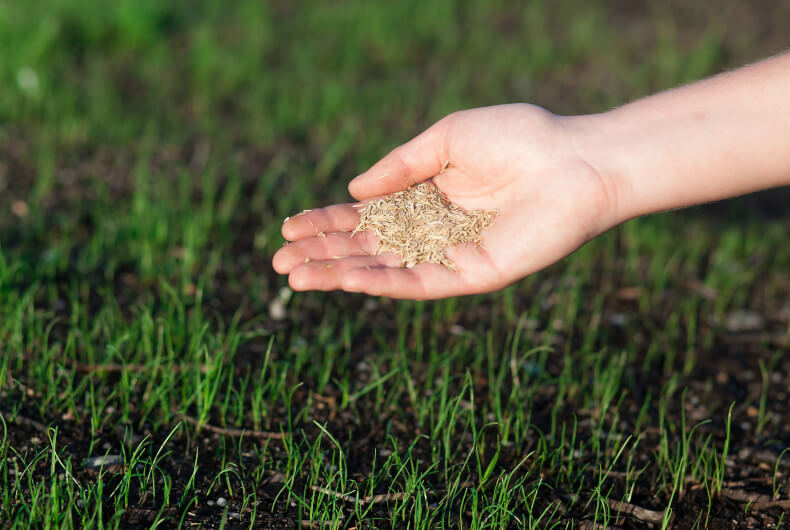 Once you plant seed on your lawn, the germination and growth process depends on multiple factors, the primary of which include the soil conditions, weather conditions, and type of seed.
If you want to successfully grow grass on your lawn, it's essential to understand this process requires more than just watering the lawn and waiting for results.
The following looks at what you need to grow grass from seed and how long this process usually takes.
How Long Does it Take Grass Seed to Germinate?
Before you start planting grass seed in your lawn, you should gain a better understanding of the length of time it takes for grass seed to germinate. This largely depends on the type of seed that you choose for your lawn.
In general, you should expect grass seed to take anywhere from 1-4 weeks to germinate.
When looking at some of the more popular grass varieties in North America, the average germination time for each is:
Annual ryegrass – 5-10 days
Perennial ryegrass – 5-7 days
Bentgrass – 14 days
Red fescue – 12-22 days
Kentucky bluegrass – 10-21 days
Zoysia grass – 14-21 days
Keep in mind that the time it takes for your grass seed to germinate also depends on the current weather conditions and the soil conditions.
If the soil conditions are poor, your grass may take longer to germinate than the average timeline mentioned above.
How Much Grass Seed Do I Need?
When you're planting grass seed in your lawn, you must use the right amount of seed. If you don't sow enough seed, the grass could be patchy once it germinates and grows, which will essentially invalidate any work that you've done.
If you're looking at seeding an entirely new lawn, you'll want to plant upwards of 2-3 pounds worth of grass seed per 1,000 square feet of soil. You can go up to five pounds of seed without issue.
If your lawn is being reseeded, the total amount of seed you'll require is around half of the requirements mentioned above.
Certain grass varieties call for even less seed. When you purchase grass seed, take a look at the label on the bag. On this label should be some information and details about the planting requirements for the seed variety.
With this information in mind, you should be ready to start planting grass seed on your lawn.
What is the Best Time to Sow Grass Seed?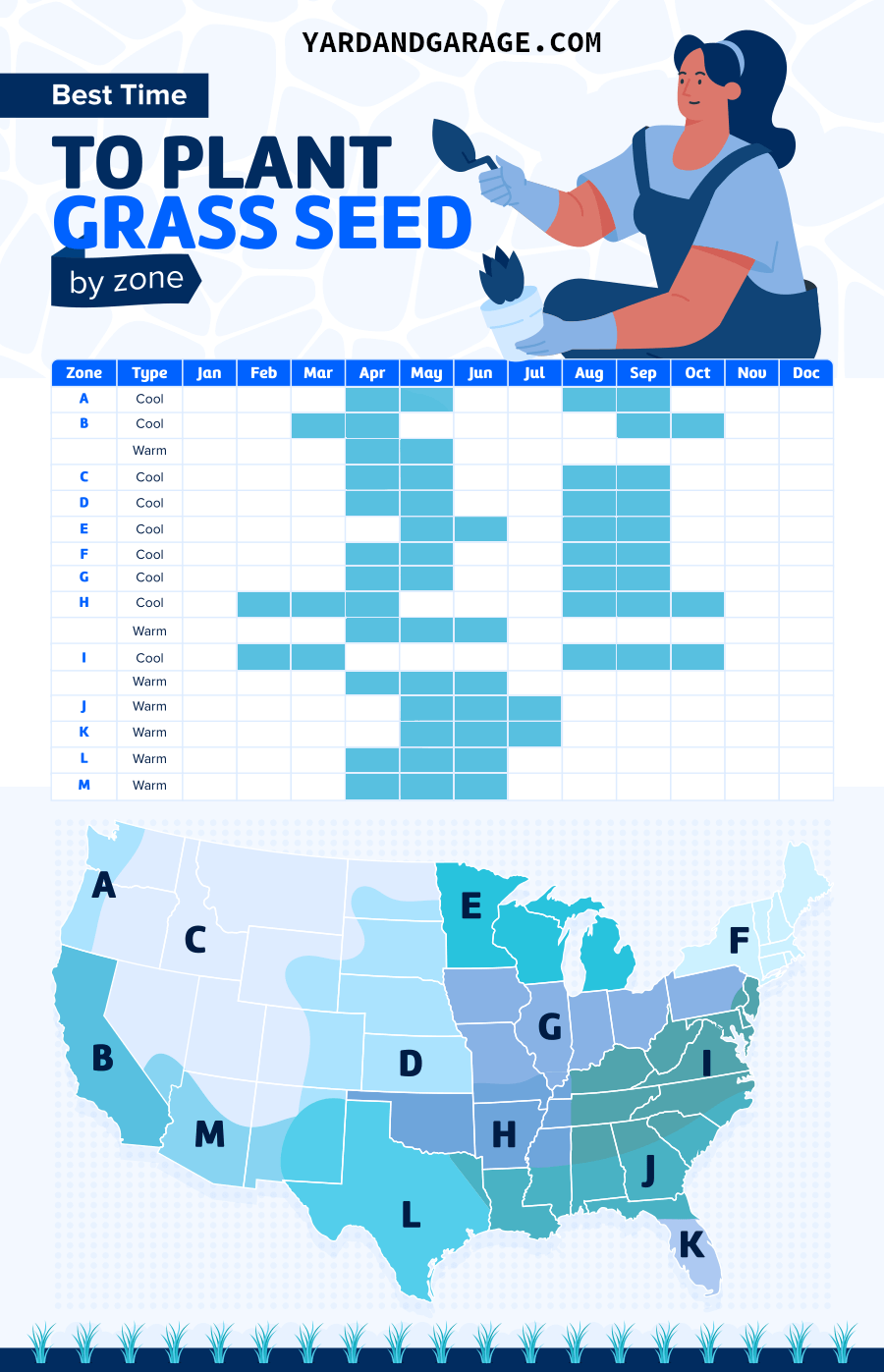 As long as you plant seed during the growing season, you'll be able to grow grass without issue. On the other hand, different grass varieties grow more effectively at different times of the year.
Cool Season Grasses
Keep in mind that grass can be separated into warm-season grasses and cool-season grasses. When looking specifically at cool-season grasses, these grasses should typically be planted at some time between the fall and spring months.
You'll find that cool-season grasses can be more effectively grown in northern locations. A few of the more common cool-season grass include perennial ryegrass, Kentucky bluegrass, and tall fescue.
If you want to sow cool-season grass seed, the soil temperature should be between 50 and 65 degrees Fahrenheit. Make sure that you plant this seed at least 30 to 45 days before the initial frost of the year, which allows the grass to become more established in the soil.
You can also plant this type of grass seed in the spring months. However, you risk the possibility that the ground won't be warm enough because of the cold winter temperatures that came before.
Warm Season Grasses
As for warm-season grasses, they invariably grow most effectively during the late spring and summer months. However, if you live in a warmer climate, you should be able to plant warm-season grasses throughout much of the year.
The more common warm-season grasses include zoysia grass, Bermuda grass, Bahia grass, and centipede grass.
You should plant warm-season grasses after the outside temperature has reached at least 80 degrees Fahrenheit. The soil temperatures should be anywhere from 65-70 degrees Fahrenheit, perfect for warm-season grasses.
Ensure that you don't plant this type of grass seed until there's no longer a risk of frost.
If a frost occurs after the seed has been planted in your yard, the grass seedlings could experience freeze burn, which may cause death. Therefore, you'll also want to plant this seed as early as possible.
Once temperatures drop into the 50's, the grass itself would likely become dormant, which means that it would no longer grow.
Will Grass Seed Germinate On Top Of Bare Soil?
You don't need to plant grass seed under soil for it to germinate like you would for vegetables. A light covering of weed-free straw will help your seeds retain moisture and germinate faster.
You want the seeds to have good contact with the soil so many homeowners will run a roller over the soil. This step isn't required however, raking and the straw should be sufficient.
In many cases, placing the grass seed above bare ground may be preferable. When grass seed is planted under the soil, the seedlings might not push their way through the ground after germination. If you make the mistake of placing too much soil above the grass seed, the seed likely won't grow.
How Can I Speed Up Grass Seed Germination?
There are several methods you can use to expedite the grass seed germination process. The most common method involves a pre-germination process.
To pre-germinate your grass seed, make sure that the seed is placed in a bucket that contains a moist compost mix. This mix should sit in place for 3-4 days.
When the seed has finally begun to swell, you should notice a slight growth. These seeds should then be placed on a completely dry surface for upwards of 12 hours, which gives the seeds time to dry out.
The seeds can then be planted in your lawn, after which they should grow more rapidly.
How Long Does It Take Grass Seed To Grow 2 Inches?
When you're looking to plant grass seed, you'll likely want to know how long it takes for the grass seed to grow two inches in height from the initial sowing. The growth rates of the most popular grass varieties are listed below.
In general, grass grows at a rate of 1-3 centimeters per week, making for an average of two centimeters per week. It's also essential to take the time of germination into account. You can expect grass seed to grow two inches from the time of seeding in:
Annual ryegrass – 24-29 days
Perennial ryegrass – 24-26 days
Bentgrass – 33 days
Red fescue – 31-41 days
Kentucky bluegrass – 29-40 days
Zoysia grass – 33-40 days
Taking Care of Your New Lawn
Once you've planted some grass seed, you must take good care of your new lawn into the first mowing if you want your new grass to survive and thrive. The following describes three critical aspects of taking care of a new lawn.
Watering
Any new lawn has a higher chance of failing if the grass seeds are watered too much or too little. In most cases, new grass should be watered regularly until the seedlings have reached a height of two inches. To keep the soil moist, you must water your new lawn at least once every day.
Ensure that the top 1/2 inch of your soil doesn't become dry before the grass reaches a one-inch height. After the grass is two inches tall, you can lessen the frequency you water your lawn. With these tips in mind, your grass should be able to grow without issue.
Fertilizing
The fertilizing requirements for a new lawn are also critical. In the initial 6-8 weeks of growth, it's highly recommended that you don't fertilize your lawn.
If your soil has a premium quality and condition, fertilizing your lawn may be completely unnecessary. If you find yourself unsure when to apply fertilizer, you could choose to wait until the fall months.
Test your soil regularly to make sure that the conditions are ideal for the application of fertilizer. When you're searching for the right fertilizer, the one you choose must contain the best nutrients for new grass.
The primary nutrients that can support new grass include:
Phosphorous – This nutrient promotes root growth and is necessary to ensure that a new lawn is established correctly.
Nitrogen – This nutrient facilitates healthy leaf growth and can help grass appear greener.
Potassium – This nutrient can prevent disease and strengthen the grass.
When you decide to fertilize your new lawn, ensure that you don't saturate the ground in fertilizer. While these nutrients are helpful for the growth and health of new grass, they could leak into the water table, which would invariably lead to runoff.
Fertilizer runoff is terrible for the environment and can cause algae blooms to develop in local lakes and ponds.
When Should I Mow My New Lawn?
New grass should always be treated as delicate, which should help you avoid damaging the grass before it's grown to the correct height.
For instance, you shouldn't walk on a new lawn in the initial three weeks of growth.
As for mowing, you shouldn't mow your yard too quickly. In general, you should wait until the height of the grass has reached 3-4 inches tall before mowing.
Then, when you first mow your lawn, consider raising the blade on your lawnmower to make sure that the grass isn't cut too short.
While the grass should look tidy after a first mow, cutting the grass too short risks pulling the seedlings out of the soil, which would negate any work that you've done to this point.
During your second mow, cut the grass to the max height, which should be listed on the package for the type of grass seeds you purchased.
Frequently Asked Questions
Q: How do you plant grass seed?
A: To start planting grass seed, you should first prepare the ground by digging or tilling your yard to a depth of three inches.
You should then add compost and topsoil, both of which should be worked into the soil. When spreading grass seed, make sure to provide your lawn with even coverage.
After sowing, rake the entire area to ensure that the seeds are distributed evenly and make contact with the soil. Use some weed-free straw as mulch to help retain moisture.
Q: What month is best to put grass seed down?
A: The best time to put grass seed down is from mid-March until early April, which can accommodate most types of grass seed.
However, the ideal time of the year to plant grass seed largely depends on the kind of variety you're growing. For example, cool-season grasses should be planted while the temperatures are colder.
On the other hand, warm-season grasses should be planted in the late spring and summer months.
Q: Is there such a thing as too much water?
A: It's always possible to use too much water when you're attempting to grow a new lawn. If your grass gets more water than it should, it won't receive enough oxygen, which could cause the grass to effectively suffocate.
A high amount of water also increases the risk of disease in your grass.
Q: How does grass seed go through the germination process?
A: Seed germination is a simple growth process when the seed obtains enough moisture to begin sprouting. The soil temperature regulates the germination process.
If the soil conditions aren't favorable, the seed's hard outer casing could remain intact until conditions have improved. Since a grass seed can only sprout once it receives enough moisture, you must regularly water your newly sown lawn.
Start Growing Your New Lawn Today
Growing a new lawn is a relatively simple process as long as you understand how to plant your seeds and take care of the lawn until the grass has grown above two inches.
Depending on the grass varieties and the soil temperature, you should start to see the fruits of your labor after 1-3 weeks.