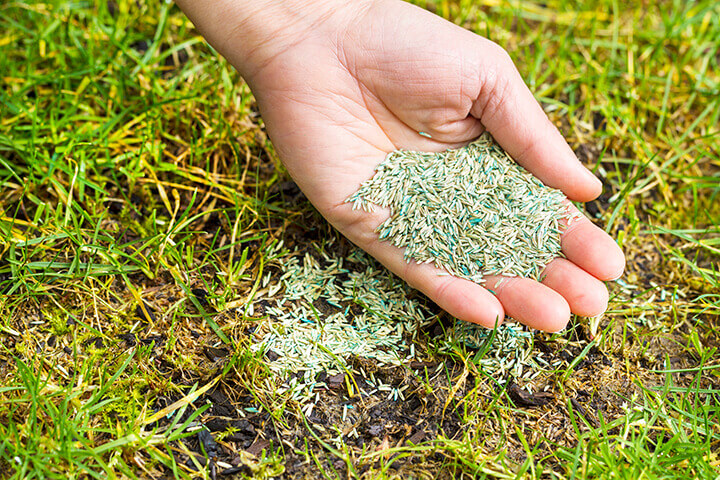 Yes it is true. Grass seed does have an expiration date, and can spoil just like food can. The best method of ensuring your grass seed germinates it to plant it quickly after purchase.
However this is not always feasible if weather or your schedule doesn't permit timely planting.
Do not worry though, there are still some ways that you can keep your grass seed fresh and not spoil. Read on for some tips on keeping your grass seeds in good condition.
How to Store Grass Seed
It is always recommended that you store grass seed in a dry and cool area away from direct sunlight.
Fluctuating humidity levels are also not good for the bacteria in the seed, so it's important to keep your seeds at about 60% humidity.
Also avoid storing your grass seed near things that give off strong odors or fumes.
If possible, make sure they are in an airtight container so that moisture and light do not affect your seeds ability to germinate.
How Long Can Grass Seed Be Stored?
The good news is you can store grass seed for up to five years if stored properly.
Depending on the type of grass seed you have, it can lose its ability to germinate and spoil much quicker if not stored properly.
That being said, there are things that you can do to extend the life of your grass seed. There are also some options for buying grass seed that has already been stored properly, so all you have to worry about is planting it.
What Can I Do To Extend The Shelf Life Of My Grass Seed?
Storing the seed properly before you even use it will prolong its life. The main cause of rapidly-spoiled grass seed is moisture and heat.
As we mentioned earlier, storing your grass seed in an airtight container in a cool and dry place will prolong its shelf life, and keep pests from having a good meal. I have a couple of airtight containers to store dog food and bird seed, keeping them fresh.
What Does Spoiled Grass Seed Look Like?
If you were to leave your grass seed unprotected in a warm and humid environment for a length of time, the moisture content of your seeds will increase to unsatisfactory levels.
You would be able to tell if they had gone bad by looking for three signs:
Discoloration
Moldy or rotten smell
The appearance of fungi or mold on the seed
If any of these three things are visible on the seeds then they have gone bad.
Sometimes if you did not store your seed properly and it gets extremely hot during summer months, or if there is abundance of humidity, the seed will begin to sprout prematurely. This would be considered rotten too, since it hasn't even had a chance to reach maturity.
What to Look For When Buying High-Quality Grass Seed?
When you are considering buying grass seed for your project, it is important to pay attention to the type of seed.
If you buy a regular grass mix that does not have the name of the species on the package, then chances there is more than one type of seed in there. Often times this mixture will be some kind of common lawn grass seed, and not the specific species you want.
When buying grass seed at a retail outlet make sure it is marked specifically for the type of grass you want to plant. High-quality seeds will typically be free from weeds, other crops and filler material.
At the very least, make sure your new grass seed is properly packaged to maintain freshness as long as possible.
Tips for Getting Good Germination from Grass Seed
Now that you know how to store your grass seed, it's time to talk about planting the seeds. If you want good germination rates and a successful lawn, then make sure that you follow these steps:
The first thing to do when starting your new project is to remove any weeds growing in the area that you are planning on planting your new lawn. This will allow the grass seed to establish a foothold in the soil for better growth and start growing right away.
Gently rake in the grass seeds. Cover the are with a light blanket of straw or compost. Next, water the seeds thoroughly a couple of times until germination takes place. After germination, you can give them a good watering once per day.
Try to stay off your new stand of grass for a couple of weeks.
Conclusion
Grass seed really does go bad, but there are ways of storing or mixing the grass seeds with fresh grass seeds that will extend its life.
It is also important to plant the seed properly and keep new grass healthy in order to get good germination rates.