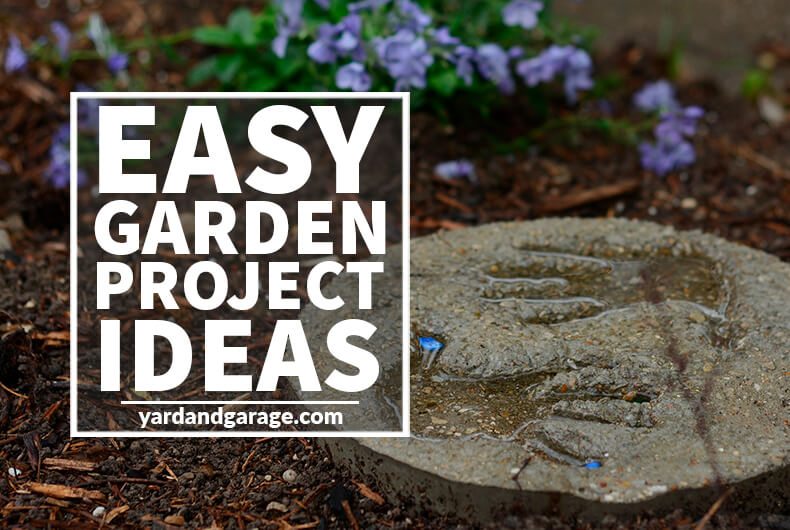 If you are looking for different ways to add a creative look to your yard's landscaping, you'll be pleased to learn that there are a lot of ways you can go about adding a special touch to the yard that gives it your own vibe.
Best of all? These projects are cheap and don't cost a lot of money! This article is full of great landscaping ideas you can make yourself.
Make your own stepping stones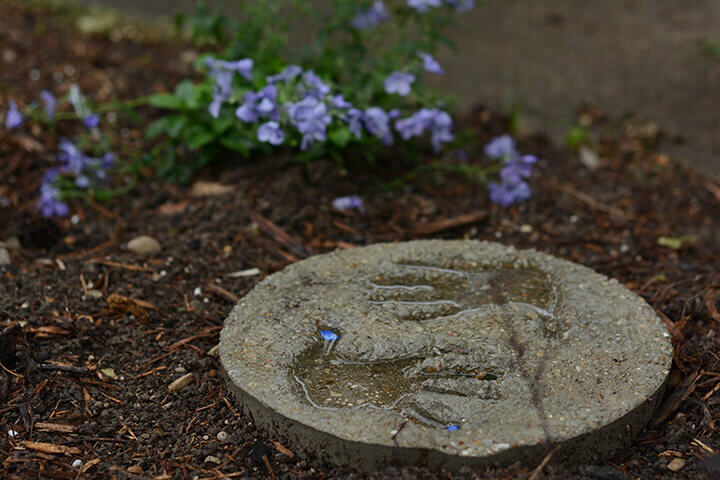 Making your own stepping stones can be a lot of fun, and it allows you to place stepping stones around your property that have been personalized in a way that allows each of them to represent something special to you.
Stepping stones can easily be made in your kitchen with quick-drying cement and cake pans. Once you have the cement in the pans, you can decorate the stepping stones to give them the look you want.
This is where you can have the kids put their hand and/or feet print in them, write special messages on the surfaces with a sharp stick, place marbles or colored glass in them for a fantastic mosaic look, or decorate them in any other way.
Once they are dry, you can carefully remove them from the pans and place them around your yard to give it that great personalized touch. These would make for a great Father's Day gift for old dad.
---
Use retired wheelbarrows as cheap flowerbeds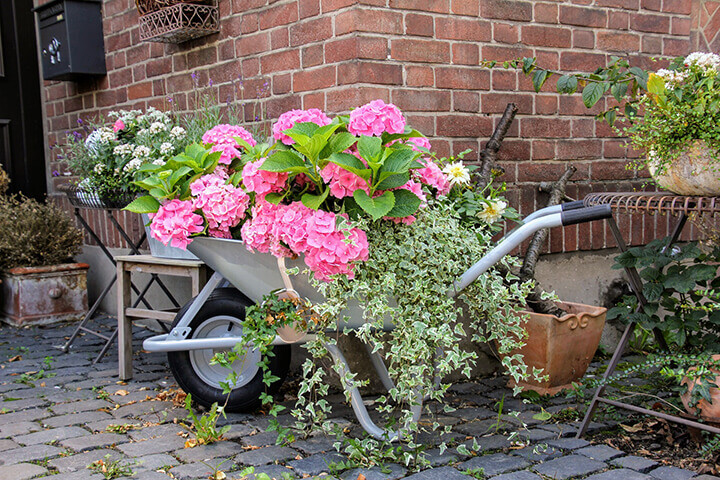 Keep an eye out for old wheelbarrows. You may have one somewhere on your property. You can also find that other people will be more than happy to give you their old wheelbarrows, just so they don't have to worry about disposing of it themselves.
It will be a simple task to add potting soil to the wheelbarrow and plant flowers in it.
If you plant a lot of flowers in the wheelbarrow, then it will have a fantastic look to it where there are piles of bright and colorful flowers spilling out of it.
You can use more than one wheelbarrow, so you have several of them throughout your yard, each adding their own special touch to the landscape.
You can even paint the wheelbarrows any color you want so that you achieve the exact look you are trying to get for your yard.
---
Build a garden potting bench
If you have access to some old pallets this would be a good afternoon project.
You can use the bench to store watering cans, potting mix, hand tools, etc. where they will be needed most. No more lugging things out from the garage and you will get to enjoy gardnening more.

This video shows a really good looking bench as the finished product. Most everything is straight cuts so novice carpenters can build this too.
---
Make your own fire pit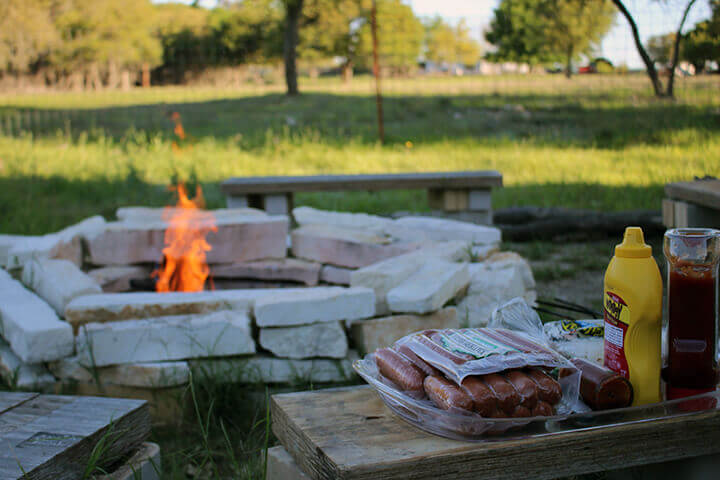 There are a couple of ways you can go about making a fire pit in your yard. No matter the way you choose, the fire pit will add another element to your yard and will give you a social area where you and your family can gather to enjoy a warm fire and roast marshmallows without the need to pack everyone up in the car to go camping.
You can make a fire pit by digging the appropriately sized pit and placing medium-sized rocks all the way around the pit. By digging the fire pit deep enough, you won't need to create a very high border with the rocks.
If you have dug a somewhat shallow hole, then you will need to go a bit higher with the rocks. You may want to use some cement to hold them in place. You can also make a fire pit by clearing out space so it's just dirt exposed. Then, use masonry bricks and cement to create the pit.
---
Make a colored glass wind chime for the garden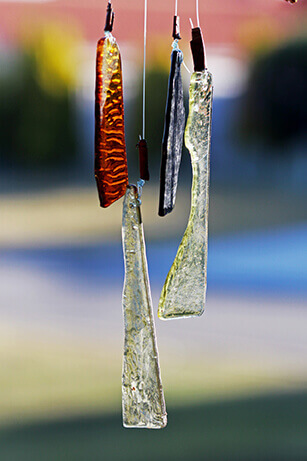 You can make a fantastic looking wind chime to display on the porch of your home by using just a few items you may already have laying around your home.
You can gather pieces of colored broken glass that start out at about the size of a nickel and go up to the size of a half dollar or even a bit larger than that.
Use a hot glue gun to glue fishing line to the tops of the pieces of glass.
Cut the pieces of fishing line so they range from 8 inches in length to 10 inches in length.
Tie the other need of the fishing line to a round wire you've made from a wire coat hanger.
Tie four pieces of fishing line that are each 8 inches long around the wire ring.
Use those strands of fishing line to hang the wind chime from a nail.
---
Really easy project: Make boot flower pots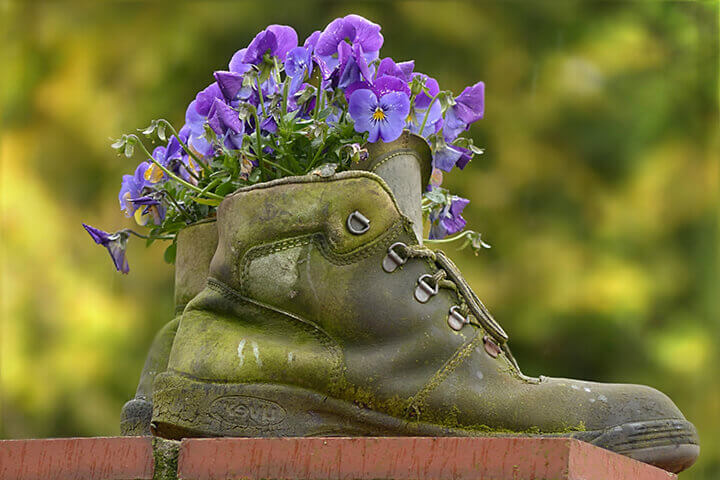 You can turn old work boots into unique flower pots to place around your yard. It should be noted that these flower pots are the perfect size to place on or next to your porch.
Not only can you use work boots, but you can also use cowboy boots and any other type of boot that has a look you find appealing for this purpose.
To make the flower pot, you should spray the inside of the boot with a clear sealant to protect it from the development of mold and mildew.
Open the top of the boot and stretch the shoelace out to a generous proportion. Take a small flower pot that fits inside the neck of the boot and fill it with soil, then plant a tall type of flower in the pot.
Place the pot carefully inside the boot and set it right where you want it.
---
Make a simple tire trash can for the garden.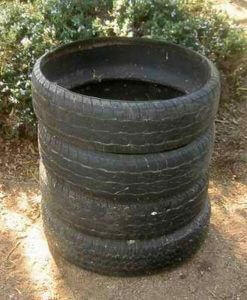 If you have tires laying around, then you can put them to good use in a way that prevents them from wasting space.
Take three or four of the tires and set them next to an area where you and your company tend to spend a lot of time. This would be the area of the yard where the most trash accumulates and the tires can be turned into an efficient trash container you can use.
Once you have the tires stacked, one on top of the other, you will take a black trash bag and place it down through the center of the tires. Wrap the lip of the garbage bag around the outside of the top tire.
Or, you can save an extra tire and place it on top of the bag to help hold it in place.
---
Decorate an old tree stump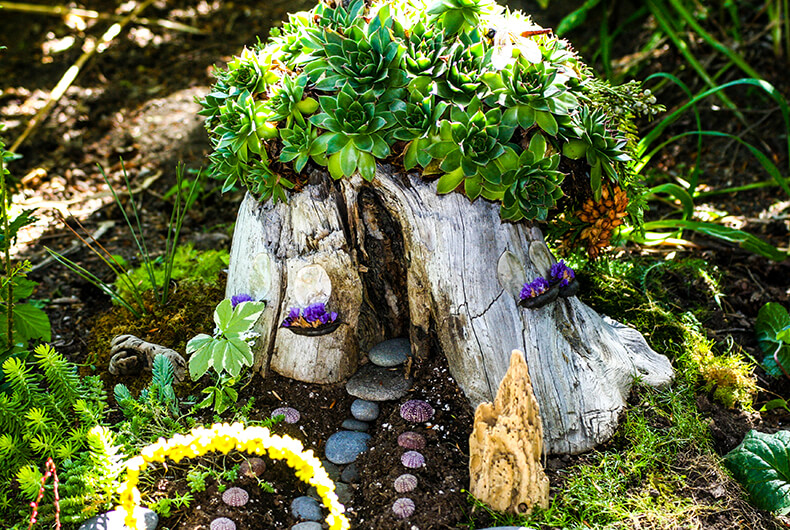 Turn that eyesore of a stump into a new garden focal point. You can dress it up with flowers, create a fairy garden, or make it into something usable. The possibilities are endless.
---
Conclusion
Now that you have a few great ideas on some of the ways that you can add to the look of your yard, you'll be able to get started on creating the look you want.
Take another good look around your entire yard, then step into your garage and look around at all the miscellaneous items you have laying around.
You'll be surprised at just how many fantastic ideas you can come up with on your own, once you get in the mood.