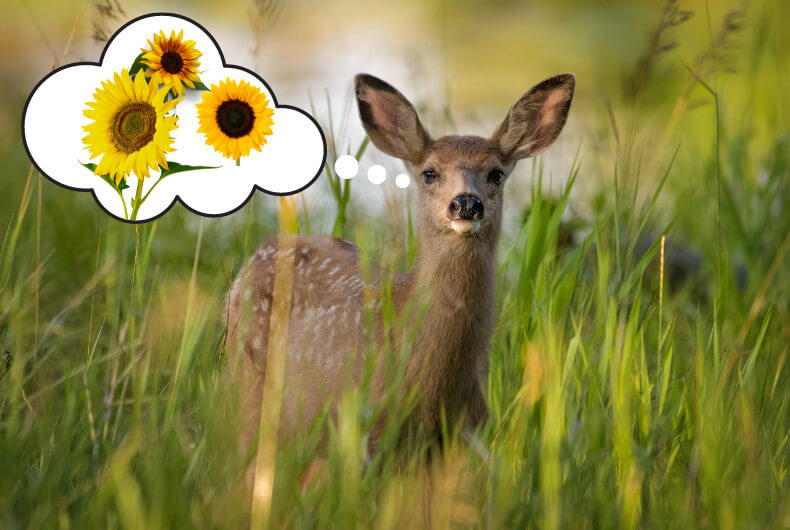 Planting sunflowers is a great way to beautify your landscape and secure your own source of delicious, nutritious sunflower seeds. However, you're not the only one who feels excited about your sunflower garden.
You may have noticed that, shortly after planting your sunflowers, a variety of new and exciting creatures have lined up for a buffet in your backyard.
Among these pests, deer tend to be the most destructive and prevalent.
They will nibble on your sunflowers so aggressively that you may not have a sunflower garden to speak of if you don't quickly take action.
Planting a sunflower garden takes a lot of effort, so you don't want to see your hard work undone by a few pesky animals.
Therefore, if you want to ward off deer and other pests, then take a look at this in-depth guide on effective methods to protect your sunflowers.
Why Do Deer Like To Eat Sunflowers?
Just like any other animal, deer need to eat to survive. In the wild, food can be scarce, and deer naturally flock around any source of food that they can find.
Unfortunately, they don't know when their next meal might be, so they can't be picky. Consequently, they tend to congregate around their feeding grounds until nothing is left, then they move on.
Thus, deer will naturally gather around any garden, and sunflower gardens are among their favorites. This is because sunflowers are highly nutritious, so deer can stock up on vital fats and carbohydrates to get them through their journeys.
Moreover, since the plants are so big, they are easy to reach and spot. Finally, most suburban gardens are free of natural predators.
Consequently, a deer doesn't have to look over its shoulder for bears, coyotes, wolves, or other hungry carnivores. All of these factors make your sunflower garden the perfect place for the local deer herd to safely gather and feed.
How To Stop Deer From Eating Your Sunflowers
Deer aren't known for their manners, and they don't care about the effort that you put into your garden.
However, because your sunflower garden provides a rare chance to feast in relative safety, your four-legged visitors aren't going to go away on their own. Therefore, you must find a way to get rid of them.
You may not want to hurt the deer; you just want them gone. Luckily, you can easily ward off the local herd without causing any harm.
The following list details the most effective ways to peacefully keep deer away from your sunflowers.
Deer Repellent Sprays
A variety of commercial sprays are effective at keeping deer away for days or weeks at a time. Depending on the product, you may have to spray the plants themselves or the perimeter of your garden.
Commercial sprays vary in their quality and safety, so you should look up the active ingredients in any spray before purchasing.
You can mix water, sour cream, eggs, dish soap, and clove oil for a more organic solution. Then, simply spray the mixture around your plants' stems, heads, and bases to keep pests away.
If you don't have clove oil, then you can use crushed red peppers, chili oil, mint oil, or any other hot or spicy product in its place.
Unfortunately, organic mixtures do not last as long as commercial repellents, so you will have to apply organic repellents more frequently to keep deer at bay.
Deer Repellent Granules
Granules are especially good at protecting smaller sunflower plants. You must simply sprinkle them around the base of your plants to keep deer away.
Granule repellents are also effective against rabbits, squirrels, raccoons, and other small animals.
Because deer are willing to eat the heads and stems of sunflowers, you should use repellent granules in conjunction with other methods.
Ultrasonic Deer Repellents
Ultrasonic repellents emit a high-frequency sound that is inaudible to humans but highly annoying to deer. They are super easy to install and maintain, and they can also repel opossums, rabbits, skunks, and other animals.
Because their sound is directional, you will need to install multiple ultrasonic repellents around the perimeter of your garden for the best results.
Fencing
Fences can work, but they have to meet specific requirements. First off, deer can jump very high, so your fence should be more than eight feet tall.
They're also great at slipping into tight spaces. Because of this, you shouldn't leave any gaps larger than six inches. Since deer may try ramming into your fence, your fence's supports should be partially underground for extra stability.
You must also make sure that your fence is fully enclosed. While deer aren't the most intelligent creatures in the woods, they're persistent enough to circle the perimeter of your fence until they find an opening.
Installing an effective fence can be expensive and laborious, so it might not be your first choice.
However, if you happen to have a bunch of large stones on your property, you can surround the perimeter of your garden with them. Deer don't fare well on uneven surfaces, so a ring of cumbersome stones may be enough of a deterrent, and this solution requires much less time, money, and effort than a fence.
Motion-Activated Sprinklers
Prey animals hate surprises, so motion-activated sprinklers can effectively scare them off. When installing your sprinklers, you'll want to make sure that they're pointed at the edges of your garden.
They should be spread evenly around the perimeter of your garden so that there are no bare spots for deer to slip through. Your sprinklers should also have a range of at least a few yards.
Otherwise, deer may still run into your garden and wreak havoc on your plants. Also, consider getting a sprinkler system with a remote control or timer so that your sprinklers don't accidentally spray you.
Hanging Irish Spring Soap
People may love the smell of Irish Spring soap, but deer certainly don't. So for maximum effect, you should cut up bars of Irish spring soap, put them in pantyhose, cheesecloth, or breathable bags, and hang them from fences, trees, stakes, or sunflower stems throughout your garden.
You can also melt the bars and apply small amounts to the base of each plant to repel smaller animals.
What Other Animals Like To Eat Sunflowers?
Moose
Like deer, the mighty moose isn't above raiding your garden for a quick and easy lunch. Luckily, Irish Spring soap and most repellent sprays are effective at deterring these behemoths.
Also, covering plants with a mixture of soap, chili oil, and water will make them less desirable to a hungry moose. Unfortunately, motion-activated sprinklers are not very effective. A fence must be very sturdy to keep out a determined moose.
Unlike deer, moose can be very dangerous. Although moose are large, they can be very quiet, so it is easy to accidentally run into a moose and startle it. In addition, while a deer typically run away when faced with danger, there's a good chance that a moose will charge at you, and that's not a situation that you want to find yourself in.
Therefore, if you're having a hard time keeping moose away from your property, then you may want to contact your local game warden. They will likely have some good tips and tricks for your moose problem. In addition, they can connect you with effective local resources to help you handle the situation.
Squirrels, Opossums, and Chipmunks
Squirrels, opossums, and chipmunks, especially like sunflower seeds and will primarily target a sunflower plant's head. Because these animals spend a lot of time in the trees, you should clear all overhanging branches and limbs close to your plants.
If you have a fence or sprinkle granules around the base of each plant, then you shouldn't see many of these animals in your garden.
Birds and Bats
To keep birds and bats from tearing all of the seeds out of your plants, you should cover the heads with pantyhose or mesh bags when these animals are most active.
The sunflower heads must be able to breathe. Otherwise, they won't ripen. Therefore, you shouldn't cover them with airtight materials. If you're very dedicated, then you may want to install netting over the entire garden.
Scarecrows, hanging pots and pans, and anything else that is noisy or makes sudden movements will also keep flying creatures out of your garden.
Raccoons and Rabbits
Wrap wire meshes around the base of each plant to keep raccoons and rabbits from accessing the stem. If you have a fence, then make sure that it is partially underground. Raccoons and rabbits love to dig, so if your fence is too shallow, then they'll simply dig under it and access your garden without much effort.
On top of deterring other animals, repellent granules and sprays will also keep most rabbits and raccoons away from your plants.
Insects and Slugs
Organic insect repellents will be successful against most insects, but you have to apply them very frequently. Covering your plants with mesh bags and breathable materials will keep most bugs from munching on your plants.
You should spray organic repellents at the base and along the stem of each plant to repel cutworms and caterpillars.
To get rid of slugs and snails, you can fill a few shallow bowls with beer and spread them around your garden. Slugs and snails are attracted to the smell of beer, so a few bowls of beer will keep them away from your plants.
Protect Your Sunflowers From All Kinds of Wildlife
It takes a lot of effort to make a beautiful sunflower patch. However, deer and other pests will ruin your hard work in no time without the proper defenses.
By adopting a few simple tricks and remedies, you can effectively protect your beautiful sunflower garden without harming animals or the environment. Of course, your situation is unique, so there may be some trial and error involved.
If one method doesn't work, consider adopting a different approach or using a combination of methods.
Whatever you choose to do, with a bit of effort, you'll eventually be able to enjoy your sunflowers without worrying about pesky critters tearing them apart.