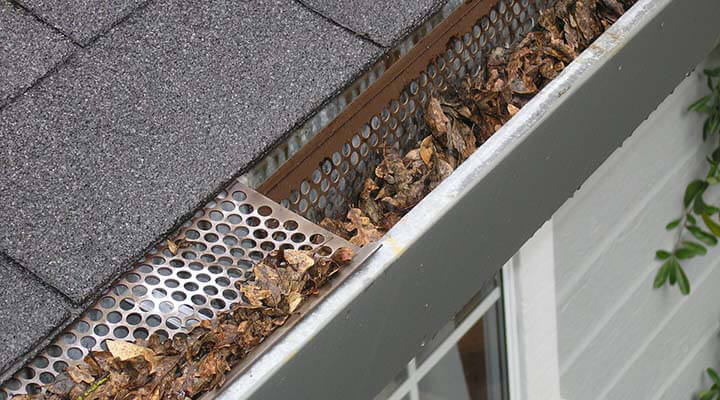 Keeping your rain gutters clear is necessary to keeping your home in good shape. Gutters protect your foundation and siding from excess water. A clean gutter system can also prevent dangerous ice dams from forming in the winter.
These reasons are why it is important to periodically clean your gutters and downspouts from fallen leaves, trash, and debris.
How Often Should You Clean Your Gutters
At a minimum, you should clean your gutters and downspouts once per year. If you can only get around to it one time, I recommend right after your trees lose their leaves.
Suppose your house is underneath a heavy deciduous canopy. In that case, I suggest once during mid-fall, once after the trees are bare, and a quick follow-up after spring storms.
Before You Clean: Safety Precautions
The main danger to be aware of is falling. That is why I don't suggest doing your cleaning from the roof.
Instead, use a well-maintained and good condition ladder.
If you have a high roof I would suggest looking into a ladder stabilizer. The model shown below was found on Home Depot for under $100.
This device will help keep you from damaging your gutters from leaning the ladder against them and help keep your ladder secure against the roof.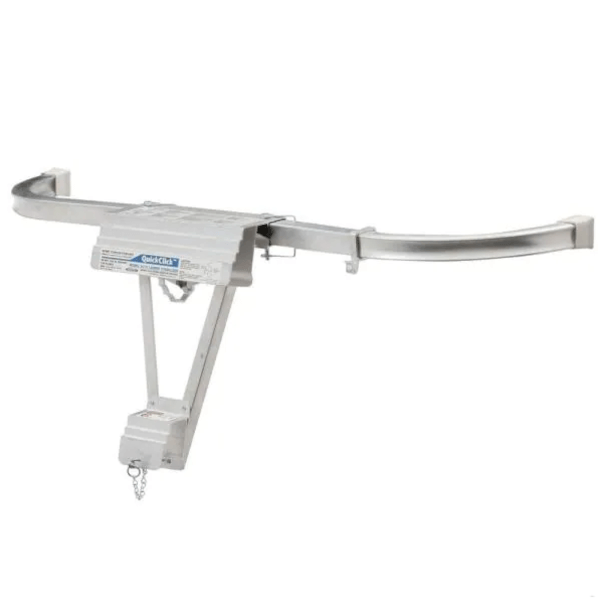 Be sure the ladder has a solid footing on level ground. It is also a good idea to have someone steady the ladder and lend a helping hand in case you drop something or need a hand with the debris.
Watch out for power/cable lines and low-hanging branches, which could cause your ladder to become unsteady.
Another good safety tip is to always maintain three points of contact with the ladder. This means that of your two hands and two feet, three of them are always in connection with the ladder. Again, it's a safety point that I adhere to and often preach to others.
How to Clean Gutters (The Old-Fashioned and Best Method)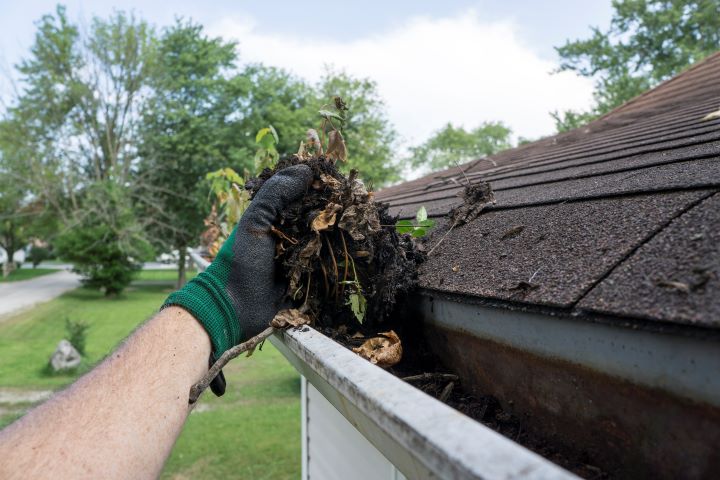 The best tools a man has are his hands. And they are the perfect size for this job. Gutters can contain a lot of gunk, so a pair of waterproof gloves will go a long way.
Take your time and work down the gutters without reaching too far, scooping out the leaves and debris into a bucket or tarp on the ground. If you try and reach too far, you may lose your balance. Slow and steady wins the race.
Just remove the big stuff on this first pass. Then, later, you can come back around with a garden hose and nozzle to spray out all of the smaller debris.
This is also an excellent time to check that the gutters are not sagging, there are no leaks, and they are anchored securely to your roof. Check that the downspouts are draining correctly as well.
Don't forget, those wet moldy leaves are perfect ingredients for your compost bin.
Other Gutter Cleaning Methods
If this doesn't sound like fun, there are a couple of other ways to keep your gutters cleaned.
Mesh Guards and Plastic Covers
You can buy covers and guards for your gutters that will allow water to pass while keeping leaves and gunk out. The expense and hassle of installation are involved, but this is an easy DIY job for a weekend.
Use a blower
I don't recommend this method. Climbing up on a ladder with a heavy leaf blower pushing me around doesn't sound like a good idea. But, if your life insurance premiums are paid up, go for it.
If you do this, start at the downspouts and blow away from them to keep them from getting clogged. Curved attachments are available that focus the blown air and give you a more extended reach. However, I have not used these, so I can't vouch for their effectiveness.
Curved Spraying Wands
You can buy an extension to your pressure washer that has a curved an angled spray head.
Depending on your roof height, this may help clean your gutters if you don't have a ladder or can't reach them with the ladder you have available. However, this won't flush out all of the bigger limbs and whatnot wedged in tight.
Hiring it Done
If you've got more money than time, you can always hire this chore out. How much does it cost to clean gutters? Rates vary by location and house size, but on average, you could expect to pay anywhere from $100 to $300 for a 2400 square foot home.
Costs will increase for 2-story homes to cover the increased risk and difficulty.
—
Cleaning your gutters isn't a task that is as satisfying as looking at a freshly mowed lawn. But nevertheless, it is a vital maintenance routine that must be handled if you want to protect your home from the damages of excess water.