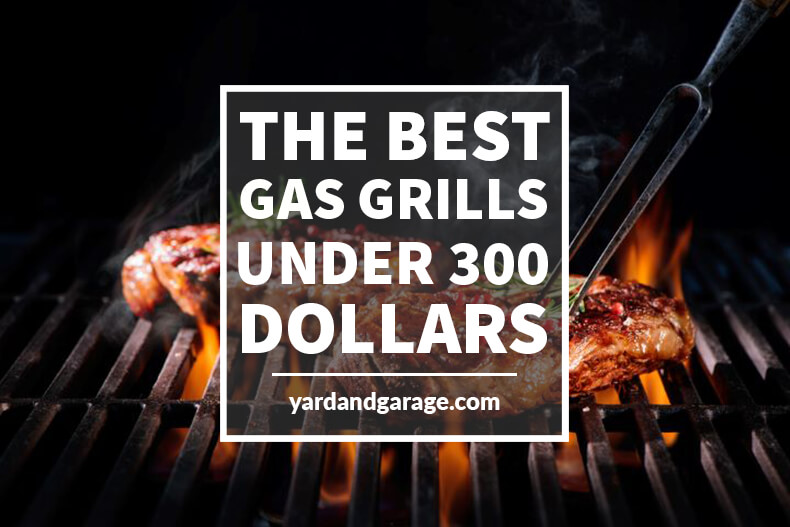 With summer in full swing, grilling is finally back in season. From gas to charcoal, grills are blazing along with the heat. As we all know too well, not all grills are created equal, especially among affordable models.
Doing your homework is a must since no one wants to drop a ton of money on something that'll need to be replaced or repaired.
Best Gas Grills on a Budget
Table could not be displayed.
Table could not be displayed.
While many homeowners prefer to skip the hassle of charcoal and go right to gas, some folks remain on the fence about the cost of making the switch. We say worry no more!
We've taken the expensive trial and error out of gas grilling on a budget to bring you the best gas grills under 300 dollars.
The Top 6 Best Gas Grills Under $300
While there are tons of options on the market, we've compiled a list of the best gas grills for under $300, making the process easier than spending hours combing through reviews or wasting money on poor-performing products.
Each of these options offers performance and power for a variety of households, whether you're a family of two or a frequent host for cookouts, barbecues, and other gatherings. We've listed both pros and cons which highlight major factors to consider in your decision.
1. The Cuisinart CGG-7400

This image links to Amazon
This grill is an all-around hit with us. It offers multiple burners, power, and durability which are important features when considering a bbq grill.
It has four 11,000 BTU burners, allowing you to control heat in sections, banishing cold spots and unevenly cooked food.
It also has a 167-inch warming rack, allowing you to remove items from direct heat as needed. The built-in lid thermometer allows for easy cooking and food monitoring without opening the lid and losing precious heat. It also has two convenient prep tables on either side of the grill surface.
And let's not forget that built-in bottle opener which will definitely come in handy. The grease tray is small, which is a pain for seamless grilling.
No one likes to pause to empty a grease tray, but not doing so can be dangerous. It also lacks any storage space underneath the grill.
CGG-7400 Pros
Four 11,000 BTU burners with control knobs
Has a 167-inch warming rack
Built-in thermometer
Prep table on each side of the grill surface
CGG-7400 Cons
Grease tray is small, which is a pain for seamless grilling. No one likes to pause to empty a grease tray, but not doing so can be dangerous.
Gets very hot all over while in use which is a potential safety hazard
Metal seems a bit thin which may dent easily
No side burner
No added storage space beneath
---
2. The Char-Broil Performance 300

This image links to Amazon
This propane grill is another solid performer in our book that offers a decent amount of cooking space and power for your buck. It is smaller than the Cuisinart but it does include two burners for 24,000 overall BTU.
This gives it about 300 inches of cooking space, which is a decent amount for cooking for small gatherings. There's also another 100 inches of heating rack for rotating food as needed. Like the Cuisinart, it also has two large side trays for prepping.
The temperature gauge is lid-mounted for monitoring the heat without opening the lid and disrupting cook times. It is small and compact, avoiding the bulky feel seen in many bbq grills. The grease pan is removable for effortless cleanup.
There are a few issues though. The primary issue is that it takes more time to heat up than other grills.
And that heat is not high as other units in this price point.
Performance 300 Pros
Two burners at 24,000 BTU overall
Additional swing-away warming rack for food rotation
Grates are porcelain-coated cast-iron grates
Includes two side trays which fold down when not in use
Convenient storage available beneath for accessories
Performance 300 Cons
Cooking space is deep but narrow
No side burner included
Cooking may be uneven
Grill components are prone to dent
---
3. Char-Broil Classic 360

This image links to Amazon
We loved a lot of things about the Char-Broil Classic 360 from its nifty additions to its multiple burners. Three burners offer 36,000 BTU of heat, making it a powerful addition to your grilling arsenal.
It has 360 inches of cooking space provides plenty of room for cooking burgers and hot dogs at the next cookout. The cooking space is shallow but wide at 26 inches x 14 inches, so you're not forced to reach far over the heat to flip food.
It also includes an 8,000 BTU side burner for warming side dishes or condiments along with a heating rack for removing items from heat as needed.
However, because one side shelf is used for a burner, there's less prep space than some other grills. If it was mounted lower and contained a cover for when not in use, this would be a non-issue.
We also found that the assembly was more tedious than other grills in this price point. And with no lid temperature gauge, you'll have to keep opening the grill which causes it to lose heat.
Classic 360 Pros
Three burners for total of 36,000 BTU of heat
170-inch swing-away heating rack for additional cooking
Comes with an 8,000 BTU side burner
Side shelves for prepping
Wheeled design for portability
Classic 360 Cons
Less prep space with inclusion of side burner
Assembly more tedious than other options
No drip pan included
No lid temperature gauge, which is a huge drawback.
No additional storage space offered underneath
---
4. Megamaster 720-0983

This image links to Amazon
This is another standout star for us in the affordable grill category. It's an incredibly powerful unit with a lot of space, making it perfect for cookouts.
If offers a whopping 54,000 BTU of heat between six burners and heats up quickly and evenly thanks to porcelain flame tamers that prevent flareups.
A staggering 543 square inches of cooking space make cookouts a breeze along with 210 inches of warming rack space.
It includes a decent-sized grease trap that doesn't need to be emptied as frequently during cooking as some other options out there. From a design aesthetic, the black does not seem as attractive as stainless steel.
It is also going to show dirt easier as well. And while there is some storage space below but it is quite small.
Megamaster Pros
Has six burners with total of 54,000 BTU
210 inches of warming rack space is the largest of these six grills
Cast iron cooking grates for nonstick grilling
Large-sized side tables offer plenty of prep space
Built-in thermometer for temperature monitoring
Small amount of storage space available below
Megamaster Cons
The side trays do not fold in taking up more space
Design is somewhat bulkier than other models
Shows dirt easier than stainless steel designs
While there is storage space beneath, it isn't as hidden or protected as other options
---
5. Char-Broil Classic 280

This image links to Amazon
The Char-Broil Classic 280 was another solid performer for us and well within the lower end of this price range.
It's small but it still has two burners offering 20,000 BTU of heat total with an 8,000 BTU side burner for preparing side dishes.
It has porcelain-coated grates for easy cleanup and a side tray for prep work. This unit also has no lid-mounted thermometer and there is no drip pan.
As I stated earlier, it's quite small so while it's good for an individual or couple, it is less than ideal for large families or cookouts.
And finally the assembly not for the faint of heart with numerous pieces and difficult instructions.
Classic 280 Pros
Two burners offering 20,000 BTU of heat total
Does have an 8,000 BTU side burner
Has a side tray that offers prep space
Knob design for easily adjusting the temperature as needed
Wheeled for easy mobility
Classic 280 Cons
No lid-mounted thermometer
Assembly is tedious with too many small parts and instructions.
Smaller cooking space overall
No drip pan included
No additional covered storage offered
---
6. The RevoAce 4-Burner

This image links to Amazon
This is another quality option for those seeking a quality grill without breaking the bank. Some of our favorite features are four burners packing 48,000 BTU of heat overall for multiple heat zones. It has 480 inches of cooking space which is great for hosting parties.
There is also a side burner that has a cover for when not in use along with a 180-inch heating rack. The cooking grates are porcelain-coated cast iron for easy cleaning and maintenance.
Lid-mounted temperature gauge for monitoring at a glance is standard and there is a removable drip pan for easy cleaning.
This unit can also be converted to natural gas if you have an outdoor hookup. On the negative, it's size could be problematic for some, especially if you have only a small patio or backyard.
Also, this model does not have any additional storage underneath the grill as some others do.
RevoAce Pros
It has four burners for a total of 48,000 BTU
Side burner has a cover which maximizes prep space
Includes a 180-inch heating rack
Additional side tray for prep space or storage
Lid-mounted temperature gauge for monitoring at a glance
Removable drip pan for easy cleaning
Can be converted to natural gas if you have an outdoor hookup
RevoAce Cons
Can be bulky in smaller spaces such as balconies or narrow patios
No additional storage beneath like some other
---
What to Look For When Buying a Gas Grill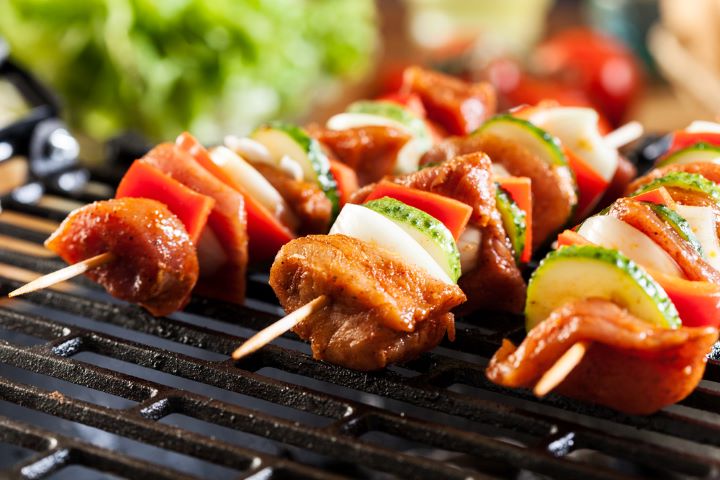 It's essential to keep a few things in mind when you're looking for the perfect gas grill for your family and budget. Try not to get caught up in all the extras, and focus on these critical aspects.
Size
You can have the greatest grill in the world, but if it's too small for your family, it won't do you any good. Only being able to cook a limited amount of food at one time is frustrating if you entertain large groups of people regularly.
On the same note, keep in mind the amount of outdoor space you have to dedicate to a grill. You don't want a bulky unit on a tiny patio, for instance.
Your best bet is to seek a grill that can handle your family's needs plus a few guests.
Power
When hunting for a grill, it's important to keep BTU (total heat output per hour) in mind. Several burners are great, but if the overall BTU is low, that won't do you any good, and you may experience unevenly cooked food or longer cook times.
You want to make sure you get a powerful grill for your money, especially if you plan on entertaining groups of people frequently with it.
Heat distribution
Tied into power and BTU is overall heat distribution. A grill must evenly disperse heat to prevent under cooked or overcooked food.
For multiple burners, they should ideally give off the same BTU per burner to avoid these issues. Most grills with multiple burners allow you to control the heat of each by a knob per burner.
For grills that contain multiple burners, this is a must if you want complete control of cooking temperature.
The addition of heating racks is ideal if you often cook proteins and vegetables together or cook large amounts of food at the same time. With heating racks, you can move items off direct heat but still, keep them warm while others finish below.
For cookouts, heating racks are usually a must.
Durability
While you are looking for an affordable unit, you don't want something flimsy that will need replacing in a year or so and cost you more money in the long-run.
Pay attention to construction, and seek out stainless steel or powder-coated steel designs.
You also want to take note of how knobs are assembled. If they look or feel cheap, you might want to reconsider, as replacing knobs can get pricey over time. It can also be a safety issue.
Ease of cleanup
Consider how easy a unit is to clean when making your decision. Ideally, you want cast-iron grates that prevent sticking to avoid built-up drippings that are not only unsightly but also a fire hazard.
You also want to take note of the drippings pan or lack thereof. A removable pan is ideal for mess-free grilling.
Other features
Think of what you need in a grill. Extra storage is always preferred, as is added prep space that is typically found on side trays.
When grilling, you may have spatulas, meat forks, and plates that need to be set down as the food cooks. Running back and forth to another surface gets old quick when you're standing next to a hot grill under the sun.
You should also consider how you'd like to use your grill. Is it remaining stationery on your patio, or do you plan on bringing it camping or tailgating?
For those seeking something portable, wheeled and fold-able options are becoming more common in grills.
This can also be helpful for winter storage if you plan on tucking it in a garage or shed for safekeeping.
Of course, safety is another feature you should never overlook. While push-button starts are a favorite, they can be a serious risk if small children are present.
Some grills are equipped with knobs that require you to push and turn a knob which is ideal compared to a push-button design. Grease pans are another important safety feature you should pay attention to.
They're essential for preventing dangerous flareups, but should be removable and tucked away safely and securely to avoid accidental burns.
---
Frequently Asked Questions: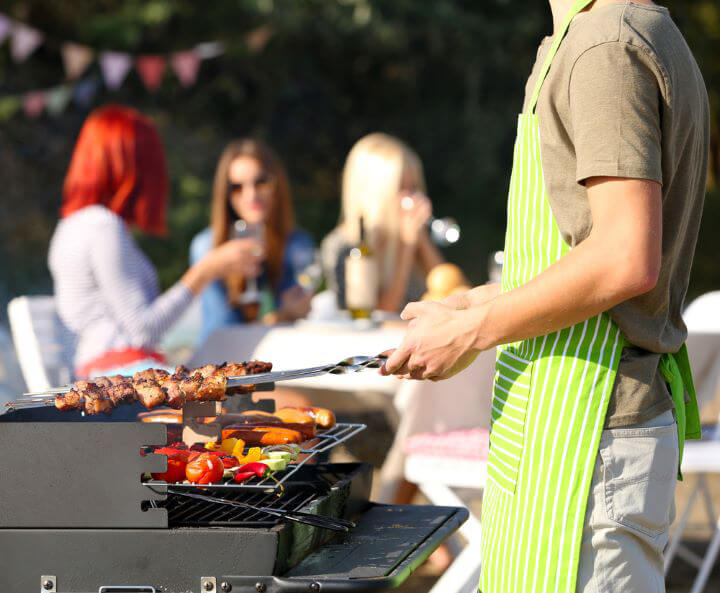 Q: How Can I Make My Grill Last Longer?
A grill can be a big investment so you want to do all you can to keep it in great working order.  Here are a few steps you can take:
 Use a grill cover. Weather can have such a damaging effect on your grill's appearance and functionality. You can buy a standard grill cover or get a customer cover built specifically for your grill. Protect your grill from rain, snow, and whatever else Mother Nature throws your way.
Clean your grill regularly after each use. You need to scrub the grills with a brush and don't leave them covered in grease or other food once you're done. You may even need to remove the grates and clean them in hot, soapy water every few months depending on how often you use your grill.
Make sure you empty the grease trap. Not only is this a maintenance issue, but it could also become a serious safety issue as well.
Q:  What Are The Best Grill Add-Ons?
You can get some great accessories for your gas grill. These can add a lot of cooking options such as:
Smoker box: There are a number of boxes you can use to turn your grill into a smoker. Simply add wood chips to the box and place it over the flame.
Rotisserie rods: If you want to cook a whole chicken or small turkey, you can add a rotisseries rod to your grill. The rod will rotate and allow the chicken to roast in its own juices.
Rib rack: This is a great tool to cook multiple slabs of ribs at one time. By adding vertical space you can cook additional items in addition to the ribs. Many of them have handles so you can transfer the ribs right to the kitchen or table.
Pizza kit: You can turn your grill into a pizza oven with a great pizza kit. These often contain pizza stones, pizza peels, cutters and screens. This is a great choice if you have a family with small children.
Q:  Should I Buy A Separate Side Burner?
A side burner can be extremely useful if you need to cook something such as vegetables, soups or rice along with your main grill items.
Buying a separate side burner can be expensive – it might cost you about 40%-50% of your grill.
I recommend just investing in a propane grill that already includes a side burner. I'm confident you will find it more convenient and economical in the long run.
Conclusion: Picking a good grill under $300
When it comes to picking the best gas grill for you under 300, you need to consider your lifestyle and expectations. Every option has its own list of pros and cons to evaluate and compare against your wants and needs.
Not every person will be satisfied with the same product. Take a peek at our breakdown of quality grills that don't cost an arm and a leg to make the decision easier, and get to grilling!
We will be adding even more grills reviews this summer, so be sure to subscribe in the right column.