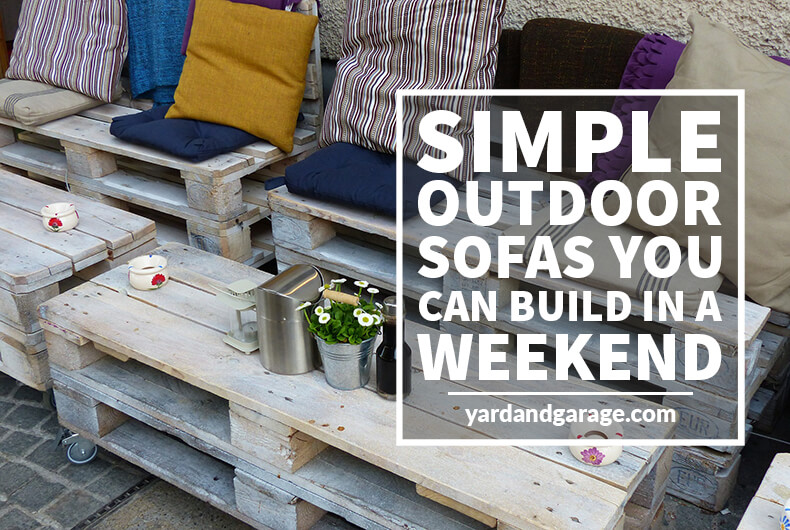 Summer is here and we all want to spend time outside with our family and friends.
But outdoor seating can be expensive! So we've scoured the internet to find ideas for you to create some great DIY outdoor furniture that you can complete in a weekend.
Standard Outdoor Sofa DIY and Love Seats
---
Slatted Sofa by Houseful of Handmade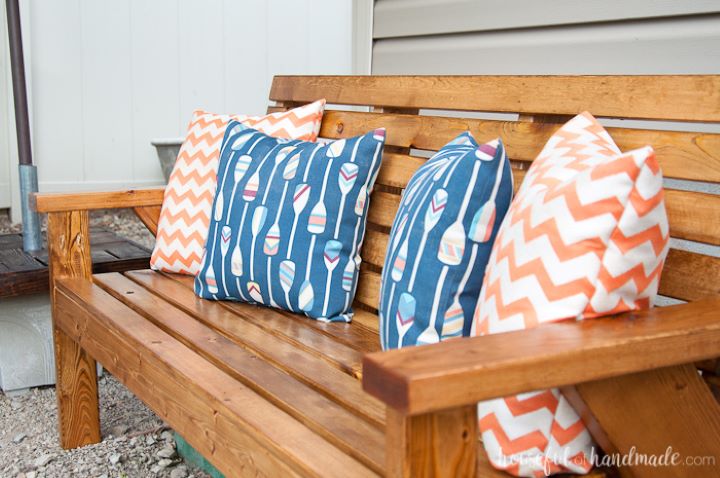 This is probably my favorite DIY outdoor couch because it doesn't look DIY! Kati from Houseful of Homemade based this design on the Adirondack style and I truly love the end result. The sofa generally uses 2 x 4's with narrow spacing between the slats.
The darker stain gives the couch such a rich finish, and it doesn't require full cushions, as you can see.
She has a link included in the post to the detailed plans and cut list, even down to the deck screws.
Suppose you're looking for a sturdy exterior bench-style sofa that looks professionally made. In that case, I highly suggest you give this a thorough review.
---
Modern Sofa by Fix This Build That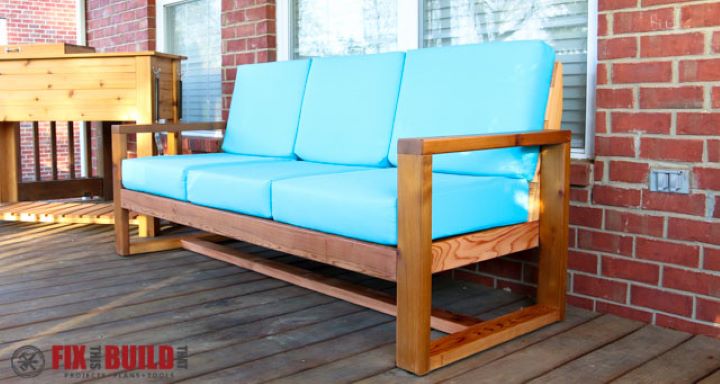 If you're looking for a more modern feel, Fix This Build That has a relatively detailed set of plans, cut list, and video you can follow.
While this design is fairly uncomplicated, I do like the deep cushions and the overall dimensions.
You could easily fit three adults without rubbing knees and elbows. Personally, I would be a bit bolder on the cushions as a contrast to the simple design.
While modern design, by definition, excludes a lot of extra details, I think a different pattern or maybe some contrast pillows would still be okay.
---
Build This Plywood Outdoor Couch by Melly Sews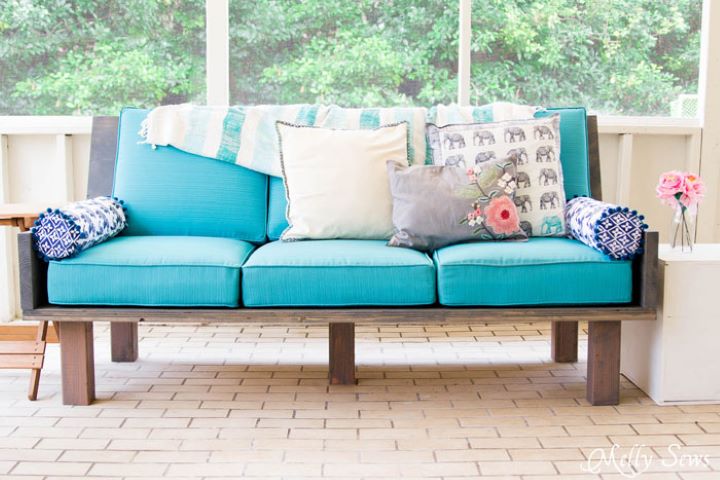 Here is another modern sofa which Melissa Mora of Melly Sews says only cost about $75 for the wood!
She spent a bit more than that on the couch cushions, but they're definitely worth it. She modified this sofa from her own inspiration drawing, which focused on minimalism and clean lines.
She achieved that by using large pieces of plywood and large pressure-treated 4×4 pieces for the legs. The back braces allow the sofa to be slightly slanted but with solid support.
A light grey exterior stain on the seat boards is her finishing touch, and it looks great with those turquoise cushions.
---
Outdoor Loveseat Plans by Her Tool Belt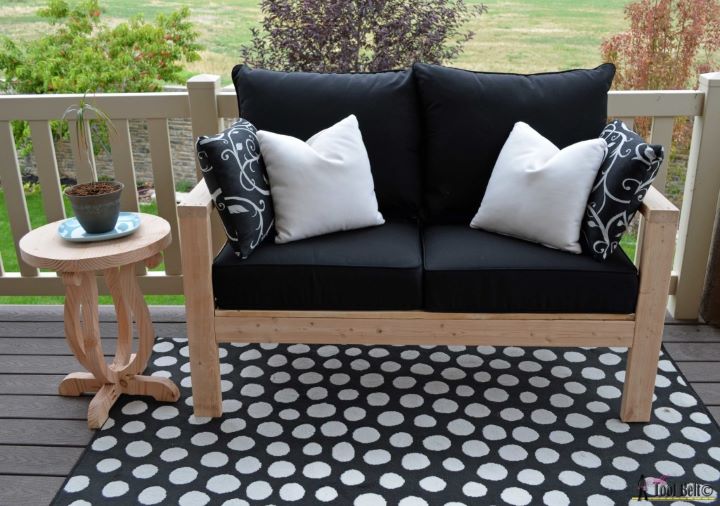 Amy's sofa at Her Tool Belt is based on a design by Ana White which was presented at a DIY conference several years ago.
She studied mechanical engineering, so she's already ahead of most of us concerning woodworking.
She modified the original sofa design to be a smaller sofa and chair combination.
Entire plans available
She has provided detailed DIY plans on its construction and it seems simple enough that even I could do it!
I also love the color palette she chose, which goes nicely with the natural wood frame coloring. She has also included a small side table which complements the seat cushions as well. This would look cozy on the back porch and leave you with enough space for other pieces.
---
Sturdy DIY Outdoor Couch by HomeMade Modern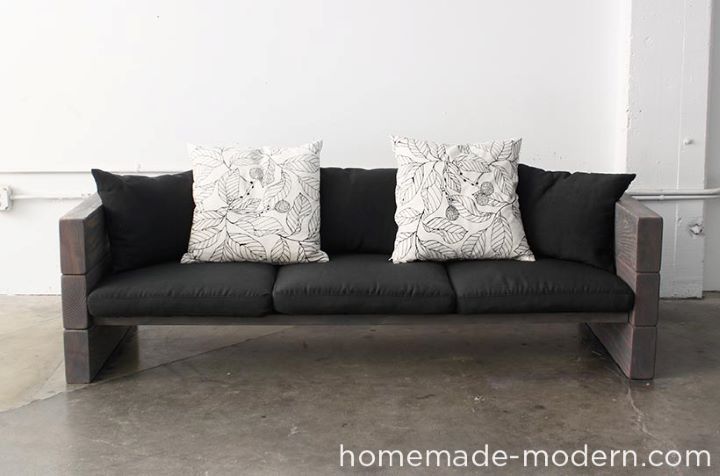 Here is another modern DIY outdoor couch from HomeMade Modern which looks very sturdy. The absence of the additional floor brace makes the outdoor design feel minimalist and thus more modern.
Additionally, the use of 4x8s instead of 2x4s, coupled with the grey stain, gives it a great first impression. On the other hand, the darkness of the finished product doesn't tend to lend itself well with your traditional decking lumber.
I think this sofa and cushions would be more appropriate in a formal tiled patio setting with similar furniture than adjacent to a grill.
---
Build Your Own Sofa by The Shabby Creek Cottage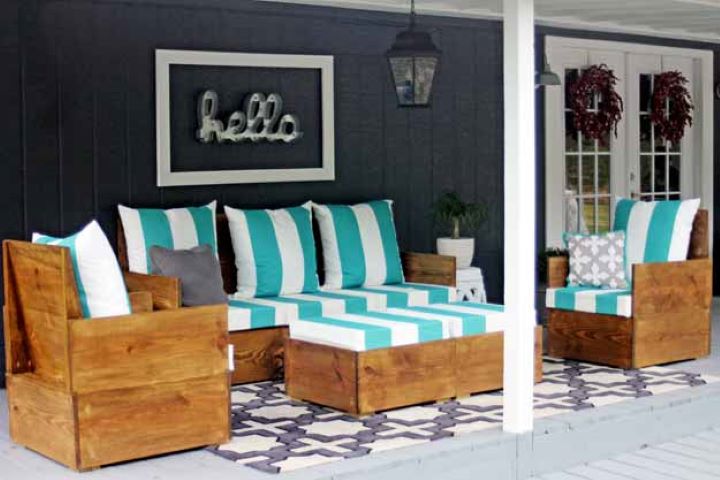 Gina from the Shabby Creek Cottage has classified her outdoor couch project as modern, using large wood pieces and sloped backs that are recessed.
The stain that she has chosen, coupled with the bright striped seat cushions, lends itself well to a traditional build and look.
Create an Entire Outdoor Seating Area
I love how she has created an entire seating area with two additional chairs and cushioned table. I would love to have this grace my deck.
---
DIY Outdoor Sectional by Gray House Studio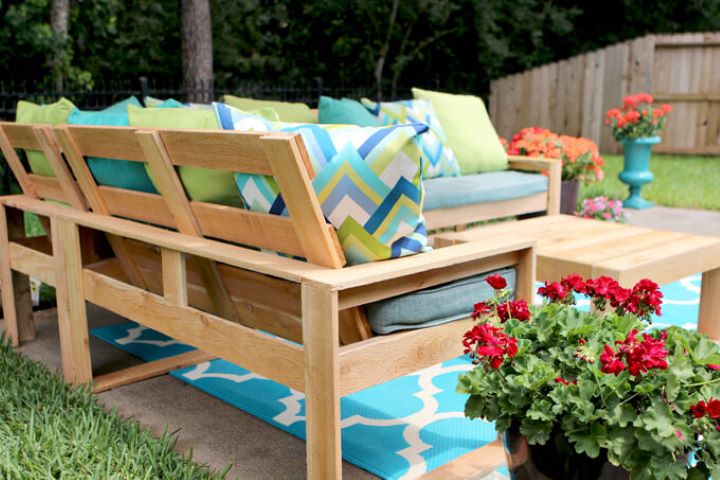 I am really intrigued by Brent and Courtney's DIY couch project. Not only did they create an entire outdoor sectional, but they also did it using cedar fence pickets!
This project did take a lot of time and effort to create a final design that matched a pricey sectional they wanted to purchase. Lucky for us, they have included the project plans so we can skip right to the easy part.
I say easy, but this project does require the use of a circular saw and miter saws, so it might not be the first woodworking project you want to take on. However, I love how they kept the cedar natural and paired it with a colorful outdoor rug and outdoor cushions.
---
Pallet Sofas
If you're looking for a simple and inexpensive option for your seat support, reusing pallets is a great choice for your outdoor projects. You can find wood pallets fairly easily – you just need to ensure they are heat-treated (stamped with HT).
---
Outdoor Pallet Loveseat by Hello Creative Family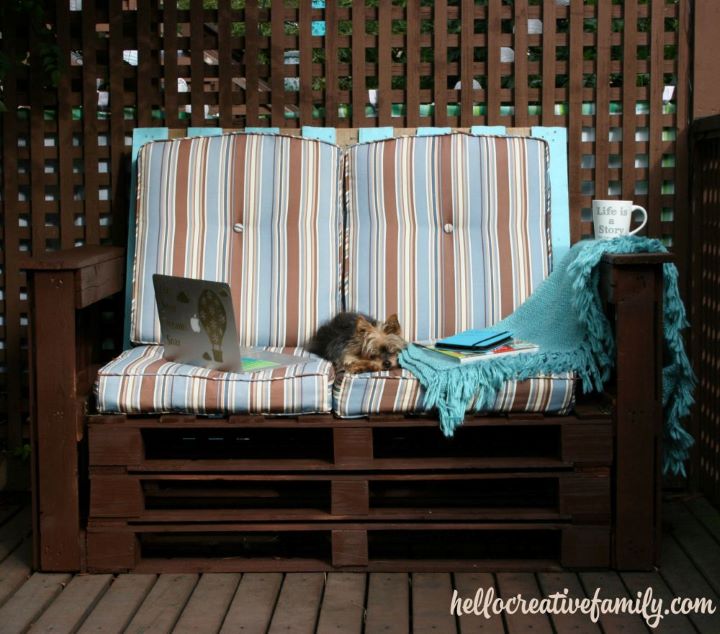 Crystal and her husband at Hello Creative Family have created a small DIY love seat using about six pallets to create the sitting area as well as the arms and back.
He basically assembled the sofa by stacking and arranging the pallets – along with some minor saw work – and then simply fastened it together with some deck screws. She and her husband did find cushions that work well with the wood color.
Once the initial assembly was complete, the pallets were sanded and painted, and allowed to dry. However, they did recommend that you complete the final assembly close to where it will sit because it will be tough to move.
---
DIY Beginner's Pallet Daybed by Lovely Greens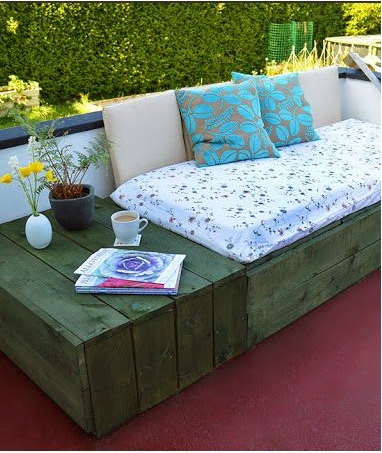 If you're looking for a DIY outdoor couch project that is great for beginners, I suggest you look at this pallet outdoor daybed. Tanya Anderson, author of Lovely Greens makes use of a wall on her patio that allows her to forego building backs and arms for the sofa.
With excellent DIY skills, she can simply take four pallets of equal size and place them together side by side in a column of two.
Simply nail them together along with some finishing boards along the front, and you're done! Next, find cushions, pillows, or even a light mattress and that is needed to call this outdoor space project done!
There aren't many detailed plans and photos, but for an outdoor DIY project this simple, you really don't need them.
---
Sectional DIY Outdoor Couch by Place of My Taste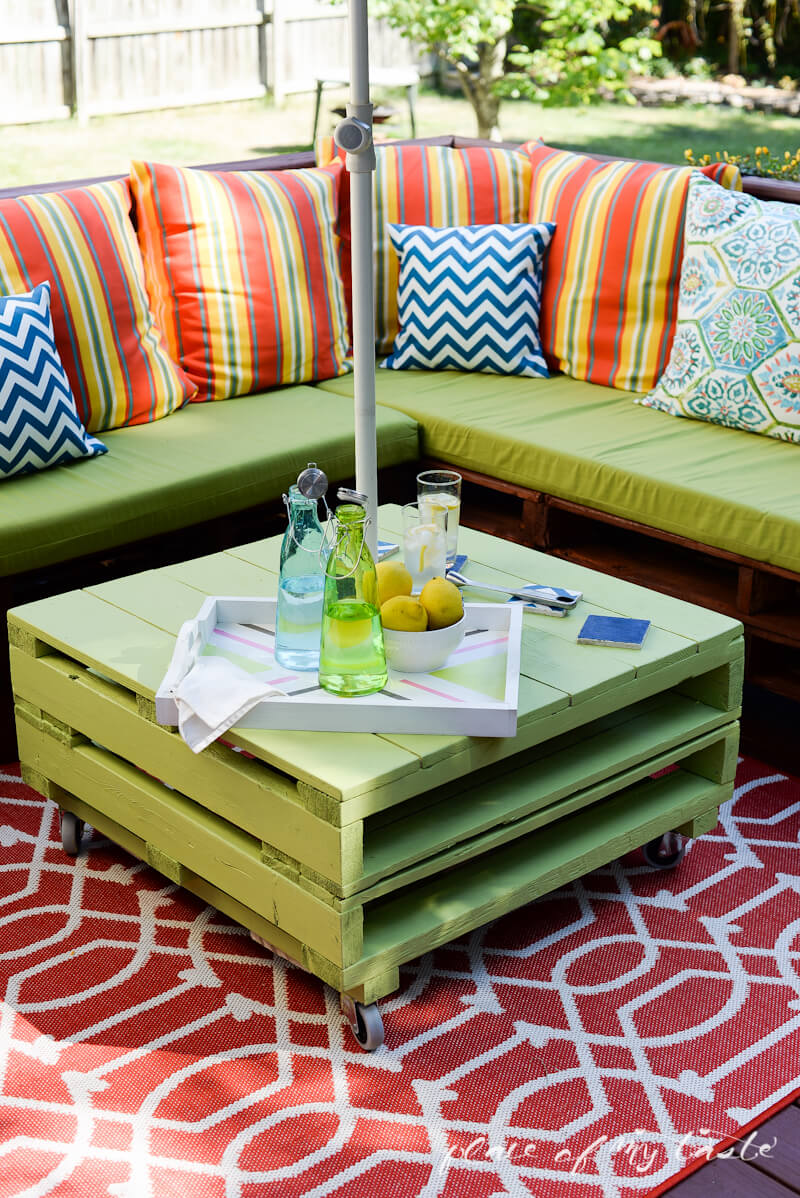 Here is another DIY pallet outdoor couch project but it is more detailed and intricate than the two previous examples. Aniko from Place of My Taste also uses an existing deck railing to avoid creating an entire patio sofa.
While the focus is on reusing pallets, this outdoor furniture design is more ambitious with an L-shape seat frame large enough to comfortably seat 5-6 adults.
The pallets themselves were cut down to create a more narrow sectional. However, given that this design is more extensive, it does require tie plate brackets and thick supports for the leg boards. Aniko also used a colorful array of couch cushions along with foam padding to make the seating more comfortable.
Aniko also includes a simple design for a rolling pallet table which really rounds out the patio furniture design.
---
Post References
Header image by Brigitte Werner from Pixabay
Pinterest Image