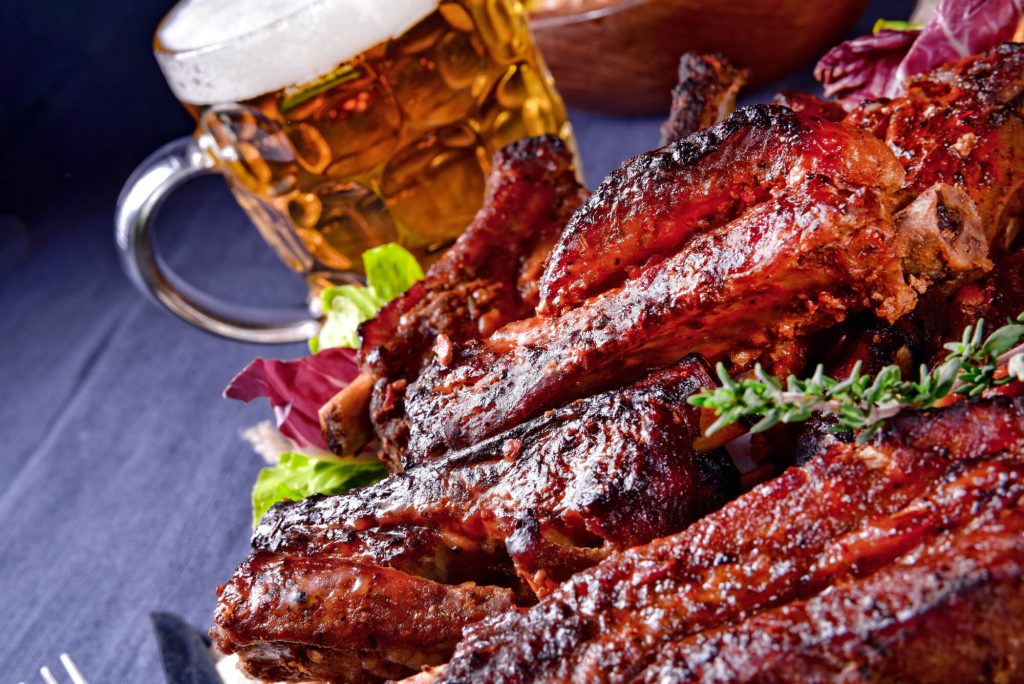 Whether it's sausage, ribs, brisket or even a whole pig, the tender, tasty slow-cooked flesh and woodsy aroma of smoked meats can become an addiction. With your own smoker, you won't have to go far to get your fix.
According to Consumer Reports, a quality smoker can make meat taste like it's been cooked in a genuine below-ground smoke pit. Imagine the ease of filling your electric smoker with choice cuts of meat that cook over mesquite or hickory chips at your leisure while you and your friends enjoy the aroma in the great outdoors.
Quick Look at Some of Our Favorites
Table could not be displayed.
---
That's the fun scene that's possible if you invest in an electric smoker–not to be confused with a propane smoker.
An electric smoker comes with many benefits over propane or charcoal smokers:
It's convenient.
There's no propane tank to buy or refill. No charcoal is needed. You just plug it into any readily available outlet, and you're ready to go.
It has great temperature control.
As every barbecue king knows, having the right temperature when you're smoking meat slow and low is crucial if you want to avoid tough, chewy, overly charred meat. Duck can handle a 325-degree searing but ribs thrive best when smoked at a 225-degree temp.
Worried? Don't be. Just turn the dial to the right temperature and leave it. Most electric smokers have temperature controls to prevent the heat from fluctuating like it does with traditional smokers. As a bonus, many electric smokers come with their own temperature gauge.
It's safe.
An electric grill is less susceptible to fires and flare-ups so you can feel comfortable using it on your wood deck or any space close to your home.
You don't need to handle any flammable lighter fluid or propane. You can also walk away and tend to other chores without worrying if something will be aflame when you return.
It can double as a cold smoker.
Many electric grills come with temperature options low enough to preserve meats by cold smoking them at 75 to 140 degrees over several days or weeks to cure them. That means you can make jerky, aged smoked cheese, or cured ham.
The clean up is easy.
Unlike propane and charcoal grills, electric grills have less char and residue. They can be wiped up quickly.
---
Five Best Smokers
Masterbuilt MB20070210 MES 35B Electric Smoker, Black
This tall, slim, black steel smoker on four legs comes with three well-spaced chrome-coated smoking racks, enough to cook several meats at one time, including whole turkeys or suckling pigs.
The coating will prevent your meats from sticking and lessen clean up. Flavor your meats with the built-in wood tray and keep the meats moist with the included water bowl.
The smoker is designed to make temperature management easy. It has a built-in temperature gauge, a dial for various temperature settings, and an air damper than can be used to modulate the heat and smoke.
Best features:
Smoke control
Temperature dial
Wood tray, water bowl and grease tray included.
1,500-watt heating element
57 pounds.
Maximum temperature: 275 degrees
Pros
Large size offers lots of smoking space with 12 inches between each rack.
Easy assembly
Maintains temperature in cold weather.
Cons
No side drawer for wood chips. Main compartment must be opened to replenish chips.
---
Masterbuilt Smoke Hollow Digital Electric Smoker
This advanced steel box-style smoker is distinguished by its easy-to-read digital panel that controls temperatures and time. Just input the exact temperature you want and how many hours you want to smoke your meat.
The Masterbuilt Smoke Hollow will manage the rest. There is also an air damper so you can regulate the amount of smoke for the perfect taste.
Although rare for a smoker in this price range, the Smoke Hollow has insulation, which prevents heat escape so your meat cooks consistently while you save energy. A wood chip drawer allows you to flavor meat with chips or chunks of your choice.
Best features:
Digital controls for a set-it-and-forget-it cooking style.
Integrated thermostat
Three chrome racks
800-watt heating element
46 pounds
Maximum temperature: 275 degrees
Pros
Insulated box
Compact size
Drip pan and water bowl included.
Cons
Low to the ground, which means you have to bend to load the meat or buy a stand to sit the smoker on.
No side wood chip loader.
---
Bradley Digital 6 Rack Smoker BTDS108P 990223
As the name implies, this 39-inch tall silver stainless steel smokehouse comes with six racks for cooking an array of food; that's nearly double the number of racks for the average smoker.
Equipped with digital controls for the smoke, heat and time, the smoker reduces your efforts by managing all elements for up to eight hours and alerting you when your cook time is over.
There's an ash catcher to remove the soot from burned wood chips. The maximum temperature is 280 degrees. A wood chip feeder inserts new wood pucks into the smoker every 20 minutes so you don't have to worry about supervising the stove and replacing wood chips yourself.
Best Features:
Digital console
Wood chip feeder
Separate smoke generator
Six racks that are 15 inches wide and 33 inches long.
500-watt heating element
60 pounds
Pros
Comes with a cover.
Fully assembled.
Wood feeder removes old wood pucks to a water bowl to prevent burnt wood taste.
Cons
Weak heating element
Requires wood briquettes instead of chips
---
Dyna-Glo DGU732SDE-D 30″ Digital Bluetooth Electric Smoker
If you think the push-button digital control panel on the Dyna-Glo electric smoker is convenient, wait until you use your smartphone or tablet to set temperatures and cooking instructions.
Enhanced with Bluetooth, you don't even have to be near this smoker to monitor and manage the cooking process.
You also don't have to leave the smoker in one place. Feel free to roll it anywhere, including to a park or a friend's house; its four casters make it highly mobile and portable.
A bottom access drawer enables you to add water or wood chips without opening the meat compartment and letting out the precious smoke and heat.
Best Features:
4 chrome-plated steel grates
Special rib racks and sausage hooks
1,000-watt burner
Casters and rear handle for easy mobility.
Dyno-Glo App for Bluetooth capability.
Digital controls
Pros
Glass door to observe cooking progress without opening smoker.
Integrated meat thermometer included.
A door seal stops heat from escaping.
Compact
Maximum temperature is 300 degrees
Cons
Legs not included. Must be purchased separately.
---
Pit Boss Analog Smoker
If you're looking for the best electric smoker for the money, this Pit Boss smokehouse will not disappoint. The bright blue steel Pit Boss Analog Smoker has three widely-spaced racks to allow you to cook several meats at one time.
The internal elements are made of porcelain, known for its heat stability at low and high temperatures. The front-loading wood tray can be accessed without opening the main compartment.
So, the meat never has to be disturbed when replacing chips.
Best Features
Separate wood chip drawer
Simple temperature knob
See-through front window
Pros
Porcelain-coated racks
Porcelain wood chip tray and water pan included
Maximum temperature is 325 degrees
Includes meat probe
---
Other Great Electric Smokers
Best Electric Smoker For Beginners
Smoke Hollow 26-Inch Electric Smoker
Elevated on three legs, the Smoke Hollow smoker comes with two adjustable cooking racks as well as adjustable temperature control.
The uncomplicated design makes this perfect for a novice. The thermometer on the door lets you see the inside temperature at a glance.
A porcelain-coated wood tray and a separate porcelain water pan help you add flavor and moisture to the cooking meats.
At just 35 pounds, this smoker is easy to tote so you can use it anywhere there an electric outlet.
Best Features:
Chrome-plated cooking grids
1500-watt heating element
Easy assembly
Pros
Cool touch door handle
Maximum temperature is 325 degrees
Lightweight, portable
Cons
No side wood chip access.
Poor temperature control.
---
Best Small Electric Smoker
Masterbuilt Portable Electric Smoker
Less than 24-inches high and weighing only 22 pounds, this Masterbuilt smoker is made to travel. Take it to the football tailgate, the campsite or to any recreation spot to smoke meat with your buddies.
This compact smoker has a steel cube style with two foldable stainless steel legs. Inside, you can fit two racks worth of meat. You can also take out one tray and fit an oversized turkey or pig.
A knob allows you to manually control the heat, using low, medium and high settings.
Best Features:
1400-watt burner
Simple temperature dial
Two chrome-coated racks
730 square inches of cooking space
Pros
Wood tray and water plan included
Can reach temperatures higher than 250 degrees
Cons
Exact temperature cannot be set.
---
Best High End Electric Smoker
Cookshack AmeriQue Electric Smoker Oven
Made with the best digital technology, this double-walled stainless steel smoker will digitally set the temperature, smoke level and time — and then turn off the heat, but keep the meat warm once it's done.
You'll never have to guess if the meat has reached the right temperature since the smoker comes with an internal meat temperature probe.
This powerhouse smoker can heat up to 300 degrees.
Best Features:
Double walls for good heat insulation
Digital control panel
Meat probe
Pros
Small size
A hold setting.
Good temperature control
Cons
Expensive replacement parts
---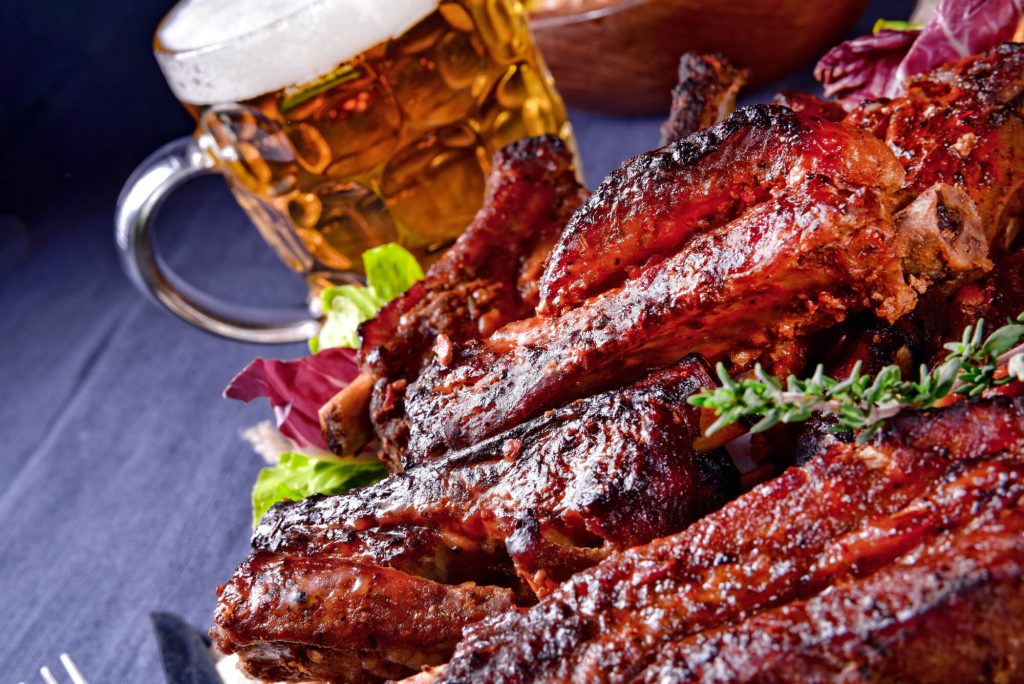 Additional Information
How to Use Your New Electric Smoker
When you first get your smoker, follow these steps for the best experience.
Season the meat with a dry rub and leave in the refrigerator overnight.
Soak wood chips of your choice overnight. Consider mesquite, maple, cherry, oak or hickory.
Season the smoker.
Power on the smoker and set the temperature.
While the smoker is pre-heating, add the wood chips.
Place a pan of water at the bottom of the smoker to create humidity and moisten the meat.
Add the drip pan to catch grease if one comes with your unit.
When the desired temperature is reached, add the meat and set the timer.
How to Season Your Electric Smoker
Season any new electric smoker to get rid of any residue left from manufacturing. Put oil in a spray bottle.
Spray the interior surface of the smoker with oil: racks, walls, the inside of the door, etc.
Turn the smoker on and set it at the highest temperature for two hours. Do not fill the water pan for the seasoning process.
Meat Seasoning Tips
A dry rub comprised of garlic powder, paprika, onion powder, chili powder, salt, cayenne and brown sugar is versatile enough to season any meat.
For a glaze, consider mixing bourbon with vinegar and honey.
How to Clean Your Electric Smoker
After every smoking session, use a bristle brush to remove grease and residue from the grates, floors and doors of your smoker.
Wipe out the grease pan and wash the water pan. Lastly, use a damp cloth dipped in hot, soapy water to wipe down the interior.
---
Frequently Asked Questions
How long will the wood chips last?
In most smokers, wood chips will last an hour. Add another half cup of wood chips every hour to create more flavor if your smoker lacks an automatic wood chip feeder.
Do I need to soak the wood chips first?
No, you do not have to soak wood chips first. However, soaking chips from 30 minutes to eight hours in water, beer or apple juice will impart a more intense smoke flavor. Also, soaking prevents the wood chips from burning too quickly, which will save you the hassle of replenishing chips frequently. Some opt to mix dry and soaked chips.
What is the purpose of the air damper?
Partially opening and closing the air damper helps to control the heat and smokiness by adding oxygen to the fire and allowing heat or smoke to escape. You can open and close the damper as much as you want to achieve the temperature and flavor you desire.
Is smoke supposed to come out from the door area?
It's normal for smoke to leak through the door hinges. It will not hinder your meat from cooking nor reduce the smoke flavor. You can put a gasket on the door to reduce leaks, but that is not necessary.
How long does it take to cook the meat?
Unlike typical barbecue grills, smokers are designed to heat meats at a low temperature so they take longer to cook. Different meats require different temperatures and cooking times.
For example, ribs will take five hours to smoke at a temperature of 235 degrees while salmon can be smoked quickly at 220 degrees for an hour.
Here are typical cooking times for popular meats:
Suckling pig: 250 degrees for three hours.
Sausage: 225 degrees for two hours.
Pork Roast: 225 degrees for five hours
Small Turkey: 300 degrees for five hours.
Ham: 250 degrees for five hours
Lobster: 220 degrees for 50 minutes
Brisket: 220 degrees for 12 to 15 hours.
Can I use my smoker for vegetables or drying meat?
Yes. Smokers are a great way to impart flavor to vegetables, such as artichokes, onions, squash, zucchini, corn, eggplant and even cabbage. Just drizzle with olive oil. Add some herbs and spices. Then place in the smoker for roughly 45 minutes.
---
Barbecue, roast and smoke meats to your heart's content with any of these electric smokers. The final result will be succulent flesh falling off the bone with gourmet flavors that delight your friends and family.
All will laugh and have a good time cooking out. They'll be asking for seconds and wanting to make your place and your smoker a regular destination.