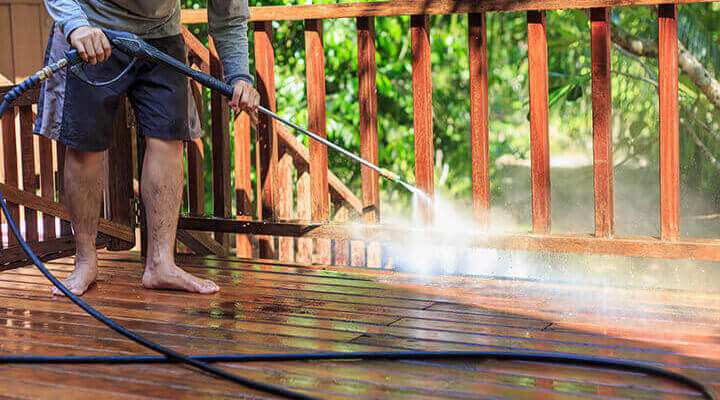 When regular elbow grease from scrubbing by hand just won't do, you need to get a power cleaner. These machines jump-start your spring chores by tackling tough jobs like mildew, mold, grime, and baked-on gunk. Below, we review some of the top models and then reveal our pick for the best electric pressure washer.
Quick Comparison
Table could not be displayed. Table could not be displayed.
For me, there is no other way to clean my deck, sidewalks, and driveway than using a pressure cleaner.
Below are my reviews for the top five electric power cleaners, and they each come with amazing features.
---
#1. Sun Joe SPX3000 Electric Pressure Cleaner
Homeowners short on space who still want plenty of features and options will love using this Sun Joe SPX3000 Electric. It's the smallest of these machines, so it will fit nicely into a little garage or utility room.
Review:
With its 2030 PSI and 14.5 amp powered motor, there's a lot packed into this little green cleaning machine. You get 5 Quick-Connect spray tips that fit right over the wand and deliver a spray that goes from 0 degrees up to 40 degrees, plus a soap tip. These variations will allow testing of different configurations to best clean each surface you have at your home. There's not one, but two 0.9 liter detergent tanks onboard to store different types of cleaners.
This Sun Joe model also has a TSS (total stop system) feature to automatically shut off the pump when the trigger isn't engaged. That helps save energy. The hose for the wand is 20″ in length, while the electric cord is 35′ and has a safety plug. After the easy assembly, just turn the dial to "on" and it starts right up, ready to clean your outdoors with ease.
While this unit is small and mighty, it also has negatives we don't care for. Probably the biggest con is that Sun Joe has created its own M22 adapter which is found on their products and only their products. That means it doesn't fit standard accessories.
Buyers will have to find a way to work around that. Also, the lower price is reflected in a lower quality of parts and makes the machine not as durable, with a tendency to leak. The quality control isn't as strong as it should be. But overall, for those with basic cleaning jobs who already have Sun Joe accessories, we'd recommend this pressure washer as a useful addition to your outdoor cleaning repertoire.
SPX3000 Pressure Washer Pros:
Comes with soap spray tip
Easy assembly
Most affordable model
SPX3000 Pressure Washer Cons:
Tendency to leak
Low-quality parts
M22 adapter doesn't fit accessories
---
#2. Sun Joe SPX4000 Electric Cleaner
The Sun Joe SPX4000 has stellar reviews from over 200 buyers, and it's easy to see why. With its powerful 14.5 Amp motor, 2030 PSI washing, and easily portable design, you'll be able to quickly assemble this machine and use it within minutes of receiving it.
Review:
This little green cleaning machine has many of the same features as the Sun Joe SPX3000, but with a completely different look. It has wider dimensions and more stability, with the large wheels and base. This prevents it from tipping over easily.
It has the same 2030 PSI, and there are two different options, allowing you to use the 2030 PSI or the 1450 PSI, depending on the job. It also has 5 quick-connect spray tips that go from 0 degrees up to 40 degrees, plus soap.
Having a range of options increases the fun of using your machine. This electric cleaner will tackle light, medium, or heavy-duty cleaning tasks quickly and simply. Key features include the output hose, which measures 20′ in length, plus there's an extension wand.
There is a 35′ cord with a safety plug at the end to prevent electrical shorts. We're also impressed with the generously sized 54.1 fluid ounce detergent tank. Add specially formulated soap and clean grime quickly. The total stop system is nice for its automatic pump shut off, too.
As for negatives, this has the same as the Sun Joe SPX3000, in that the M22 fittings only go with Sun Joe accessories. Unfortunately, the parts quality control on these models is not as good as others in similar price ranges, with plastic motor housings and flimsy connectors. You'll need to purchase extra parts more frequently than other models.
We do like this model's good features for lighter or simpler outdoor cleaning tasks.
SPX4000 Pressure Washer Pros:
Lightweight
5 spray tips
Total Stop System included
SPX4000 Pressure Washer Cons:
Plastic motor housing
Need to buy parts
M22 adapter doesn't fit accessories
---
#3. Stanley SLP2050 Electric Pressure Washer
Stanley has created a new and flexible machine with the SLP2050 model. It can sit on its stable mobile cart or detach for portability. With plenty of features and accessories, you'll be able to use this washer for any outdoor cleaning job.
Review
The best feature of the Stanley SLP2050 is its two-part system. You can detach the washer from the cart. It weighs about 35 pounds and can be carried up a ladder, put in a car trunk, or held in your hand while you wash a car. It comes with a decent 2050 PSI, as well as professional grade brass garden hose connectors.
The fittings are 22mm to fit additional accessories. You also get a 25′ hose, and there's a 35′ power cord. There are five quick change (QC) nozzles, from high pressure to fan spray, plus a soap nozzle. It comes with a 48-ounce detergent tank. This washer uses 1.4 gallons per minute with its 14 amp motor.
There aren't too many negatives with this top-rated unit. It does require assembly, which takes about 15 minutes or so and you'll need a screwdriver. Also, while the hose is nice and long for reachability, it does have the tendency to kink.
In addition, only lower flow heads can use soap. But overall, despite these cons, it's an excellent pressure cleaning machine for your home.
SLP2050 Electric Pressure Washer Pros:
Both cart and stand-alone use
Lightweight for maneuverability
Hose is 25 ft long
SLP2050 Electric Pressure Washer Cons:
Have to assemble
Hose prone to kinking
No soap dispensing with some heads
---
#4. PowRyte Elite Electric Power Washer
When it comes to size and power, this PowRyte Elite model is the most heavy duty and blows the competition away. Even though it has the highest price tag, you get a lot of power for your dollar.
Review:
It gives you a whopping 4000 PSI water power, using 3 gallons per minute to deliver the highest power for the toughest cleaning. When using the 20′ foot hose, there's a retractable reel for easy storage. Combined with the 35-foot cord, the reach of this unit is extraordinary. It comes with five interchangeable tips to allow you to address a wide range of surfaces. At one end is the 0-degree nozzle to focus on areas that are generally out of reach. At the other end is the 40-degree tip which will clean windows and screens.
There's also a detergent option to increase the cleaning power from the onboard detergent tank, and a total stop system automatic pump shut-off feature. The 35′ cord has a safety GFCI plug to stay firmly in the outlet. The brass connector fittings are perfect for adding accessories from different brands. Despite its size, this model weighs about 23 pounds. You can easily wheel it where you need to go.
This PowRyte model does have the biggest price tag of these models, but you get excellent features. It also has a bulkier design which is more difficult to maneuver into position.
The hose itself is heavy and bulky. You'll feel the weight after using it for only a few minutes. It delivers high pressure but adds bulk and weight. Overall, though, we highly recommend this electric cleaner for tackling even the dirtiest outdoor jobs.
PowRyte Washer Pros:
Has 4000 PSI power
Five interchangeable tips
Automatic pump shut-off
PowRyte Washer Cons:
Bulky in design
Heavy telescoping hose
Most expensive model
---
#5. XtremepowerUS XP3000S Electric
There's plenty of power and strength packed into a little space within this XtremepowerUS XP3000S. It's got better parts and a larger size than the Sun Joe SPX3000, but is the least expensive model on this list.
Review:
The XtremepowerUS XP3000S comes with 2000 PSI, three spray tips (including 0 degrees, 25 degrees, and detergent), a good 20′ hose with a retractable reel, and a 33′ long plug cord.
Requiring minimal assembly, you can have this up and running in moments of receiving it. Put special detergent into the tank and attach the soap spray tip for heavier pressure cleaning.
The red 0-degree tip will tackle tougher jobs like mildew, mold, and grime. This is one of the smaller units, so it's easy to wheel around to your outdoor cleaning jobs. The hose connector and wand can also fit multiple accessories.
While we recommend the XtremepowerUS, it does have a few negatives. The PSI is the lowest of all of the models, so if you are wanting max power, this might not be for you.
It also isn't made by a top brand like Sun Joe or Stanley, so you don't get the same warranty or guarantee with it. There are only 3 spray tips, which is reflected in the price, too.
This is also a heavy machine for its size, at 40 pounds. That weight offers stability, but it could be difficult to pull around. In all, we'd recommend this pressure washer for the homeowner who doesn't have extremely tough or very frequent cleaning jobs but would like a standard model for maintenance washing.
XP3000S Electric Washer Pros:
20 ft hose with retractable reel
3 spray tips
Can spray with detergent
XP3000S Electric Washer Cons:
Has the lowest PSI
No warranty or guarantee
Heavy for its size
---
Our Choice: The Best Pressure Washer (Electric)
We've put these five top rated electric power cleaners through our own personal tests, comparing PSI, durability, stability, features, and performance. With these criteria, the Stanley SLP2050 is our selection for the best electric pressure washer.
What we really love is the fact you can detach the power unit for much more portability than any other model. The cart is also large and stable, and the parts are well made, with brass connector fittings. You'll have this machine for a long time.
For those on a budget looking for a less expensive electric model, we also recommend the XtremepowerUS XP3000S. It has a lot of features for a budget washer – 2000 PSI, 3 spray tips, a 20′ hose, a 33′ cord, and a detergent tank.
The final score: Either of these two power washers will ensure you'll have your place cleaned up in no time.