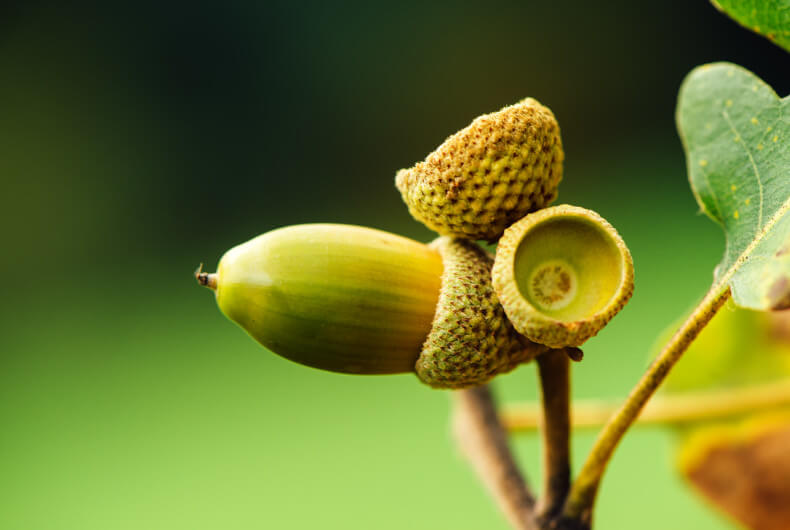 If you have oak trees on or around your property, you're probably curious about when you should expect the acorns to fall. Acorns can be a nuisance, especially when they fall on your driveway or other heavily trafficked areas of your property.
However, by knowing when to expect them, you have plenty of time to make a plan to get rid of them.
Read on to find out when acorns will start falling in your area and what you can do to mitigate their production.
Factors That Affect Acorn Production
Acorn crops can vary in size from year to year depending on the weather conditions in the previous months. Several events can either hurt or help the oak trees, leading to overproduction or underproduction of acorns.
A spring freeze can kill the oak tree's flowers, which results in a tiny acorn crop the following fall.
Excessively windy or rainy weather is terrible for acorn production, too. Drought, the opposite extreme, can reduce acorn production as well.
Sometimes, poor weather conditions cause the oak trees to neglect the acorns to use their energy to simply stay alive.
A key sign that the acorn crop is suffering is acorns that never change from green to brown.
This indicates that the tree is going through stress and can't put its energy or resources into the acorns.
When Do Acorns Drop?
In a typical year in the United States, healthy oak trees drop their acorns during September and October.
They start the process of acorn production as soon as the weather warms up in the spring, and the acorns should mature and fall off the tree by the middle of autumn.
The acorns usually fall a little earlier in warmer climates and a little later in cooler climates.
The exact timeline for oak trees producing acorns may vary depending on the type of tree.
Within the 90 species of oak trees in North America, there are three main categories of oak trees: white, red, and black. While white oak trees take only one season to produce mature acorns, red and black oaks need two seasons to create and drop mature acorns.
However, they all generally fall at the same time in autumn if they've all been subjected to the same environmental conditions.
The trees in your area may drop their acorns earlier than September if they're struggling. Poor weather conditions in the spring or summer may be responsible for an early acorn crop.
What is a Mast Year?
A mast year is an excellent year for acorn production. Ideal weather conditions, healthy soil, animal activity, and other helpful factors occur at once during a mast year.
This gives the oak trees the resources they need to produce a massive amount of acorns.
Mast years usually happen once or twice every five years. During a mast year, a large oak tree can produce up to 10,000 acorns.
Because the fallen acorns are so beneficial for wildlife, you can expect to see higher populations of deer, squirrels, and other animals in the following year. The next autumn after a mast year usually sees a decrease in acorns, though.
How Do You Stop Oak Trees From Producing Acorns?
Oaks are beautiful trees, but homeowners do find that the acorns are a nuisance in the fall. They can make your yard look cluttered, and they may attract animals that will destroy your plants.
Fortunately, there are some steps you can take to reduce acorn production from oak trees on your property.
Pruning
Pruning an overgrown oak tree is one of the best ways to reduce its acorn production. Of course, this won't eliminate all the acorns, but it can help control the numbers.
Remove the Flower
You could also pull the flowers off the tree by hand in the spring to halt the acorn production.
Hire an Arborist
If you have a lot of oak trees on your property, taking care of them by hand might not be an option. In this case, you could hire a tree service provider to help get the oaks under control.
They can spray the trees with hormones that stop flowering and acorn production or apply a growth regulator that reduces the number of acorns the tree creates.
These products must be applied carefully, though, as using too much could hurt the tree.
Frequently Asked Questions
Why is my oak tree dropping acorns in July or August?
Acorns falling in the summer or early autumn signify that the trees aren't in great condition.
When they don't have enough energy to produce mature acorns, they'll drop the acorns early.
Do acorns drop every year?
Red and black oak trees take two years to produce mature acorns, but they flower every year. This means that all healthy oak trees will create an acorn crop every year.
In years with poor conditions, though, the crop may be minimal.
What does it mean when there are no acorns?
You might see few acorns in the year following a mast year. This is because the tree has used a lot of its energy, ripening the crop during the mast year.
Nasty weather in the spring or summer could cause an oak tree to fail to produce acorns, too.
How many acorns can an oak tree produce?
In an average year, an oak tree produces thousands of acorns. Large oak trees could drop 10,000 acorns or more. The number varies considerably based on the size of the tree and the weather conditions.
How long do acorns drop from oak trees?
Oak trees typically spend about three weeks dropping their acorns in autumn.
Some years, the trees seem to work much more quickly, and in other years, the process takes longer.
You Can Prepare Your Yard for a Bumper Crop of Acorns
Unless your area experienced severe weather in the spring or summer, you could expect to see the acorns drop in September or October.
You can use the temperature and precipitation from the last few months to predict the size and timeline of the acorn crop. This can help you prepare to manage the acorns on your property.
If the conditions are perfect for the oak trees, you should expect a sizable population of acorns in your yard.