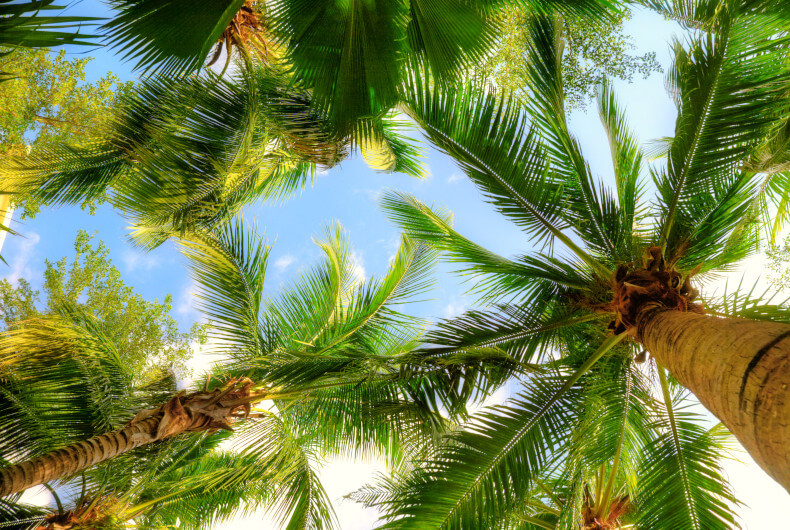 Coconut trees in the tropics have been a source of comfort and joy for people from all around this beautiful world. The fruit they bear, called copra or "meat," when dried, is used to make things like soap that you can use on your skin or drink as water.
But once they stop bearing fruit, the trees are removed. The trunks cannot be worked like conventional wood because of their hardness, so this product is worthless and becomes a waste material in our society.
Palm trees are iconic for their appearance, with the palm tree trunk consisting of a fibrous grain and black speck. However, the cut across it reveals something like bundled straw-like fibers – not quite wood but still strong enough to be used in building materials and manufacturing.
How Durable is Palm Wood?
Coconut palm wood is first treated with a non-toxic, oil-based preservative and finished with raw oils from nature to strengthen and increase longevity. This renders palm wood adequate for both interior and exterior atmospheres, whether in wet or dry climates.
After all the processing and proper sanding with a palm wood router, it can be passed through lamination, molded, plugged, or made holes into. Palm wood is free from tangles and other flaws in its fiber. So it can be proven durable for anything such as architectural pieces or lightweight furniture.
What Is Palm Wood Used For?
Palm trees are more flexible and durable than other types of wood, such as oak or mahogany. This makes them the perfect material to use when you need something that can take a beating without breaking apart on impact!
Building Materials
In areas where palm trees are plentiful, people use them to fulfill any small-scale timber needs. In particular, indigenous populations frequently use palm wood to make the thatch and roof of houses, given its durable nature and aid in withstanding everyday weather events.
Manufacturers examine the density of the stem to cut out planks or canes or. These are then left to air-dry and are later baked into a kiln. Afterward, the material is sanded with a palm wood router. The fiber is then ripped apart and stitched for the roof coating, and small columns are shaped for attaching hammocks. It is also used for building walls or floors.
Local Small Industry
Palm wood is an important part of small businesses because of its unique appearance.
As palm wood has become more famous worldwide, it has gained appeal among many people because of its distinctive beauty and craftsmanship. Palm wood is used for furniture and can be an option for ornaments, souvenirs, handles of knives, and various other things.
Palm wood is often used for rustic furniture because of its texture, durability, and color variation. However, blending this type of wood with a modern interior design can bring out an unusual look that will surely stand out among visitors.
Defense & Arms
Palm wood has been used for centuries in the construction of weapons. Communities that exist today continue this tradition by manufacturing spearheads using pan-tree fibers, which they believe allows them greater elasticity than common hardwoods such as oak.
Deer hunters use spears made out of palm wood. Other examples include sparring sticks which have replaced wooden swords for fencing practice.
Municipal Construction
The durability of palm wood has made it an excellent choice for construction projects such as bridges and utility poles.
Palm wood is also used in building utilities like walkways or gates because its strength makes them last longer than other materials without sacrificing aesthetics.
Housewares
Palm wood is used in so many spheres that we barely notice it. For example, palm tree trunks are cut up into pieces and turned into architectural elements such as false ceilings, wallboards, or any other type of art piece for our homes.
The people of the Philippines have been using palm-wood tableware for centuries. Plates, bowls, and glasses to giant goblets are made from this durable material. It can withstand the screwing and sanding by the palm wood routers. Manufacturers use hand routers or industrial ones to level the wood or smooth them. This would not be possible if palm wood wasn't durable enough.
Musical Instruments
Palm wood has long been used for making guitar shells. The oil palm tree is compressed and shaped into the wavy body of a guitar, which has been possible because its high durability makes this material easily spiralized without breakage.
Palm wood is an essential ingredient for business in the South Indian region of Kerala. Small industry owners count coconuts as one of their most vital resources because the trees are used to create traditional instruments such as a Veena (a type of stringed instrument), Sitar (involving metal strings), or an Ektara(a kind table drum).
Wrap Up
If you're looking for a durable material to use in your next project, look no further than palm wood. Palm trees are known worldwide for being incredibly strong and lasting. In addition, they are much more resilient than other types of woods like oak or pine, which might not withstand wear and tear over time.
If you are looking for the perfect material to use in your next project, look no further than palm wood. This durable and richly textured timber has a remarkable capacity to impress even the most critical eye!