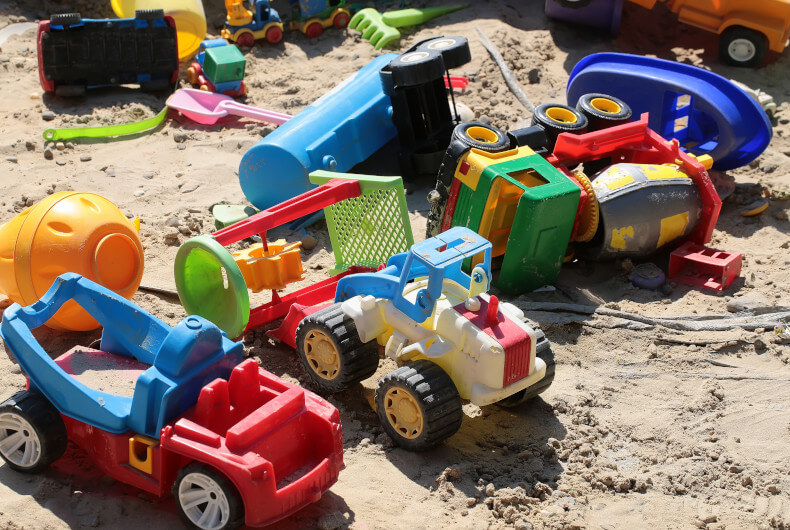 Children are the most precious additions to families. All parents will agree with this! That being said, taking care of children is not the easiest job, and parents will testify to that.
Kids have low attention spans and constantly need to be entertained. For this reason, you might have an endless supply of toys at home.
The problem arises when these toys start overflowing and occupy your room, living room, and yard. If you're tired of the constant mess, you should seriously consider outdoor toy storage.
This guide will walk you through 10 outdoor toy storage ideas to help parents get more organized and live in a mess-free home without depriving their children of their prized toy collection!
Top 10 Outdoor Toy Storage Ideas
Here is a list of creative outdoor toy storage ideas that parents can use to keep their children's toys in place and ensure their home is spick and span!
Pegboard Organizer
A pegboard organizer is an excellent option for outdoor toy storage. You can hang this board on the garage wall and save valuable space. This is an effective way to organize your kids' toys, especially tools and kitchen playsets.
Since everything is hanging right in front of you, it is also easier to spot the toy that your child may want to play with. This makes it a hassle-free outdoor toy storage idea for parents who are tired of sorting out their kids' toys.
Storage Bins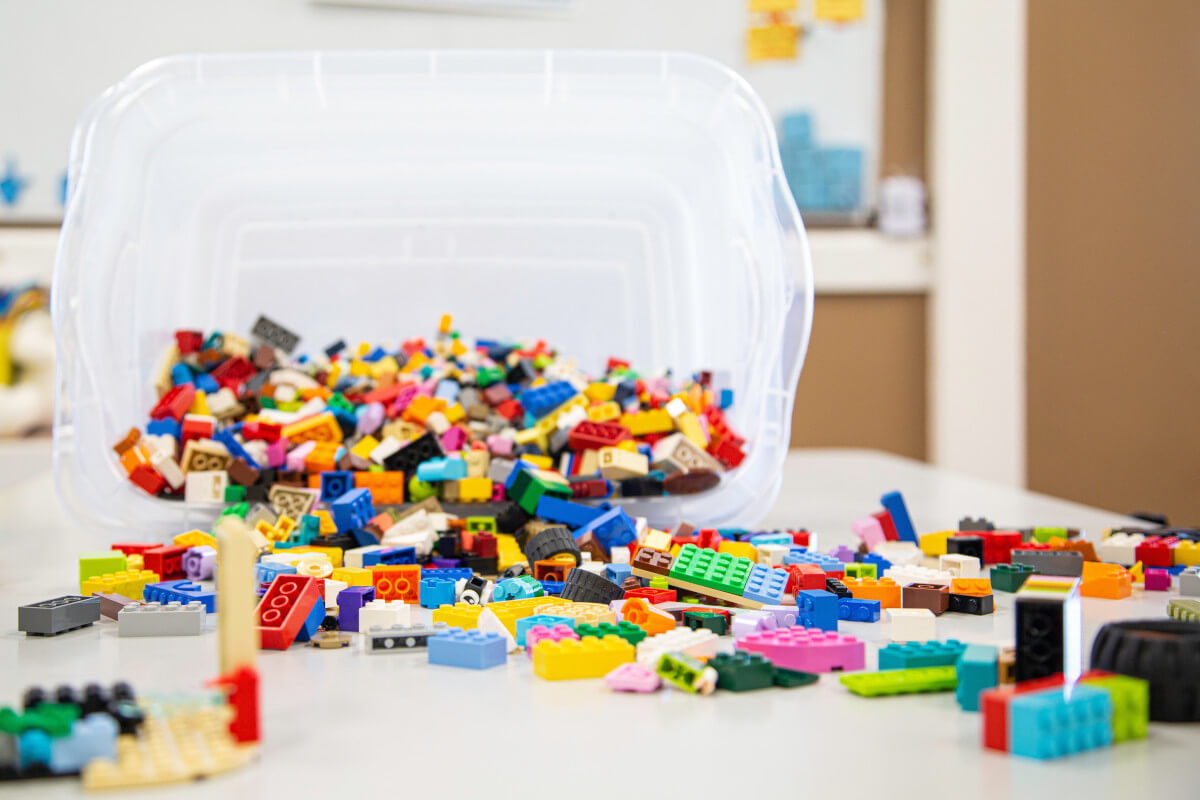 When toys start piling up, it is only natural that you'll probably run out of shelves and cupboards. Every time your child has a playdate, you're running after them to clean up the mess.
Toys of all sizes may be lying around in your house, patio, and yard.
You can simply transform bins into toy storage bins and paint them fun colors to give them a lively spin! These large storage bins can store all kinds of toys, giving parents a much-needed place for their children's endless toy supply. You can even label them to get more organized.
Storage Bench
How cool would a storage bench be that can double up as a place to sit? The whole idea of a toy storage bench is to save space and provide a place for the hundreds of toys your child has.
Most toy storage benches also have a lock and key to safely put the possessions inside.  Parents can keep this bench in the garage or lawn to serve as a place for kids to sit and play and then keep their toys inside.
Toy Caddies
Toy caddies allow you to keep your home clutter-free. But, unfortunately, toys strewn around the house are not only an eyesore but also pose a hazard to your kid's safety.
After all, do you really want them to step on a piece of lego? In addition, toy caddies have compartments so you can store items separately for better organization.
For added convenience, get toy caddies with wheels that your kids can easily drag in and out of the house without causing a mess.
Toy Pantry
If you have run out of cupboards, shelves, and other storage spaces, you can invest in a toy pantry. A toy pantry will store many of your children's toys that are most likely causing a mess outdoors.
Keep this toy pantry in the shed or garage where toys can be stored after a play session. Parents can even create a DIY toy pantry with a chalkboard to label the pantry's contents to know what toys are kept where.
Rolling Carts
The rolling cart is perfect for outdoor toys and sports equipment that your kids likely have. In addition, the rolling cart is ideal for kids to move around.
After a play date, you can also teach kids to put back their toys and then leave the rolling cart back in the garage where it belongs.
This way, you can ensure better outdoor toy storage and teach your children to pick up after themselves too! Rolling carts also come with compartments, which makes toy organization easier.
Toy Shed
If you have more than one child, you probably have a seemingly endless supply of toys. Unfortunately, managing and storing these toys can be a hassle for parents.
For this purpose, you can invest in a toy shed that will provide an outdoor space for all the toys your children have. You can even start a fun project to build a DIY toy shed to ensure the toys aren't haphazardly lying all around the garden.
The best thing about toy sheds is that they provide ample space-so all types and sizes of toys would fit there. Build or purchase a toy shed tailor-made for your needs.
Toy Racks
If you have younger kids who constantly get into toys and create a mess, you can invest in toy racks in the garage.
Not only do toy racks allow for better outdoor toy storage, but they also prevent younger children from reaching the toys and creating a mess.
With better organization, toy racks allow you to manage your child's playtime, which is very important for parents! Paint these toy racks in different colors to add a pop of color!
Bungee Cord Ball Storage
If your children are fond of outdoor sports, you may have many balls rolling around the house. If you're tired of the constant mess, we have the perfect ball storage solution for you.
Instead of discarding your kids' old balls every time they buy a new one, simply invest in a bungee cord for ball storage. This enclosed net will keep the balls all in one place and allow you to place them in a rack without them rolling over out of their designated location.
DIY Toy Storage
If you have a bit of creative flair and don't want to invest in expensive products, you can try out DIY toy storage! You can even engage your children in this project.
You can make all of the products mentioned above yourself to give your kids' toys a home. All you need is plastic containers, wooden studs, drywall, screws, and tools.
Of course, the equipment will vary with what exactly you're going to build. We suggest creating a wooden frame and inserting some of mom's old plastic containers. Now paint these containers and the wooden frame fun colors and add your toys to this perfect outdoor storage space!
Bonus: Top Tips for Storing Your Children's Toys
If you're looking for outdoor toy storage, just knowing the right outdoor toy storage ideas isn't going to cut it. You're also going to need the right method for organizing and managing the toys to know which toy goes where.
Here are our tips to help parents take their outdoor toy storage organization to the next level.
Know What Toys Your Children Own
The first step to toy organization is knowing what all (toys) your children own. Believe it or not, parents may not even be aware of just how many toys their kids have!
Once you have everything laid out in front of you, you can decide how much storage you need. But before that, you should sit with your child and see what toys they want to keep and which toys they no longer play with and can be handed over to the less fortunate kids.
This teaches your child the importance of sharing and saves you valuable space in the house.
Keep Small Toys Organized
You may not realize, but the small toys are the hardest to organize. It's always the tiny puzzle pieces, tiny action figures, and small blocks that you'll find tucked into the sofa sides or under the bed.
Therefore, toy organization should always begin with the smallest toys.  When organizing these smaller toys, you should always label the boxes, so you know what is kept where, and your kid doesn't have to turn the whole house upside down trying to find that piece of the puzzle!
Have a Designated Spot for Large Toys
Since large toys occupy the most space and create the illusion of a mess, you should allow a space for every type of toy.
Keep all the fire trucks on one toy rack, the stuffed animals on another, so you can easily spot the toy your child wants instead of rummaging through others. This makes organization simpler and allows you to keep the rest of the home clutter-free.
Store Toys by Age Group
If you have kids of different ages, you will have an ample supply of toys without any clue what to do with them. One way is to sort toys by age group.
This way, you can create a space where each kid can play and keep their toys. This tactic promotes better toy organization and encourages independent and age-appropriate play.
Encourage Children To Clean Up After Themselves
Encourage your children to clean up after themselves if you want your kids' toys to return to their designated places after a play session.
When you have allotted spaces for each child's toys, they should also be told to take the toy to its respective place of storage.
This way, your kids will learn better manners and ensure the house is clutter-free.
Summary
Toy organization is never easy, especially if you have more than one kid at home. However, knowing your children's toys and designing a place for toys by size and age can make organizing easier to follow.
With the creative outdoor toy storage ideas in this guide, parents can fulfill their dream of a clean, mess-free house without compromising on their children's need for play.