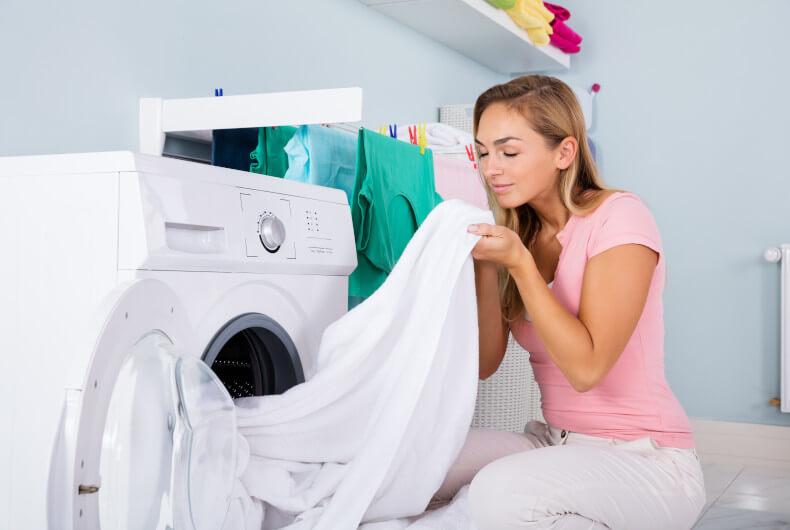 Having a dryer in the home is one of the hallmarks of modern convenience. However, few appreciate what a complicated machine a dryer can be.
Proper venting is a critical concern as far as safety and performance go. Often, homeowners dislike exterior dryer vents and wish to direct exhaust into garages.
This article should answer all of your questions.
Why Is It a Bad Idea to Vent a Dryer Into Your Garage?
Regardless of how your dryer is powered, venting dryers into garages is a terrible idea for several reasons.
First off, doing so will spew lint and dust into the garage.
Furthermore, venting dryer exhaust into the garage will increase humidity levels and promote rust.
Lastly, venting gas-fired dryer exhaust into the garage can produce dangerous carbon monoxide levels.
Are Indoor Dryer Vents Legal?
While indoor dryer vents aren't necessarily illegal, they may violate local building codes depending on where you live.
Safety inspectors are stringent regarding laundry vents in multi-unit residential buildings. Most home inspectors use the International Residential Code when determining whether a laundry vent is permissible.
Simply put, outdated indoor dryer vents can earn you hefty fines from the authorities.
Are Indoor Dryer Vents Safe?
Generally speaking, venting dryer exhaust indoors is a terrible idea from a safety standpoint.
Doing so can produce carbon monoxide levels that are deadly in certain areas. If the concept of asphyxiating isn't alarming enough, indoor dryer vents can cause fires that may gut entire buildings.
Last but not least, venting dryer exhaust into interior spaces can promote toxic mold growth.
Can You Get Carbon Monoxide Poisoning From a Dryer Vent?
There's no question that carbon monoxide poisoning is a potential consequence of interior dryer venting. Even the latest and greatest gas-fired dryers produce a certain amount of carbon monoxide that must be vented to the outside world to ensure the health of building occupants.
Carbon monoxide can build up quickly in tight spaces and render residents unconscious or dead in short order.
Do Indoor Dryer Vents Cause Mold?
Due to dryer exhaust's hot and humid nature, indoor vents almost always produce mold over time.
Constant moisture will eventually degrade everything from 2×4 studs to drywall and leave a black mold layer over every surface between the dryer and the vent outlet.
Frequently, the mold produced by indoor dryer vents festers in unseen places for years before being discovered.
Do Indoor Dryer Vents Cause Lint and Dust Accumulation?
Given enough time, every dryer vent produces a significant amount of lint and dust accumulation inside the home.
Sooner or later, the conduit that feeds a dryer's vent will crack or shift and release laundry debris in unwanted areas.
In addition, indoor dryer vents necessarily spew linen fibers into places you don't want to find them. The end result can be a fire hazard.
How Do You Reroute a Dryer Vent From the Garage to Outside?
If your dryer exhaust currently ends up in the garage, rerouting it to the outside isn't that difficult.
You only need a suitable flexible metal conduit, a saw or two, and a few extraneous hardware accessories. A competent HVAC technician can run another length of exhaust conduit from an existing garage dryer exhaust outlet to the outside in a few hours.
Things You Should Know About Dryer Vents
First off, there are no one-size-fits-all solutions to dryer vent design. Gas-fired dryer vents and electric dryer vents are very different in terms of heat and gas dissipation.
Furthermore, dryer vents aren't as simple as they may look from the outside. They should be installed by qualified professionals who know what they're doing.
Lastly, dryer vents require regular maintenance to deliver reliable performance.
Are Dryer Vents Important?
Dryer vents are absolutely critical if you care at all about your health and safety.
At a bare minimum, properly installed dryer vents can be the difference between a happy home and a structure fire.
What's more, dryer vents that are working correctly will make your laundry hardware last a lot longer. On top of that, dryer vents keep the air in your home clean and safe.
What Happens If a Dryer Is Not Vented?
Several really lousy outcomes are almost guaranteed if a dryer isn't vented. The worst-case scenario is that the dryer will overheat, catch fire and burn your house or apartment building down.
Furthermore, a dryer that's not vented will have a hard time actually drying your clothes. What's more, indoor humidity levels will surge as the moisture has no place to go.
How Do Dryer Vents Work?
Dryer vents work the same way as most other kinds of ducts you're likely to encounter in a home or business.
A flexible aluminum conduit attaches to the back of the dryer and channels hot, moist air through walls to a vent outlet somewhere on the exterior of the building.
Dryer vent outlets are protected by a cover to prevent rain and small animals from entering the ducting.
Does the Length of a Dryer Vent Affect Drying Time?
The entire point of a dryer vent is to remove heat and moisture from the dryer as quickly as possible. The longer the vent, the longer it will take to dissipate heat from the dryer.
As such, dryer vents should be as short as possible. A long dryer vent with many twists and turns will make your dryer less efficient and prolong drying time.
What Is the Best Way to Vent a Dryer?
In an ideal world, a dryer vent is less than 10 feet long and simply passes through a single wall to an exterior vent cover.
This kind of setup will ensure that a dryer is as efficient as possible while minimizing potential downsides.
If a dryer is located in a single-story home, a vent can also terminate at a vent cover located on the roof. The shorter the vent run, the better the results.
Dryer Vent Types
There are basically three types of dryer vent tubing in use today: flexible, semi-rigid, and rigid. Flexible ducting is made from synthetic materials like plastic or polyester film.
Flexible tubing is often prohibited due to its flammable nature. Semi-rigid aluminum vent ducting is both flexible and resistant to fire.
Rigid ducting is easier to clean but somewhat harder to install.
The Installation Process
Installing a dryer vent is easy if your dryer is located near an exterior wall. First, you'll need to cut a hole through the drywall to mount a vent outlet behind the dryer.
Obviously, you'll need to cut a matching hole through the exterior sheathing simultaneously.
After that, you simply run a semi-rigid ducting section from the dryer to the outlet.
Can Dryer Vents Go Up?
There's absolutely no reason why a dryer vent can't go up and exit the building either through the roof or through a wall on an upper floor.
The main problem with this approach is that it will reduce the efficiency of your dryer. In addition, lengthy vertical dryer vents can be difficult to service and clean throughout the years.
Dryer Vent Cleaning and Continual Care
For the most part, dryer vents don't require much TLC to perform reliably for years or even decades under normal circumstances.
Generally speaking, it's a good idea to disconnect the ducting from the dryer and vacuum out any lint or debris you may find.
Furthermore, you should disassemble and clean the exterior vent outlet at least once a year.
FAQs
What Are the Main Problems That Occur When You Vent a Dryer Into the Garage?
At a bare minimum, venting a dryer into a garage will increase humidity levels to a noticeable degree.
Higher humidity levels will take a toll on anything metal you store in your garage. Venting dryer exhaust into the garage will also shower the space with lint and dust.
Finally, terminating a dryer vent in the garage can lead to dangerous carbon monoxide concentrations.
Should You Vent Your Clothes Dryer Inside the Home?
For the most part, venting a dryer inside the home is a bad idea. While some newer models can be vented inside safely, they take longer to thoroughly dry your clothes.
Also, gas-fired dryers should never be vented inside the home because the exhaust they produce contains carbon monoxide.
Just play it safe and do whatever it takes to vent dryer exhaust outside.
How Harmful Is Venting the Air Out of an Electric Dryer in the Home?
Long story short, dryers can encourage the growth of mold and mildew if vented inside. After all, a dryer removes water from clothes, and that moisture has to end up somewhere.
People with allergies or respiratory issues can be put at significant risk by mold.
On top of that, a moist environment can damage everything from drywall to wall studs.
How to Vent a Dryer in the Middle of the House?
If your laundry room is centrally located, you'll have to get a little creative regarding proper venting.
Most people use periscope dryer vents to drop the ducting through the floor so that it can run through joists until it hits an exterior wall.
The job is a lot easier if your dryer is on the ground floor and you have a basement to work in.