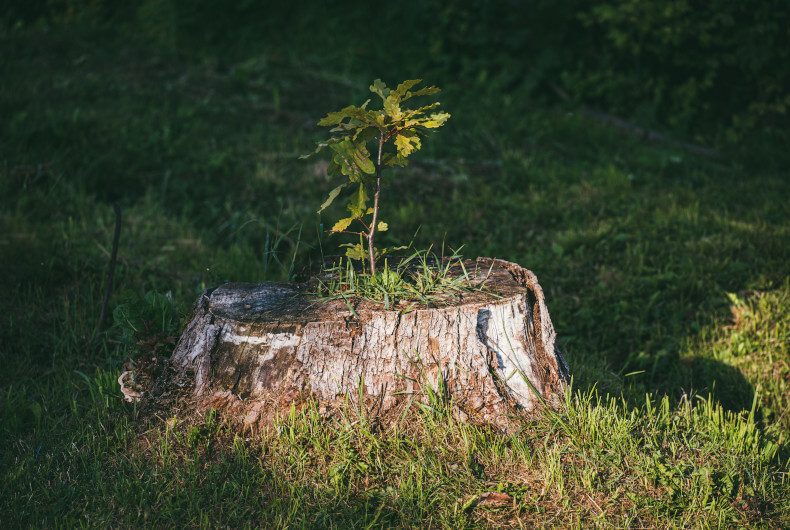 Does that tree stump in your yard refuse to rot away? Does it keep sprouting new shoots?
If the answer to either of these questions is yes and you're tired of looking at it, the best stump killer available will help solve your problem in a matter of weeks.
Dow AgroSciences RTU548 Tordon RTU Herbicide is the best stump killer on the market for most needs. It's not only highly effective in killing tree stumps, but it's also reasonably simple to use. Only a few products on the market can compete with RTU548's effectiveness.
In this article, I'll talk you through some of the most popular stump-killing products on the market today. Then, to help you decide the right stump killer for your needs, read on as I go through these chemicals and discuss their pros and cons.
What To Consider When Buying a Stump Killer
Your choice of a stump killer product will highly depend on your needs and circumstances.
For example, getting a stump killer or a stump remover is one of the first things to consider.
While the former is a more potent option, the latter's design aims to kill the root system of tree stumps, brushes, and other woody vegetation.
Another thing to keep in mind is safety. Some products can be highly toxic, both environmentally and when applying them. In addition, reading up on how easy to use specific products should be one of your priorities.
Here are the things you should take into consideration when buying a stump killer:
Whether you need a stump killer or stump remover
Location (whether the application site is near maintained vegetation such as lawns)
Type of stump you're looking to remove (wood or a woody plant)
Environmental and personal safety
Ease of use
The time it takes for the product to work
How We Chose the Best Tree Stump Killer
All of the factors listed in the previous section were considered when choosing the best tree stump killer products.
In addition, online reviews and experts' opinions were a significant contributing factor to the final list order.
While time-consuming, this process ensures that the list of the best stump killers and removers you'll find below is as factual and objective as possible.
Best Stump Killers on the Market
Deciding which stump killer to go for can quickly get overwhelming.
Let's explore further what makes each of these stump killer beasts at removing ugly stumps from your property. All recommendations are found on Amazon.
Dow AgroSciences Tordon RTU Herbicide
Possibly the most potent stump killer available, Dow AgroSciences Tordon, is a concoction designed to kill stumps of more than 20 woody species.
Tordon RTU Herbicide's applications list includes, but isn't limited to, forested and non-crop areas (fence rows, roadsides, yards, etc.). Remember that, due to its strength, this stump killer shouldn't get in touch with any grass or plants you wish to keep alive.
A ready-to-use product, Tordon RTU Herbicide, is relatively simple to use. The stump killer can be applied using the injection method. However, spraying or painting the product onto the top of the stump and along the bark line is the way to go if you want the stump dead.
Renowned for its effectiveness, Tordon should kill any stump in 7-14 days. If there are no results in 10 days, reapplying the herbicide is necessary.
Pros
Ready to use straight out of the bottle.
There's no mixing and thinking about ratios involved with Tordon RTU Herbicide.
Easy to apply.
The herbicide contains a blue dye that helps keep track of the application process, especially with multiple stumps. Tordon RTU can be applied using various methods.
Usable throughout the year.
Tordon RTU's formulation uses the no-freeze technology that keeps it liquid even in the harshest winter conditions.
Fastest stump killer available.
Tordon kills tree stumps in 1-2 weeks, making it the most efficient stump killer you can buy.
Effective against most wood species.
This stump killer is guaranteed to stop over 20 wood species in their tracks.
Cons
Highly toxic.
Using protective equipment such as safety glasses and gloves is always a must with Tordon. Covering the treated area after the Tordon application is also advised.
Not recommended for residential and commercial lawns.
Due to its toxicity, Dow AgroSciences doesn't recommend using Tordon on lawns.
---
VPG Fertilome Brush Stump Killer
For those after a less potent stump killer, VPG Fertilome Brush Stump Killer might be the next best choice:
While initially designed for invasive species root elimination, Fertilome Brush Stump Killer is also an excellent product for getting rid of unwanted vines, ivies, and other woody plants.
Accelerating the decomposition process of stumps is another one of this product's uses.
One of the most significant benefits of this stump killer is that you can dilute it with water–a handy feature when dealing with vines, ivies, brushes, and smaller stumps. Fertilome should be applied to stumps using a paintbrush to avoid damaging nearby vegetation.
Fertilome takes 1-6 weeks to kill the plant's root system. After that, it'll take up to a couple of months for the stump to rot enough to be easily removed from the ground. Another thing to consider is that this product is much more effective on freshly cut stumps.
Pros
Effective against invasive plants.
Fertilome's most significant advantage is that it's highly effective against invasive species. This is why we commonly use it around homes and cabins.
It can be diluted for smaller projects.
For example, Fertilome shouldn't be cut with water when used for stump killing. However, you can use smaller amounts of the chemical for killing ivies, vines, and similar woody plants.
Cons
Only usable for stumps up to 6 inches (15cm) in diameter.
Unfortunately, this stump killer is not as effective on wider stumps as vines and smaller stumps.
Less effective on older stumps.
Using Fertilome on older stumps significantly impedes its effectiveness. Make sure to use the product on freshly cut stumps.
Best used with a stump remover.
Considering its brush-killing original intention, Fertilome shows the best results when combined with one of the stump remover products.
---
Bonide Stump-Out Stump Remover
If you have an older stump that needs removing, Bonide Stump-Out is the product for you.
While ineffective on fresh tree stumps, Bonide's Stump-Out stump remover is perfect for stumps that have been seasoning and ruining your yard's appearance for over a year. Perfectly safe for residential and commercial lawn use, this product comes with the highest recommendations and praises.
Bonide Stump-Out is unlike most other stump killers available. This stump remover comes in granules.
The application process is pretty simple. All you need to do is drill four holes into the top of the stump, fill them with Stump-Out, and add hot water to activate the chemical.
With this Bonide stump remover, you'll need to wait 4-6 weeks for the stump to die. After that, the stump can be removed using your method of choice.
Pros
Non-toxic.
Unlike most stump killers on the market, Bonide Stump-Out doesn't contain potassium nitrate but instead uses sodium metabisulfite as the main ingredient. This is what makes the chemical's application far less dangerous.
Safe to use near grass and plants.
Note that Bonide Stump-Out's label marks it as a stump remover instead of a stump killer. This means that the product is far less toxic than some competitors, making it safe to use near vegetation.
Easy to apply.
The change in chemical composition means that Bonide Stump-Out comes in a granulated form instead of liquid, making it easier and safer to use.
Cons
Requires the use of a brush killer product.
While excellent for speeding up the stump's decomposition process, Stump-Out won't do much on its own.
Not suitable for killing fresh stumps.
Bonide Stump-Out only works on tree stumps that have been allowed 12-18 months of seasoning time.
It only works on some wood species.
This stump killer is best-suited for species that don't sprout after being cut down. The list includes oaks, fir, cedar, maples, pines, and aspens.
---
Spectracide Stump Remover
Another remover product, Spectracide Stump Remover, is designed to be used as an addition to a brush killer product of your choosing.
This remover is an excellent option for stumps whose root system has already been dealt with using other products. However, as the manufacturer claims, using Spectracide Stump Remover with freshly cut stumps shows the best results.
The application process of this product is simple. All it takes is drilling 4-5 holes at the top of the stump and adding the HG-66420 granules. Just like the previous product on the list, hot water is what activates the granules.
Spectracide Stump Remover's effects on the stump should be noticeable in 6-8 weeks. Once this period has passed and the stump has rotted away, it can be mechanically removed or burned.
Pros
Suitable for home use.
Due to its non-toxic characteristics, Spectracide Stump Remover is safe to use on lawns and near other plants.
Speeds up stump decomposition with freshly cut stumps.
Even though it cannot kill the roots of a tree stump on its own, this product will certainly aid the fresh stumps' decay process.
Money-back guarantee.
Spectracide offers a money-back option in case their Stump Remover fails to do what the label promises.
Cons
Requires prior brush killer application.
Spectracide Stump Remover isn't a stand-alone product, as it requires the application of a brush killer to work its magic and decompose the tree stump.
Long stump decomposition period.
Compared to some of the leading products in the business, Spectracide Stump Remover takes a relatively long time to decompose the tree stumps.
---
Stump Stop Cut Stump and Basal Bark Treatment
Another great stump-killing product, the Stump Stop, is one of the most sold stump killers you can get your hands on online.
Stump Stop is effective against close to 100 different kinds of wood and woody plants. If that isn't enough, this herbicide also kills ivy and poison oak.
This stump killer's primary purpose is the use in forests, fence rows, wildlife openings, around farm buildings, non-irrigation ditch banks, and various other spots. Stump Stop is a product that can meet all your stump-killing needs.
Easy to use, the product requires no mixing. However, the application method slightly differs from other stump killers. The undiluted product application should go around the edge of the entire stump, with no drilling required. Painting the chemical on the sides of the stumps is also needed.
Caution while using Stump Stop is advised, as the chemicals found inside can cause skin irritation. Another thing I'd suggest is covering the treated stump with some protective material to prevent children and animals from touching the area.
Stump Stop can take up to 6 months to kill the tree, while it takes an extra few months for the stump to decompose enough for removal to be possible.
Pros
No mixing is required.
Stump Stop will arrive ready to use, with no special mixing or dilution process required.
Effective against 100 wood species.
Sumac, willow, alder, birch, elm, and more than 90 other types of woody plants are no obstacles for Stump Stop.
Able to kill invasive species.
In addition to killing unsightly tree stumps, Stump Stop is also effective against invasive species such as poison oak and ivy.
Cons
Safety issues.
Just like any other potent herbicide, Stump Stop can be toxic to humans and animals. Using protective gear is advised.
It takes a long time to work.
While highly effective, Stump Stop isn't the quickest stump killer on the market. Sometimes it can take almost a year to decompose the tree stump to the level it can be excavated.
---
Other Tree Stump Removal Methods
Although effective, stump killers are notoriously toxic to the entire application area and their surroundings. Therefore, these products also require special attention and some basic safety measures until they've done their job.
Suppose you're after a different take-out method for the stump on your property. In that case, you'll find the list of available options you can take into consideration below.
However, before diving into the list, an important thing to note is that, even after applying a tree stump killer, you'll still need to get rid of the rotten stump. Most of the time, all it takes is just a shovel and a bag. Sometimes, however, one of the methods listed will be necessary.
Rent or Hire a Stump Grinder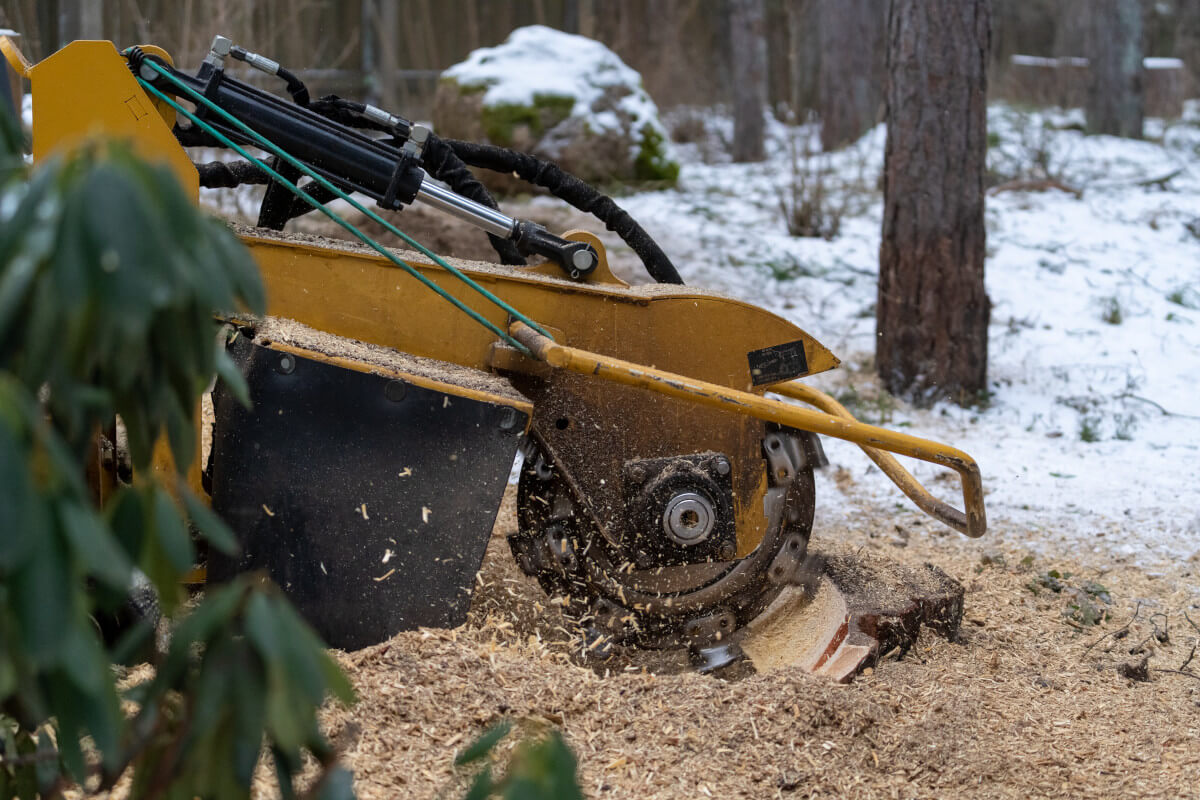 Digging out the live stump is commonly the first thing that comes to mind when considering tree stump removal methods. However, for this job, you'll need some specialized machinery.
There's no better tool for the job than renting a stump grinder. While labor-intensive, this method of stump removal doesn't involve any chemicals. However, keep in mind that they are much more expensive than buying a bottle of stump killer.
You can rent a stump grinder for an average of $270 per day. Keep in mind that the price can vary from $90-$440 per day, depending on where you are in the county.
Burn Out the Stump
Burning out the stump is one of the cheapest and most popular trump removal techniques.
Here's how you can do it safely:
Clear any leaves, grass, and other flammable materials around the stump.
Drill as many holes as you can through the top and sides of the stump.
Fill the drilled gaps with diesel fuel.
Let the fuel soak into the stump.
Cover the stump with dry scrap wood and set it on fire.
Keep a watchful eye until the stump burns out.
Remove the stump remains, as well as the remaining roots.
Fill the hole with fresh soil.
Using burning as the final step in getting rid of the stumps that have been treated with a stump killer is a widespread stump removal method.
Copper Nails
Hammering copper nails into the stump can kill most tree stumps. However, the nails need to be placed at an angle and as close to the ground as possible.
Once hammered, you should cover the copper nails with soil. The oxidation process from the copper should kill the stump and enable its easier removal from the ground.
The process of oxidation can take anywhere from three weeks to a few months. Once the tree's nutrient supply system is dead, it can take a few extra months for the stump to show visible signs of decomposition.
Expect to spend over a year waiting for the tree's remains to decay naturally enough to dig them out.
Other DIY Tree Stump Killer Methods
If you find that none of the methods listed above are for you, there might be a different solution. For example, drilling holes in the tree stump and filling them with various everyday household items might be the right thing for you.
Here are some DIY tree stump killer methods you can try before resorting to the good old chemicals:
Adding rock and/or Epsom salt to the tree stump and watering the holes for a few days.
Filling the holes with bleach for four days and allowing the time for the stump to die.
Apply diesel fuel to the pre-drilled holes.
Depending on the size and wood species of the stump in question, these methods are more or less effective.
However, remember that none of them are as safe or effective as using a proper tree stump killer.
FAQs
How Long Does It Take for a Tree Stump To Rot Naturally?
It takes at least three to ten years for a tree stump to rot naturally, depending on the species and size of the tree. Teak, black locust, and California locust are just some of the woods that take the longest time to rot completely.
Using a stump killer is much more time-efficient than letting nature take its course.
How Long Does It Take To Kill a Tree Stump With Chemicals?
Depending on the type of chemicals used, it typically takes two to four weeks to kill a tree stump. However, some stump-killing chemicals' effects can be seen after just 7 days.
On the other hand, Stump removers can take up to a full year to show noticeable results.
Killing a tree stump is the fastest way to get rid of this unwanted garden ornament.
How Do You Use Tree Stump Killer?
Here's how to use tree stump killers:
Drill a few two-inch (5.08 cm) holes in the stump's surface.
Add the stump killer based on the amount specified on the packaging.
Cover the stump to keep curious children and pets safe.
Check on the stump periodically.
Dig the stump out once it gets soft and spongy.
Keep in mind that this is a general guide on applying stump killers. Every product will come with its own application guide and requirements printed on the label.
What Chemicals Are in Tree Stump Killer?
Some of the most common chemicals in stump killers include glyphosate, triclopyr, picloram, and potassium nitrate. While all of these contribute to the product's overall effectiveness, potassium nitrate is what kills the stump. The other ingredients are there to prevent future growth.
Will My Tree Stump Killer Hurt the Grass or Plants Near the Stump?
Most of the herbicides found in stump killers will hurt and kill grass and plants near the stump. For this reason, applying stump killers with caution is advised.
Even though glyphosate and triclopyr are viewed as slightly toxic, these chemicals become a potent toxin when mixed.
Potassium nitrate found in stump removers, on the other hand, isn't dangerous for your garden vegetation.
How Long Until the Tree Stump Killer Is Rain Safe?
A tree stump killer is generally rain safe within around four hours to a day. But, ideally, they should never be exposed to rain as water increases their soil mobility and breaks down periods.
This is another reason why your stump needs to be covered after applying tree stump killers.
Can I Use the Stump As Firewood After Applying Stump Killer?
You shouldn't use the stump as firewood after applying a stump killer because of health and safety concerns. Burning the affected stump in an indoor stove is unsafe for humans and the environment. Also, remember that the herbicides that killed the stump are highly toxic when combined.
Summary of the Best Stump Killers and Removers
Before concluding this article, here's a table of comparisons for the best stump killers mentioned in the article:
| Product Name | Best Used For | Time it Takes to Work |
| --- | --- | --- |
| Dow AgroSciences Tordon | Killing and decomposing all types of wood stumps. | 7-14 days |
| VGA Fertilome | Killing brushes, vines, ivies, and other woody plants. | 1-6 weeks |
| Bonide Stump-Out | Aiding the seasoned tree stumps' decomposition. | 4-6 weeks |
| Spectracide Stump Remover | Aiding the freshly cut tree stumps' decomposition. | 6-8 weeks |
| Stump Stop | Killing and decomposing all types of wood stumps. | 6-12 months |
You might be looking for the most potent stump killer available for sale or a milder version that'll help remove the ugly tree stump from your yard. Whatever the reason behind your search, the perfect product for your needs is somewhere on the list above.
Final Thoughts
When it comes to killing the root system of your unsightly tree stump, VPG Fertilome Brush Stump Killer is the way to go.
With dead roots, stump removers such as Bonide Stump-Out and Spectracide Stump Remover are both excellent ways to speed up the rotting process before you can proceed to stump removal.
However, if you're after the best stump killer and an all-in-one product, Dow AgroSciences Tordon RTU Herbicide should be the first one you should check out. Its effectiveness and strength are matched by just a few other products on the market.