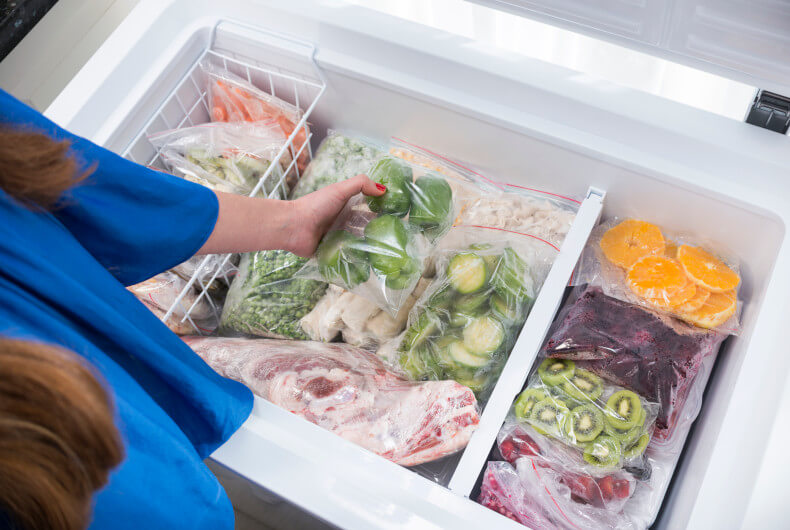 When it comes to finding the best chest freezer for your garage, there are a few things you need to keep in mind.
First of all, what size do you need? Do you have enough space in your garage for this appliance? How much power will be needed for the freezer to run properly? What kind of warranty is included with this product?
These questions and more can help narrow down which chest freezer is going to work best for your needs!
To aid you in your search for a garage freezer, we've whittled it down to the top three models that work best for specific needs.
To help our readers find their perfect match when shopping around for a new garage freezer, we have honed in on the best picks out there based on what they're looking to use theirs for and picked them apart by size so picking one is easier than ever before!
Best Garage Ready
Best for Mild Climates
Best Mini Freezer
GE FCM16DLWW
Frigidaire FFCL1542AW
Midea MRC04M3AWWW

15.7 cu ft
4 storage baskets
Temperature alarm

14.8 cu ft
External power light
Exterior temp controls

3.5 cu ft
Efficient D+ System
Hinged door stays open
The Best Garage Chest Freezers
Chest freezers are versatile and come in a variety of sizes for all storage needs. Whether you just need one to store your summertime barbecue meal or enough freezer space for the meat needed when hosting Thanksgiving dinner, there's an option that won't disappoint.
Here is our list of top three chest freezers with detailed information about each model:
GE FCM16DLWW – (Best Garage Ready)
Our top pick for a garage-ready unit is the GE 15.7 cubic feet chest freezer. It comes with a manual defrost drain which means that it is not a hassle to clean up after.
The GE 15.7 cubic feet freezer also includes an interior light, moisture-proof gasket and easy glide shelving, all of which make for the perfect chest freezer!
This freezer is perfect for those who live in a colder climate. It has been tested and will perform in temperatures from 0° – 110° F!
Features for the GE
Garage Ready
Temperature warning alarm
LED interior lighting
Built-in lock w/key
Adjustable temperature control
Four sliding baskets offer easy access
Exterior power on light
Defrost water drain
Clean-looking recessed handles
What can't you put in this chest freezer? A 15.7 cubic feet GE Chest Freezer offers optimal storage capacity for your frozen items with the convenience of an easy access door that locks to keep children out.
This Garage Ready freezer features 4 lift-out sliding bulk storage baskets so when defrosting, it is effortless and efficient because water drains right into its exterior drain plug!
Specifications
15.7 cubic feet capacity
Temp. Range: -10° to +15° F
Shipping Weight: 168 lbs.
33 3/8″ H x 65″ W x 28 1/2″ D
Height with lid open 90°: 60 5/8″
kWh/year: 277
---
Frigidaire FFCL1542AW – (Best for Temperate Zones)
The Frigidaire 14.8 cu. ft Chest Freezer is the perfect solution for storing all your frozen foods with a spacious interior that can hold all the frozen food you can throw at it! Take organization to the next level by using our heavy-duty sliding plastic baskets, so you'll find what you're looking for quickly and easily – whether it's vegetables or ice cream!
The exterior dial temperature control makes operating this freezer easy and convenient no matter where you are inside your kitchen; simply set at whatever temperature feels right depending on how long before eating time, then keep cool until ready. Sleek white finish complemented by smooth steel means always having an organized refrigerator/freezer area without sacrificing looks thanks to its clean modern look.
Features for the Frigidaire
14.8 cubic feet capacity
Exterior temperature control
Defrost water drain to ease defrosting
Optional casters for movability
Safety lock with auto-ejecting key
Sliding baskets allows accessible organization
Perfect for garages in temperate climates
The Frigidaire 14.8 cu. ft. Chest Freezer is perfect for any foodie who needs to store frozen foods. With its heavy-duty sliding plastic baskets you'll never lose track of what's in the back and it offers an exterior dial control that makes temperature adjustment quick, easy, and efficient!
White with a sleek steel exterior; this freezer will look great anywhere while also being nicer on your housekeeping skills when grime builds up over time. We all know that white shows dirt less than black or grey does.
Specifications
14.8 cubic feet capacity
Shipping Weight: 152 lbs.
Temp. Range: -10° to 10° F
32 1/2″ H x 55 3/4″ W x 29 9/16″ D
Height with lid open 90°: 59 7/8″
kWh/year: 306
---
Midea MRC04M3AWWW – (Best Mini)
The Midea MRC04M3AWW 3.5 cu. ft. chest freezer is an excellent choice for storing your favorite meat and ice-cream foods. A built-in door hinge allows you to take or put food into the fridge with two hands rather than using one hand to prop it open.
Plus, due to how much more efficient and strong cooling this product offers from their D+ system, all of your frozen goods will be kept at optimum temperatures without having any chance of melting!
Features for the Midea
Midea D+ cooling system
Adjustable thermostat
Stay-open door hinge
Defrost water drain
Recessed handle
Very small footprint
Single wire basket
Adjustable legs
The new Midea D+ system is about to change the way we think about chest freezers. It has a cooling pipe and layer design that saves space while increasing efficiency, so you can store more in less size.
Midea has been blowing minds with their latest designs for some time now! The new Midea D+ create an incredibly efficient cooler of high capacity but small package – perfect for those with tight spaces.
Specifications
3.5 cubic feet capacity
Shipping Weight: 57 lbs.
Temp. Range: -11° to 10° F
33 1/2″ H x 21 1/2″ W x 19 1/2″ D
Height with lid open 75°: 52 3/4″
---
Things to Look Out For
Size / Capacity
Typical chest freezers range in size from three to 20 cubic feet, with an average of 15.
When shopping for a new model, you'll want to keep in mind that the wider and larger models will take up more space – but may be worth it if you need lots of storage.
Defrosting Options
Chest freezers that manually defrost need to be cleaned periodically. If the freezer becomes too full, it will not function properly and frost may build up on its interior walls. When this happens you'll have to unplug your model, take everything out of it, chip away at the ice and frost with a sharp object like an old butter knife or vegetable peeler until all is removed from inside before plugging back in again for use!
A self-defrosting chest freezer is less work to maintain but more expensive upfront. The coils will automatically heat up occasionally which keeps frost from forming.
Garage-Readiness
If you live in an extreme temperature region, it would be wise to go with a garage-ready design that can keep your food temperature stable when the freezer is placed somewhere very hot or cold. This will allow for more versatility and reduce operating costs because these units are made specifically for garages where they'll spend most of their time.
If your garage temperature doesn't get below freezing very often or maxes out in the mid-90's you should be able to get away with a standard chest freezer. Verify with the manufacturer the listed operating temperatures before purchase, however.
Temperature Alarms
Some chest freezers will come with a built-in audible temperature alarm. This will sound if the temperature rises to a level where your food could spoil and waste all of your precious goods.
Having a unit with an alarm can give you peace of mind knowing that your food will stay fresh and safe, even in the event of a power outage.
Lock and Key
If your chest freezer has a safety lock, you'll never have to worry about unauthorized users accessing the contents. This feature is particularly helpful if you plan on leaving it in an area that's not well monitored or frequently visited by people outside of your household.
If there are any concerns at all with security, this feature will help keep everything safe and secure inside while still being accessible enough so anyone really could use it when needed!
Buying a Chest Freezer for Your Garage
What is the best place to buy a chest freezer?
If you're looking for the best chest freezer and want to save some money, it's important that you comparison-shop for prices on a few different sites. Prices can vary drastically from site to site – so don't buy just one!
It might seem like they offer more variety at an appliance store but even then, they may not have everything you're looking for. And with the convenience of being online and browsing from home, it's easy to compare prices without having to step foot in multiple stores!
If you don't want to shop online, we've found that Sears has a great selection of chest freezers for you to choose from, and with some really good prices!
If you do your research before buying one, the right chest freezer can be an excellent addition to any garage – saving space as well as time. Happy shopping!
---
FAQs
How much does a chest freezer cost?
For home units, prices range from the low $100s to over $1000. For a large unit (around 15 cu. ft.) expect to spend $500 – $700.
For smaller freezers, prices can range from $100 to $500 for top of the line models.
Is a chest freezer worth the money?
A chest freezer can be a great purchase. You can buy groceries in bulk when they are on sale and store them away.
If you have a large family they can be an absolute lifesaver!
When preparing for a family get-together a chest freezer in the garage can be a blessing. Where else are you going to store 3 turkeys?
What is the difference between a chest and upright freezer?
There are a few key differences. First, a chest freezer has more depth, so it uses baskets that allow you more storage options without digging. The downside is that you can't reach items as easily from the top because they're buried in all that space – which also means those items are harder to find.
Chest freezers tend to be cheaper to maintain than upright units as they are more efficient.
Don't forget that some upright freezers have an ice-making function which chest freezers do not.
---
Now is the Time to Buy a Garage Freezer
Chest freezers are much better than refrigerators in terms of storing frozen food for a long period.
Unlike upright freezer models, chest freezers help maintain low temperatures with consistency and offer more space to store the foods as well.
If you have the space, you won't regret getting a chest freezer to stock up on deals at the grocery store and having the security a good supply of frozen food will supply.
If you're tired of running out of space in your fridge or paying high prices for groceries, then getting an extra chest freezer should come as no surprise. You can use it throughout all seasons with regular trips to the grocery store because they usually have good deals going on items like frozen veggies and meat that are perfect for stocking up!