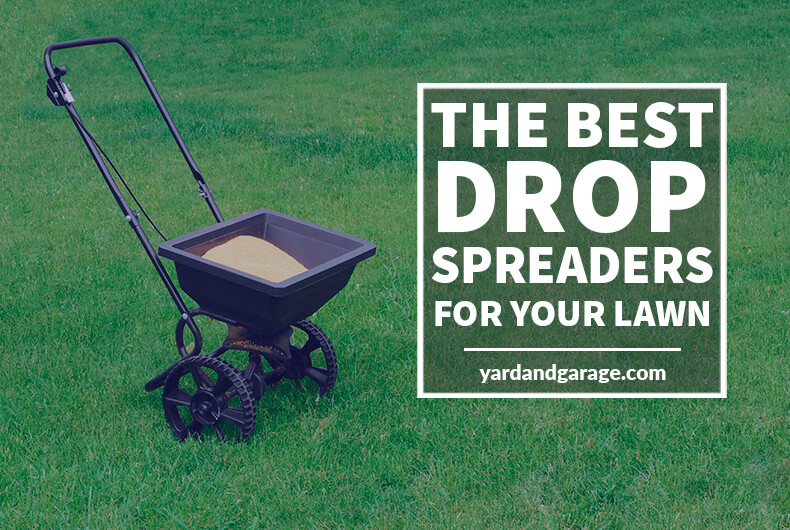 Disclosure: This post contains affiliate links. If you click through and make a purchase, I'll earn a commission, at no additional cost to you. As an Amazon Associate I earn from qualifying purchases. Read our full disclosure here.
If you're a property owner, the amount of time and effort spent taking care of your lawn and gardens can be daunting.
And it's not just your time – there is a substantial financial investment when you consider all the equipment and products required to keep your yard in tip-top shape. But there are ways to help you stay on budget and cut costs where appropriate.
One of the best steps you can take is to make informed choices on the tools you purchase. Fertilizer spreaders are one of the best investments you can make.
Best Drop Spreader Comparison
Table could not be displayed.
Table could not be displayed.
---
What is a drop spreader?
Drop spreaders are pretty proficient in their ability to spread grass seed, fertilizer, sidewalk salt, and even weed killer with very little waste in the process.
They work just as their name suggests. As they are pushed along, seeds are dropped straight down through holes in the bottom of the hopper.
Unlike a broadcast spreader which spreads seeds over a vast distance, a drop spreader only covers areas it crosses. Broadcast spreaders can cover large areas quickly but often throw seed into places where it isn't wanted.
Using a drop spreader prevents seeds from going anywhere but straight down.
What to Look for in a Drop Spreader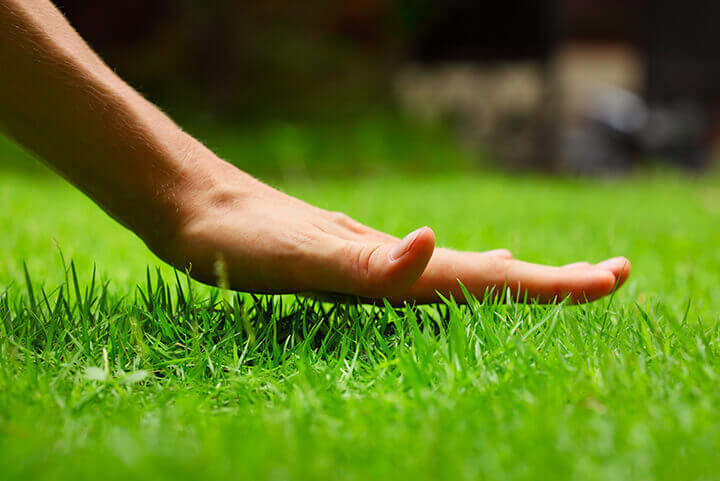 Drop spreaders may be one of the simplest lawn maintenance tools you'll ever use. It has one purpose: to drop seed, fertilizer, or any other granular substances over your lawn.
Drop spreaders are extremely simple. They have few working parts and perform a straightforward task, dropping seed, fertilizer, or other granular substance.
The most important thing to look for when purchasing is sturdy construction. For example, the plastic hopper used to hold the seed should be solidly built with holes large enough to let sand, seed, or fertilizer flow quickly through.
The axle and wheels should be durable as well. Most drop spreaders come with wheels that are 10 to 12 inches. This gives ample room for the seed to drop to the ground as the spreader passes over.
It also keeps the hopper high enough off of the ground so that objects it passes over cannot block the holes and obstruct seed flow. Most spreaders have solid wheels made of highly durable plastic and are capable of moving over various types of terrain.
The handle on a drop spreader should be high enough for a person to quickly push it in front of them. or pull it from behind. The majority of spreaders have adjustable settings, so the handles can be raised or lowered as needed, depending on the height of the individual using it.
In some cases, cushions are placed on the handle to improve grip and relieve stress on the hands if there are large amounts of distance to be covered.
Popular Drop Spreader Brands
Scotts Drop Spreaders
Scotts' line of drop spreaders are well built and easy to use. Their durable construction allows for easy maneuvering and stability. In addition, they come with a trigger handle designed to control the flow of the seed.
If the trigger is released, the holes are covered so that seed will be prevented from pooling under the spreader if it sits in one place. The hopper on most Scotts' spreaders is 22 inches wide which allows for maximum coverage.
The Turf Builder Classic holds enough Scott's lawn care product to cover 10,000 square feet of lawn. In addition, the spreaders come fully assembled and ready to use.
Agri-fab Drop Spreaders
Agri-fab's hopper capacity is approximately 17 gallons which will provide coverage over 10,000 square feet. The hopper itself is made of durable plastic polymer and will last several years if properly maintained.
The Agri-fab drop spreader has a width of 42 inches and spreads evenly along the entire drop zone. It includes a galvanized steel agitator that prevents clumping and allows for even and uniform coverage. In addition, wide, pneumatic tires will enable the carriage to roll smoothly over existing grass without creating deep tracks or imprints.
Precision Products Drop Spreaders
Precision Products drop spreaders are well built and large enough to hold 50 pounds of product. It offers a 10 to 2-inch spread pattern. The heavy plastic hopper and steel tube frame provide strength and durability, ensuring long life with proper care.
Seed flow is controlled by a fingertip cable mechanism that allows for continuous and uniform delivery. Spreads seed or fertilizer quickly and easily with little mess and less waste.
Earthway Drop Spreaders
Earthway Drop spreaders are designed for many years of use. A steel tube frame and heavy-duty plastic polymer hopper are designed to provide years of service and reliable distribution of whatever product is being delivered.
Solid plastic wheels provide smooth transportation and a uniform spread of both seed and fertilizer. A fingertip-controlled cable system is in place to ensure the flow of the product is easily maintained at the desired speed. The handle is adjustable to accommodate almost any individual's height and stature.
Commonalities
Drop spreaders are similar to one another in many ways. For example, most are easily adjusted to a person's height, and product flow can be adjusted through control cables or trigger mechanisms.
The basic concept of the product is to drop the seed in a controlled fashion and eliminate needless waste. Unfortunately, when it comes to choosing a spreader, many rely on name brands they have used in the past.
Most spreaders carry ratings that will also help a person to choose which one may work best for them.
Our Top Drop Spreader Choices
Scotts Turf Builder Classic Drop Spreader
No products found.
If you've got a medium to large-sized lawn, this may be the drop spreader you've been searching for. Its hopper can cover up to 10,000 sq feet, so no need to stop and refill.
Also, it comes fully assembled so you can get right to work. And it's made by Scott which is a well-known name in lawn care. On the downside, there are some complaints about the wheels and how they may trap some of the product that you're spreading.
Pros
Large capacity hopper
Can cover 10,000 sq ft
Pre-assembled
Sturdy frame
Cons
Does not spread rock salt well
Wheels can get become unstable
---
Scotts Turf Builder EdgeGuard Mini Broadcast Spreader
No products found.
This mini spreader may be small, but it is still mighty. It can hold enough seed or fertilizer to cover up to 5,000 sq feet of lawn, so it is certainly enough to cover smaller yards.
Also, this spreader is equipped with EdgeGuard to protect your sidewalks or landscaping. Finally, it comes fully assembled, so no worries about assembly.
And if you're limited on space in the garage, you'll love the fold down handle that allows for easy storage. Given that it is a smaller unit, some people have stated that it is not as sturdy as the Classic Drop Spreader.
Pros
Perfect for smaller yards
Can cover 5,000 sq ft
Pre-assembled
Fold down handle for easy storage
Cons
May not be as sturdy as larger model
---
Chapin International 8400C Chapin Professional SureSpread Spreader
No products found.
Homeowners who live up north need to have a drop spreader that can go beyond simple yard maintenance. You need equipment to help you spread ice melt and salt to your driveway, walkways, and other areas.
The Chapin 8400C with its stainless steel frame and enclosed gear box is an excellent choice to get your through all four seasons. This model also comes with 14-inch wide pneumatic tires so it can handle whatever terrain you have.
Pros
Stainless steel frame
Enclosed gear box
Can handle salt and ice melt
Pneumatic tires
Cons
A few customers reported missing parts
---
Agri-Fab 45-0288 175-Pound Max Tow Behind Drop Spreader
No products found.
If you're a homeowner with a lot of acreage, you need to look into this tow behind spreader. The universal hitch fit makes it a breeze to connect to whatever tractor you are using.
Also, the hopper holds up to 17 gallons which is enough to cover one square acre. And finally, the steel agitator will help your spreader to be productive for years.
On the downside, this model does not come fully assembled so be prepared to dedicate a few hours to get it put together.
Pros
Great for acre+ yards
42-inch spread width
Universal hitch
Galvanized steel agitator
Cons
Requires assembly
Some mods may be required
---
Summary
As you can see, there is a wide range of drop spreaders available.
For the majority of us, the No products found. is more than sufficient to meet our needs throughout the spring and into late summer.
If you've got a more extensive area, then you may require a No products found..
And for those that have harsh winters and plan on spreading salt or ice melt, you may need to invest in the No products found..
Regardless of the particular model you choose, a drop spreader will help you with equal and consistent spreading to achieve your lawn care goals.