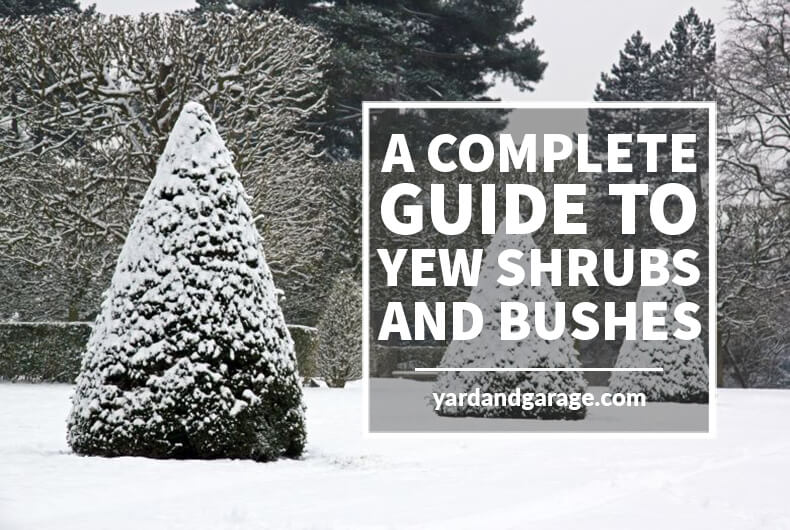 A great shrub for entranceways, garden borders, paths, mass planting, and specimen gardening, Taxus yews are highly popular for their drought resistance. In addition, their tolerance to repeated trimming makes them easy to care for.
The Taxus yew shrub belongs to the Taxaceae family and is a medium-sized evergreen bush. It has green foliage with bright red berries. Taxus yew shrubs come in various types, and curious gardeners find them to be a great choice.
These bushes mature to a height of about 5 feet in height and a width of about 10 feet. They can be pruned into the desired size, depending on the location.
Yews are slow-growing and can be easily sheared into different shapes, and are often used as hedges. Ease of care and high adaptability makes this shrub popular in various areas in the United States.
There are various types of yew shrubs available to interested gardeners to choose from for growing in different locations. Whether grown as an evergreen shrub, flowering plant, or landscape bush, Taxus yew shrubs add a touch of beauty and grace to any area.
A variety of yew shrubs are native to Japan, Manchuria, Korea, and parts of Europe. Each shrub has its own name, identity, and features.
Here are some of the more popular varieties of yew shrubs:
---
Taxus Everlow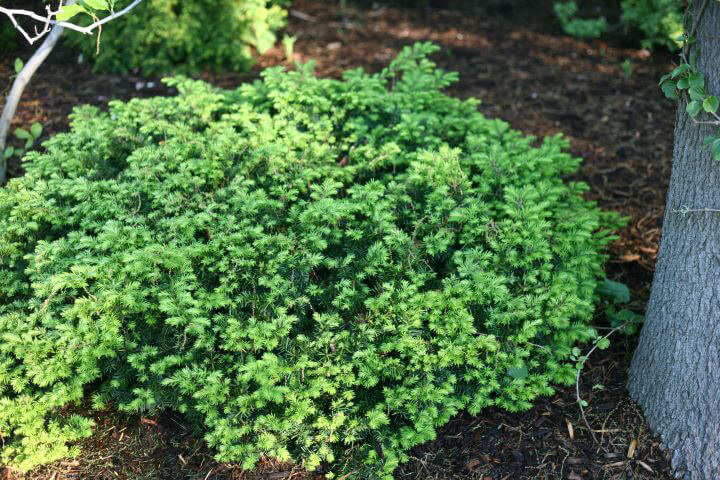 Everlow Yew
Zones: 4-7
Height: 1-5 feet.
Spreads: 4-5 feet.
A versatile evergreen shrub with a striking green dense foliage, Taxus Everlow is a low growing spreader with windburn resistance.
It has dark green foliage that emerges in spring as light green.
It is an easy to care for, low-maintenance yew variety that tolerates pruning throughout the year.
Everlow is suitable for specimen, foundation, and small hedge applications. It is also used in perennial borders or rock gardens for its dwarf size.
This spreading cultivar grows to a height of about 1 to 5 feet and spreads to about 4 to 5 feet. It performs well in any weather condition and grows best in well-drained, alkaline soil.
---
Taxus Media Hicksii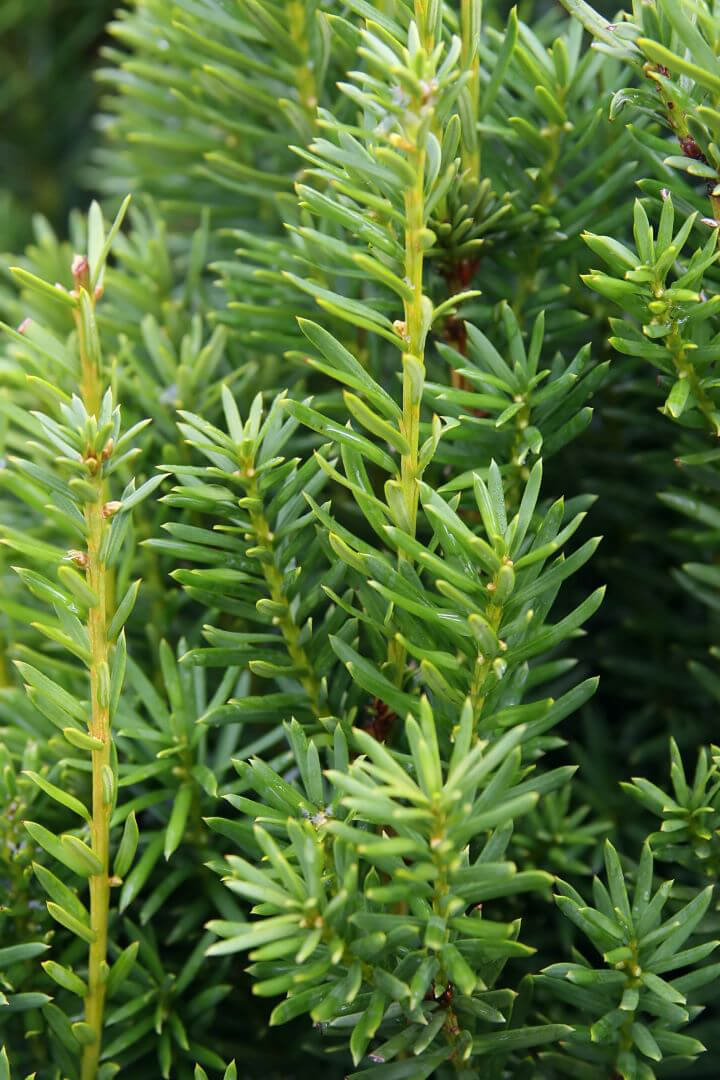 Media Hicksii
Zones: 4-7
Height: 18-20 feet.
Spreads: 6-10 feet.
Offering an excellent combination of ornamental excellence and winter hardiness, Taxus Media Hicksii grows easily in medium moisture, well-drained soils in part to full shade.
It is a dense and narrow columnar shrub with ascending branching.
It matures to a height of 18 to 20 feet and spreads to 6 to 10 feet width in 20 years.
Hicksii is an evergreen shrub to display dark green foliage and heightened hedges. It is an easy-care and low maintenance shrub which can be pruned at any time.
This yew variety is recommended for mass planting, foundation, hedges, landscape, and general garden applications.
---
Taxus Densiformis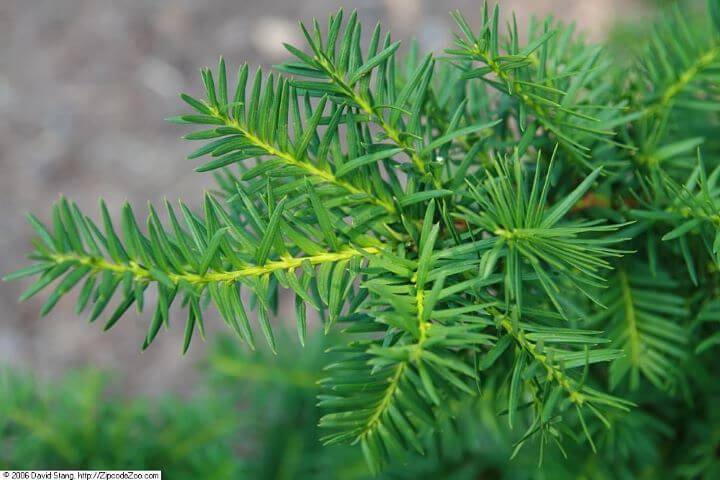 Densiformis
Zones: 4-7
Height: 3-4 feet.
Spreads: 5-7 feet.
Considered to be the perfect evergreen for shady locations, Densiformis grows easily in average moisture and well-drained soils in full to part shades.
This Taxus yew shrub variety is ideal for landscape, specimen, foundation, small hedge, and mixed border applications. It provides a year-round interest as it tolerates shearing.
It grows at a slow rate and tolerates almost all weather conditions. It has pointed, needle-like, dark green to olive leaves with red, berry-like fruits.
It is a semi-dwarf, dense, spreading female cultivar growing to about 3 to 4 feet height and spreading 5 to 7 feet wide.
---
Taxus Stonehenge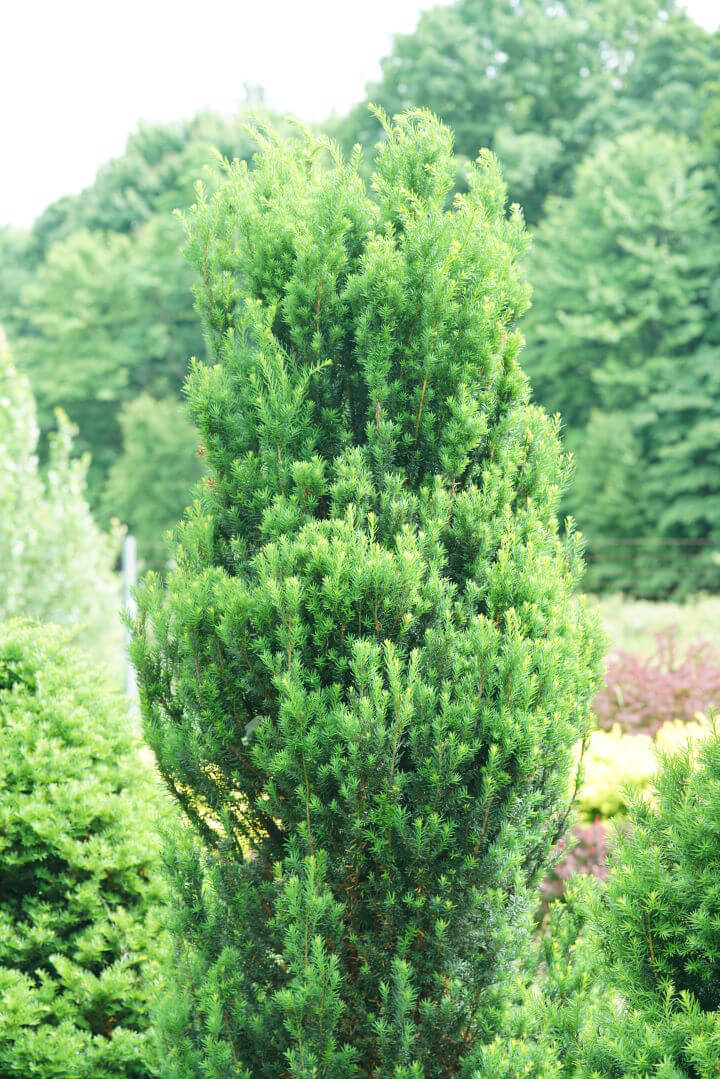 Stonehenge
Zones: 5-7
Height: 8-10 feet.
Spreads: 6 feet.
A highly versatile evergreen yew shrub that tolerates heavy pruning, Taxus Stonehenge is an ideal choice for screens, hedges, topiary landscapes, and foundation plantings. It is especially suitable for hedging as it grows tall and narrow and requires very little maintenance.
It is also highly resistant to winter burn, so if you're in the country's more extreme northern areas, you will definitely want to give this variety some serious consideration.
---
Taxus Cuspidata Capitata Yew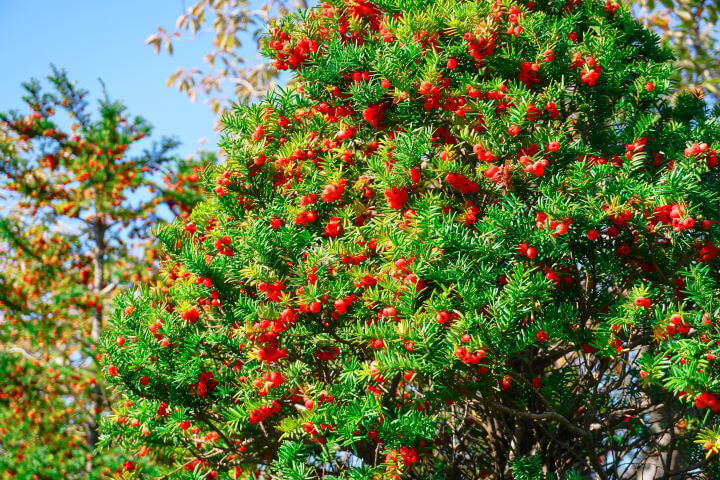 Everlow Yew
Zoness: 4-7
Height: 10-25 feet.
Spreads: 5-10 feet.
Considered to be one of the best-needled evergreens for shady locations, Taxus Cuspidata Capitata is commonly known as Japanese Yew and is a broad columnar needled shrub native to Russia, Japan, China, and Korea.
It grows as much as 30 to 50 feet high in its native habitat, and it thrives in medium moisture, well-drained soils in full to part shade.
This yew features spiny-tipped, linear, dark green needles with dense foliage. Female plants produce red, attractive, berry-like fruits.
The pyramidal conical cultivar tolerates heavy pruning and is suitable for screens, hedges, foundation plantings, and landscapes. It also works for group plantations.
---
Taxus Media Wardii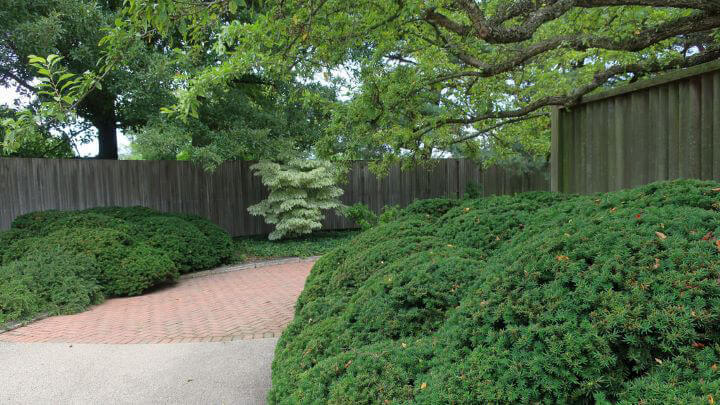 Media Wardii
Zones: 4-7
Height: 3-6 feet.
Spreads: 8-20 feet.
The dense, dark green foliage evergreen yew is known for its ornamental appeal and winter hardiness. It is a low growing, wide-spreading shrub with a flattened top which features linear, pointed, needle-like leaves that remain attractive all the year round.
The plant grows slowly to a height of 4 feet and spreads to about 8 feet over ten years.
It can eventually reach a height of 6 feet and a width of 20 feet. Excellent for foundation and group plantations, Wardii yew suits hedges and barriers too. Female plants have red, attractive, berry-like fruits.
The low-maintenance shrub thrives in sandier, well-drained soil and tolerates drought and windy conditions. It accepts pruning and can be sheared at any time to suit the location.
---
Summary
Taxus yew shrubs are really easy to grow and maintain and can tolerate shady and sunny places. However, the growth rate decreases if the location is too dark.
The shrub can be planted as seeds or cuttings. However, the most popular method is purchasing the plant from a nursery or garden store.
Though yews do not have any specific soil requirements, they grow best in well-drained, sandy soil. The best time to plant this shrub is a day without sun.
As young plants require a lot of water, it is essential to make sure that the soil never dries out.