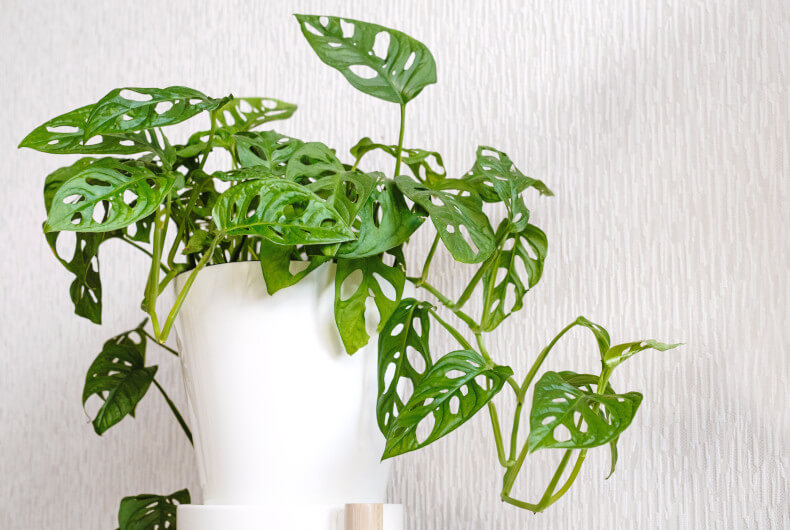 The Monstera obliqua is a stunning, rare plant that is often kept indoors to enhance the beauty of homes. It is often confused with the Monstera adansonni, a more common variety of the same genus, found in several nurseries or home improvement stores.
The Monstera obliqua is recognized by its oval, pierced leaves, and exotic look. Unfortunately, while it is a beautiful plant, it is not everyone's cup of tea as it's hard to care for.
This Monstera obliqua is one of the most demanding plants, so you need to know how to properly care for it if you want it to last in your home. If you have a Monstera obliqua at home or plan to get your hands on one, this guide will tell you the most essential Monstera obliqua care tips.
This guide goes out to all the ardent Monstera aficionados to help these beauties survive and thrive!
What is a Monstera Obliqua?
The word Monstera originates from the Latin term Monstrum, which means unusual or abnormal, hinting at the perforated leaves of this plant species. There are 48 flowering plant species of the genus Monstera, some more common than the others.
The Monstera obliqua originates from Central and South America and is used to growing under the dense canopy of Brazilian forests. It is a green climbing plant with a height of just a few meters.
These plants help other plants climb up trees, but their roots can also individually develop in soil. This plant is most commonly known for its foliage and unique appearance, where it has more empty space than leaves.
The Monstera obliqua is classified as an Evergreen hemiepiphyte. The Monstera obliqua has aerial roots that help provide it nutrients and water and assist it in anchoring. Monsteras are common indoor plants, and with the proper care, they can be a great addition to homes.
Why Is Monstera Obliqua So Rare?
The true Monstera obliqua is extremely rare and expensive. It is so unusual that famed botanist Dr. Thomas B. Croat called it a 'botanical unicorn.' You would be lucky to find a seller for this rare plant! There are a couple of reasons cited behind the obliqua's uncommonness.
The Monstera obliqua is a small species, and its leaves are incredibly delicate and thin compared to the Monstera adansoni, which is sturdier in appearance. The Monstera obliqua is rare because it grows very slowly and has short selling seasons. It can take around 12-18 months for its new leaves to appear!
The propagation of the Monstera obliqua is also tricky compared to other members of the same family. It has particular, unique requirements, which contribute to its rarity. The Monstera obliqua has exact temperature, heat, and humidity needs-It requires consistent humidity and warmer temperatures. Out of all the Monsteras, the obliqua is the hardest to keep alive!
First Things To Do When You Get a Monstera Obliqua
Monstera obliqua care is not an easy feat. You need to know how to properly care for this plant if you want it to survive – that alone is a task and a half!
If you are a first-timer, here are a few things you should do as soon as you get the Monstera obliqua home.
Create a Moist Soil Surface
The Monstera obliqua does not need to be watered regularly. It doesn't need a wet soil surface; it just needs to be damp. When you get the plant, you should touch the first few inches of the soil. If it feels dry, then only should you water it. Otherwise, just wait for the next day and wait for the water to dry out before watering it again.
Use a Custom Organic Soil Recipe
The Monstera obliqua thrives if it has a custom soil recipe instead of the commercial mix that you usually buy. Commercial mixes often have high salt content, which isn't good for the plant's roots. To purchase the custom soil recipe, you can ask the seller, and they will be able to procure the ideal mix for you.
Provide Support for Climbing
It is no hidden fact that the Monstera obliqua is a climber plant. To help it do just that, you need to provide climbing support for this unique plant. Basically, give it something to lean against. Then, after you find a place for it at home, tie it to a taller plant or a moss pole to help it climb.
How to Care For Your Monstera Obliqua?
This Monstera obliqua care guide will go over everything you need to know about ensuring your plant gets the treatment it needs to survive and grow. But once you take care of this plant's temperature, lighting, soil, watering, and humidity needs, you'll see how beautifully it starts to grow.
Soil Condition
The Monstera obliqua needs the proper soil mix. Without it, you won't get the expected results. The soil needs to have a slightly acidic PH, and a range between 5 and 7 is ideal for this plant. In addition, you should try out peat-based soil as peat can retain water.  The soil should also have some granular material like perlite, which improves the obliqua plant propagation.
Watering Needs
The watering requirements of the Monstera obliqua are slightly tricky. The aim is to maintain sufficient watering levels so the soil should be damp, not too dry or wet. Overwatering or over-drying will damage this delicate plant. You can check the first few inches of the soil with your finger or use a moisture meter to see if the plant needs to be watered.  Ideally, the obliqua needs distilled water 1-3 times a week.
Lighting Needs
The Monstera obliqua naturally grows in forests, requiring ample light but not direct sunlight. It needs bright, filtered light to mimic its natural conditions and thrive. If you plan to keep the Monstera obliqua inside your home, set it near a windowsill with a light white curtain shade to shelter it from direct, harsh sunlight that might damage it.
Ideal Temperature
The optimum temperature for the Monstera obliqua is between 59 °F and 77 °F. Ideally, you should strive to maintain a temperature of 68 °F throughout the year. Ensure that overcrowded lights do not raise the temperature during winter and keep the plant away from overly cold areas during summer.
Ideal Humidity
The Monstera obliqua hails from the forests of Brazil, so the ideal humidity levels for this plant are somewhere between 80% and 90%, which replicate its natural environment. However, this plant requires consistent humidity, so you might need to invest in a plant humidifier if you reside in the tropics and have no control over the humidity levels at home.
Ideal Location
Suppose you feel that your house isn't particularly humid. In that case, you can keep your Monstera obliqua in the bathroom or in a warm conservatory, similar to that of a humid greenhouse. The idea is to replicate the same light, humidity, and temperature requirements that this plant needs to grow. Just make sure that the plant isn't exposed to the AC draft or radiator that may disturb its temperature requirements.
Fertilization Needs
It is important to know the fertilization needs and schedule of the Monstera obliqua. Ideally, you should use organic fertilizer for this unique plant. Artificial fertilizers with a high salt content will destroy their roots and damage the plant. Instead, you should use a fertilizer, ideally diluted to half strength, and feed the plant once per week while it is growing.
Growth Characteristics
The Monstera obliqua starts as a bushy juvenile. Therefore, it is often confused with the more common Monstera adansonni. However, even though the obliqua grows very leisurely, it can be seen growing into an upright, climbing plant with paper-thin leaves. This is because it needs to anchor itself to climb trees to penetrate the canopy and get sunlight in its natural habitat.
Signs of Deficiency
Taking care of the Monstera obliqua requires precision. If not, it will start to manifest in the form of signs of nutrient and water deficiency. The first sign of weakness in the Monstera obliqua is discoloration. Next, you will see yellow and brown spots on the leaves. The leaves will also droop and wilt or turn crispy if they are not receiving their optimum conditions.
Pruning
The Monstera obliqua does not require much pruning, as the leaves are already very slow to grow. However, this plant should be pruned with sterilized shears only to control and maintain its proper shape and growth. You should also prune it to get rid of the damaged foliage if any.
Flowering
The Monstera obliqua can flower at any time as it does not have any specific flowering season. Still, this possibility is infrequent, especially when the plant is kept indoors. This plant's flowers are a cream, white color, and about 6 inches in size. The Monstera obliqua qua can also produce fruits with a green spathe. The green spadix then slowly changes colors throughout its development.
Toxicity
The genus Monstera, which includes the Monstera obliqua, is a toxic plant to humans and pets, especially dogs and cats. This plant contains calcium oxalate crystals that are not soluble. They can cause vomiting, drooling, serious oral pain, and swelling around the mouth and tongue in humans and pets when ingested.
Monstera Obliqua Frequently Asked Questions
Here are a few FAQs about Monstera obliqua care that will help you with this stunning plant.
What is the ideal soil for a Monstera obliqua?
Proper soil is a crucial requirement of the Monstera obliqua. Ideally, this plant needs a well-draining, peat-based soil infused with perlite for its water-retaining quality. Steer clear of any artificial soil mix with high sodium content, for it may dry out the plant. Instead, contact the Monstera obliqua seller for an organic soil mix conducive to this picky plant's health.
What are the water requirements for a Monstera obliqua?
The Monstera obliqua does not need to be watered daily, so it is not a high-maintenance plant in this regard. As a general rule, the Monstera obliqua should be watered 1-3 times a week with distilled water. The ideal soil conditions for the Monstera obliqua are damp. If the first two inches of the soil feel dry, that's your cue to water the plant.
What type of lighting needs does it require?
The Monstera obliqua is used to bright, indirect sunlight as it grows in the dense canopy of the Brazilian rainforests. Due to this, you should aim for a bright, filtered light without any direct exposure to the harsh sunlight that may overdry the plant. You can keep it near the window with the shade of a white curtain, so the direct sun does not burn its foliage.
What is the ideal temperature for a Monstera obliqua?
The Monstera obliqua has specific temperature requirements that should be followed for its optimum growth and health. The ideal temperature range for this plant falls between 15°C and 25°C. Anything too high or too low will adversely affect this delicate plant.
What is the best location for a Monstera obliqua?
The Monstera obliqua can be kept in your bathroom or a warm patio without nearby radiators.
Conclusion
The Monstera obliqua is an extraordinary plant that needs special care and consideration to grow to its full potential. This plant has several requirements pertaining to the soil for this plant, watering needs, lighting needs, location, humidity levels, and temperature.
If all of these Monstera obliqua care tips are met, this rare plant will quickly start to grow and thrive in your house. While this seems like a huge task at first, you'll get there in no time with a bit of precision and the correct information!