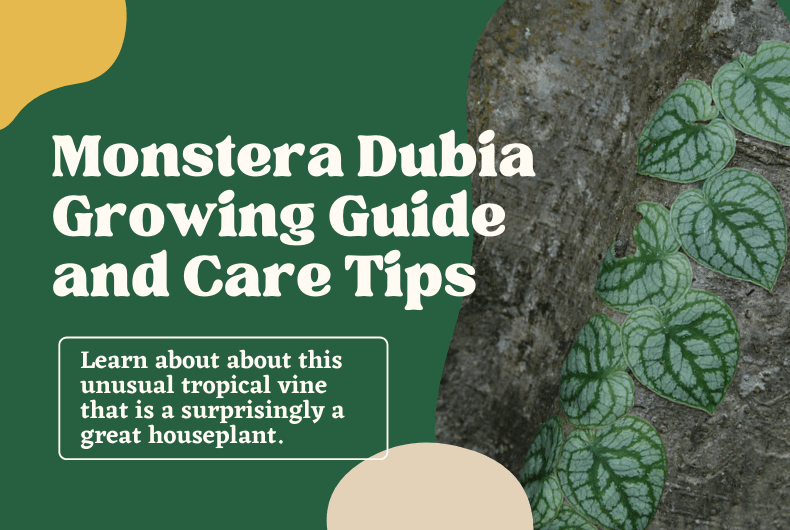 The Monstera dubia has a striking look, with leaves that lie flat against tree trunks, walls, and other supports. This unusual plant is often called the "shingle plant" due to its unique shape, and it's a close cousin of the trendy Monstera deliciosa plant.
Since Monstera dubia is most often found huddled against rainforest trees, many people assume it only grows in the wild. However, the reality is that Monstera dubia can actually flourish indoors.
With the proper care, you can get this gorgeous plant to thrive inside your house.
About Monstera Dubia
Monstera dubia is a type of tropical plant native to Central and South America. It prefers a warm climate with partial sun and moist soil.
Unlike most other plants in the Monstera family, Monstera dubia is a climber. It sends out vines that travel up supports, and the leaves use small hooks to press against any nearby flat surface.
As a perennial plant, Monstera dubia can keep growing as long as you want to care for it. Indoors, these plants usually reach around three feet in height, but they can be up to ten feet tall with the proper care.
Monstera dubia's flashiness mostly comes from its leaves. The plant has heart-shaped leaves that are pale green with dark green veins. As the leaves get mature, they may split apart at the edges to form curly lobes.
In spring and summer, they may sprout small, pink blooms. However, only the most well-maintained Monstera dubia will flower.
How to Care for Monstera Dubia
While Monstera dubia isn't that delicate or demanding, it does have some pretty specific requirements. To get the best growth and leaf display from your plant, you need to closely mimic the plant's native environment.
Temperature Requirements
Monstera dubia needs a warm climate. Therefore, they usually grow in plant hardiness zones 9 to 11 outdoors. Temperatures below freezing will immediately kill your Monstera dubia, and temperatures below 60 degrees Fahrenheit will inhibit growth and slowly damage the plant.
Most indoor climates are suitable for Monstera dubia. They will typically be fine as long as they aren't in a chilly basement or near a drafty window.
However, if you're thinking of putting a space heater near your plant, think again. Dry climates can be just as bad for them as cold ones.
Light Needs
Monstera dubia naturally grows near tree trucks beneath the first canopy. As shade-loving plants, they do poorly in strong sunlight. However, they still need a decent amount of sun, especially if you want the leaves to develop their signature pattern.
Ideally, your plant should get bright, indirect sunlight. An excellent spot for your plant is positioning it next to a window but out of the sun's direct rays.
To see if it's getting enough light, keep a close eye on the leaves. Pale green leaves without any pattern are an indication your plant doesn't have enough light, while crisp, curling leaves can mean it's getting too much.
Soil
This lovely plant prefers rich, moist, loose soil. However, avoid selecting soil mixes that hold too much water. Monstera dubia can be susceptible to certain fungi and types of root rot if its soil is too damp.
Typically, a basic potting soil will be too dense for Monstera dubia to flourish. It needs soil that lets plenty of air and moisture circulate through the roots. Instead, you should try to find potting soil specifically for aroids. If this is not available, mix your own by blending equal parts of perlite, orchid bark, and peat moss or coco coir.
Soil for Monstera dubias needs to be acidic or neutral. Mixing in organic material like leaf mold, pine needles, or cottonseed meal can help to make alkaline soil more acidic.
The type of pot you pick has just as big an impact as your soil mix. First, ensure the pot has drainage holes to keep the soil from becoming soggy. If you notice roots coming out of the drainage holes, it means your plant is ready to get repotted.
Watering
Watering Monstera dubia is where people often mess up. Since the plant is native to rainforests, it's no surprise that it likes a moist environment. This doesn't necessarily mean you should be watering your plant every day, though.
Monstera dubias prefer to get the majority of their moisture through ambient humidity, not wet soil. Typically, the plant needs infrequent waterings every few days.
Soil should be lightly moist, and you should let it dry out on the surface a little between waterings.
Though the soil doesn't have to be wet every day, the air around it does. These plants love a humid environment, so they benefit from frequent mistings. Another way to add ambient humidity to your plant is by putting the pot on a tray with some wet rocks in it. The water will gradually evaporate, moistening your plant.
Fertilization
To produce its broad, showy leaves, Monstera dubia needs a decent amount of nutrition. These plants don't need as much fertilization as some of their larger cousins, but they still need reasonably rich soil.
Plants typically need a slow-release fertilizer applied three times a year. Make sure at least one of these fertilizations is during summer since this is the Monstera dubia's primary growing season.
Any basic fertilizer with a balanced ratio of nitrogen, phosphorus, and potassium works for Monstera dubia plants.
Another option is putting a slow-release fertilizer stick in your Monstera dubia's pot. This can help your plant to get enough nutrition even if you forget to fertilize it.
Climbing Surface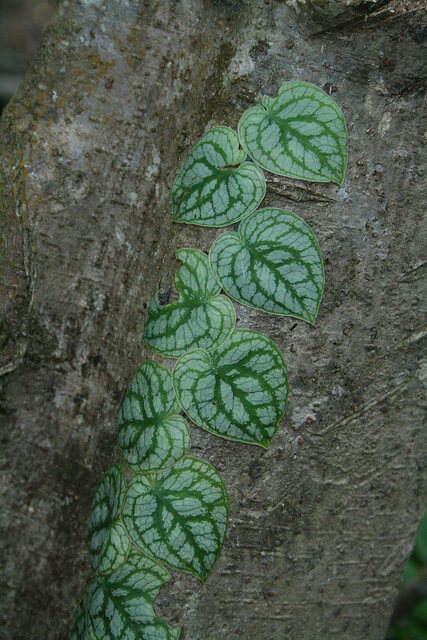 Finally, do not forget about the thing that makes Monstera dubia so unique. This climbing plant needs a surface to support it. Otherwise, your plant will flop over and fail to put out new leaves.
Just about anything wide and sturdy can be a good support. Some people do a short length of a tree trunk, while others just use plywood or the side of a bookshelf.
Ideally, whatever you pick should be at least one and a half the width of your plant's leaves. If you want to install it in the pot, make sure you place it there while the plant is young. Otherwise, you could damage the roots.
If it's too late to add support to your pot, you can place it next to the support and train the plant to grow over towards the support.
Usually, you do not need to use ties to attach Monstera dubia to its support. As long as the climbing surface is slightly rough, there will be enough traction for your Monstera dubia vine to climb up the support. However, if you need additional stabilization, use a soft cloth to tie the leaves to the support.
Monstera Dubia Propagation
Got one shingle plant and want more? One of the perks of this plant is that it's very easy to propagate. With a clipping from a mature Monstera dubia, you can grow more beautiful vines.
All you need to do is follow these steps:
Cut off a stem of Monstera Dubia right below a node. The cutting needs at least two leaves and should be somewhere between four to seven inches in length.
Give the cutting a day or two to allow the base to dry slightly. This will reduce the risk of rotting.
Put the cutting in a small cup or jar so that the stem and node are underwater, but the leaves are dry.
Set the jar in a warm area with bright, indirect light.
Wait until roots that are roughly an inch long form. This may take around four weeks.
Transfer your cutting to soil. Bury at least the bottom two inches of the cutting in the soil.
For the next two weeks, water regularly to ensure the transfer does not shock your cutting.
Where to Buy Monstera Dubia
When you are ready to add Monstera dubia to your houseplant collection, you might need to shop around. This plant is a little rare, so it probably will not show up in the garden center at your local big box store.
If you have any specialty plant nurseries in your area, consider calling them and asking if they have monstera dubia for sale. You can also find online shops that sell monstera dubia plants. When shopping online, pay close attention to the company's shipping method, so you can reduce the risk of damage during shipping.
A final option is just looking on local marketplace sites like Facebook and Craigslist. It may be possible to find a Monstera enthusiast in your region who might be willing to sell you a cutting.
Prices vary quite a bit depending on where you get your plant. Small cuttings around three to seven inches high are usually about $20 to $70. More mature plants around a foot in height can easily cost somewhere in the $100 to $150 range. It can take some time and money to obtain this rare plant, but the end results are worth it!
Frequently Asked Questions About Monstera Dubia
Got any other questions about how to grow a Monstera dubia? Check out our FAQ guide for more details.
Why are my Monstera dubia leaves turning yellow?
Yellow leaves often indicate that your plant needs more fertilizer. If the leaves are yellow and damp, it may be a sign your plant is getting over-watered. When you notice yellow leaves, it's a good idea to go ahead and prune them. This keeps the plant from devoting resources to a dying leaf.
Why are Monstera dubia so expensive?
These plants are mostly just pricey due to their rarity. Since they are not a popular houseplant, you can only get them from specialists. Since these plant specialists usually do not have the equipment to mass-grow fields of Monstera dubia for sale, they have to charge more for individual plants.
Why is Monstera dubia called the shingle plant?
The plant gets this name because its leaves press flat against the surface, supporting the plant. The overlapping, broad, flat leaves look like the shingles you see on a house.
Is Monstera dubia toxic?
Like other types of Monstera, Monstera dubia is toxic to humans, cats, and dogs. Small quantities cause swelling, drooling, itching, nausea, and vomiting when consumed. If a small animal eats a large amount, it may be life-threatening.
How often do you need to repot Monstera dubia?
Re-potting this plant stresses them out, so frequent re-potting is a bad idea. You only need to re-pot the plant every three years or so. To minimize the risk of damage, water it two days before re-potting and place it in a larger pot with drainage holes.
What pests bother Monstera dubia?
All sorts of insects and creepy-crawlies can eat this plant. Common things to look for include whiteflies, spider mites, and mealybugs. Any white, red, or black spots on the plant can be a sign of infestation.
To treat it, just clean the leaves individually and spray with a bug repellant.
What are some other varieties of Monstera?
The Monstera genus of plants includes a variety of flowering, tropical plants with broad leaves. The most well-known variant is the Monstera deliciosa. This showy houseplant is also called the Swiss cheese plant or split-leaf philodendron due to its massive, lobed leaves.
Another popular type of Monstera is the Monstera adansonii. Also called the five-holes plant, this plant gets oval-shaped holes along the middle of the leaf.
Final Thoughts
Ultimately, Monstera dubia is an unusual and striking addition to any home. Though this plant might not be very well known, it has a lovely, eye-catching appearance.
Despite its rarity, the Monstera dubia is not particularly delicate. Its main care needs are simply bright, indirect light, a warm, humid climate, and loose, rich soil. With a bit of love and attention, you can easily grow Monstera dubia.