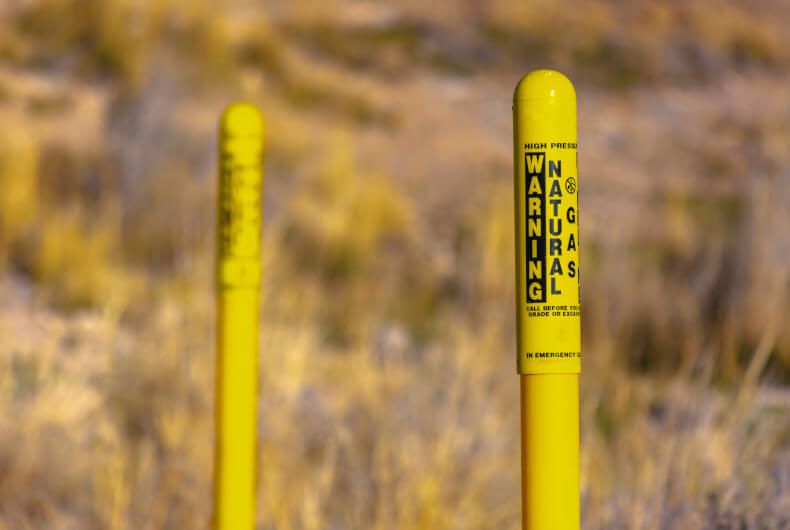 When you're digging in your property for home renovation or landscaping projects, you will be running the risk of hitting a gas line, which can lead to a disaster.
So how deep are gas lines buried, and how do you avoid hitting them when digging in your property?
The depth of gas and utility lines will depend on your location because local governments set regulations. Typically, you will find gas lines at 24 inches below ground, while other utilities are 18 inches below ground. The depth of gas lines is measured from the frost line in cold regions.
But there are no shortcuts when digging below ground, and safety precautions should be your number one priority.
This article will guide you through the process to find out exactly where your gas and utility lines are so that you can dig in your property without any risk to your safety or gas and utility services.
Before You Dig Near a Gas Line
Suppose you plan to take on a project at home that requires you to dig, such as digging post holes to put up a fence, creating a garden pond, digging foundations for a garage/shed, or installing an irrigation system.
In that case, you need to find out whether there is a gas line or any other utility line below ground.
You could electrocute yourself, poison others, or even potentially cause an explosion. Not to mention fines for hitting gas lines of as much as $50,000, depending on where you live.
Fortunately, since 2005, there has been a hotline set up in America, where you can dial 811. In addition, they provide a regional service in locating underground utilities across the country.
This is referred to as 'call before you dig' or a 'dig safe' hotline.
You should call 811 at least three days before digging to allow them to respond and send out service workers to mark utility lines for you and help you identify which parts of your yard are safe to dig into.
Other Buried Utilities
The call before you dig service will help you identify where public gas lines and utilities are. Still, there are some other lines that it may not be able to identify, such as security systems, irrigation systems, landscaping wires, and anything else that a private utility company may have set up.
These buried utilities installed by private companies require you to contact the companies who installed them and pay them a service fee to mark them for you.
Alternatively, utility line locating services use Ground Penetrating Radar (GPR) devices, which use electromagnetic signals to identify buried materials, to find any lines that public and private service providers may have missed.
There are other buried utilities, besides natural gas pipes, that you need to look out for, including Internet and cable TV wires, water and sewerage mains, telephone wires, and other electric service wires.
Common Gas Line and Utility Markings
Now that you've contacted the right people to mark your gas and utility lines and you know exactly where they are, you still need to figure out what all of these gas line ad utility markings actually mean.
Also, note that the "call before you dig" service line can only help you identify the utility lines up to the point of connection with your home. After that, they consider any additional lines your private property.
Here's a look at the standard gas line and utility markings color codes:
White lines mark proposed excavation sites
Green lines mark sewer lines
Pink lines which parts of the property have been surveyed
Purples lines mark irrigation and water lines
Orange lines mark alarms and other communication lines like telephone wires and internet cables
Red lines mark electric lines, and yellow lines mark natural gas, oil, and steam lines
And, finally, blue lines mark potable water pipes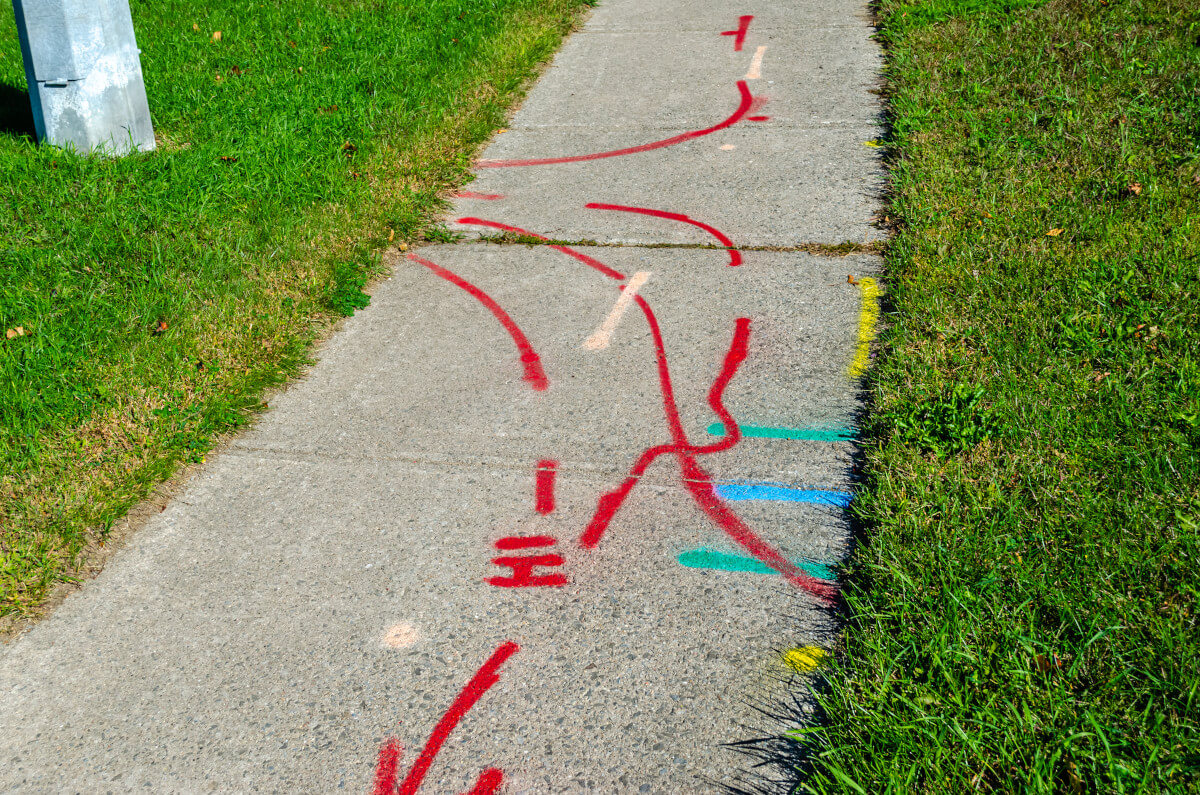 How Close Can You Dig Near Gas Lines?
To dig safely around gas lines, you cannot assume that the markings that have been set out before you begin your excavation are 100% accurate and dig with blind trust.
When using mechanical tools to dig, safety officers recommend leaving a berth of 500 millimeters (±20 inches) to account for any errors in your technique or miscalculations in locating the specific lines that you're digging around.
Suppose you're digging by hand or using horizontal digging practices, which are a bit more precise and easier to stop. In that case, a 15-inch buffer is recommended when digging anywhere near a gas line.
However, now that you know where you can dig, note that you need to dig with care. So, to avoid causing damage while digging, consider the following:
Dig with a shovel with a rounded or blunt-edged rather than anything with a sharp edge to avoid puncturing lies.
Break soil away lightly as you approach the marked utility line and ensure that you're precise in your movements.
Be vigilant and do not dig under the assumption that the utility line-markings are accurate.
Also, don't scare dirt off of the utility line and just leave it be. You'd be surprised how many people puncture lines by simply trying to remove dirt after the line has been found.
Finally, dig right up to the line itself, not just markings or tape, so that you know exactly where it is and make careless assumptions.
If you follow these steps, your digging project should not experience any significant obstacles, and you can rest assured that your health and safety are not compromised.
Frequently Asked Questions
Most of what you need to know about digging near gas and other utility lines has been covered with the guidelines set out above. But there are a few other common queries that you may want answers for.
Can you Break a gas line with a shovel?
Yes, but gas lines are typically quite strong, made of metal or plastic. They are most commonly thick enough to withstand any damage from hand digging with a shovel.
However, you should still exercise caution when digging by hand. If you strike hard enough or consistently strike a gas line, it is certainly possible to break a gas line.
What is the minimum depth for underground gas piping?
According to building codes in most states in the US, the minimum depth for all piping systems must be installed at a minimum depth of 12 inches or 305mm. However, individual outdoor appliances, such as lines for lights and grills, are only required to be installed at a depth of 8 inches or 203mm.
Conclusion
Now that you're more informed about how to dig around gas lines and identify where they are, you're ready to get started on your next big home project and have one less obstacle to face.
However, always remember that health and safety need to be your number one priority. There is no room for corner-cutting in this process. You should always consult with professionals if you are unsure about anything.
Do not take risks or try to save money because if you do and it results in any mistakes, you could end up costing yourself a lot more in the long run and derailing the entire project.
Sources
How Deep Are Gas Lines Buried In The Ground? | Home X
How Deep Are Gas Lines Buried? (And How to Stay Safe Around Them) | My Backyard Life
How Deep Are Gas Lines Buried? Everything You Need To Know Before Digging Your Yard | Home Eon
How deep are residential utility lines typically buried? | Quora
Safe hand-digging techniques | National Grid