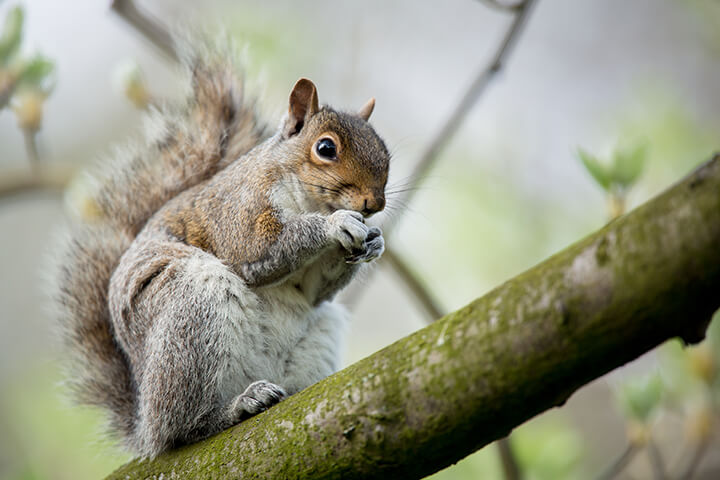 Through the long days of quarantine and appropriate social distancing, in light of the recent effects of the corona-virus, squirrel watching is a growing past time for homeowners across the country.
With the right food and appropriate feeders, your backyard will attract plenty of squirrels for hours of entertainment—and you will feel good about feeding the squirrels, too!
These tips will ensure that your squirrels are well-fed, healthy, and abundant in your backyard.
What do squirrels eat in the wild?
Naturally, squirrels are omnivores—meaning they eat both meat and plants. But, more importantly, they are opportunistic feeders and foragers.
In fact, they will eat almost anything they can get their paws on! This is because they are more likely to look for plants or other available food rather than lying in wait for their next meal.
However, once they find food, they are likely to hoard it—known as food caching—for future needs.
A typical diet for a squirrel will include just about anything they have access to. However, it primarily involves unshelled nuts, vegetables, grains, seeds, fruits, and fungi found in nature.
When these food sources are not as plentiful, such as during the winter months, squirrels will eat tree bark, grass, twigs, leaves, and meat.
What to feed squirrels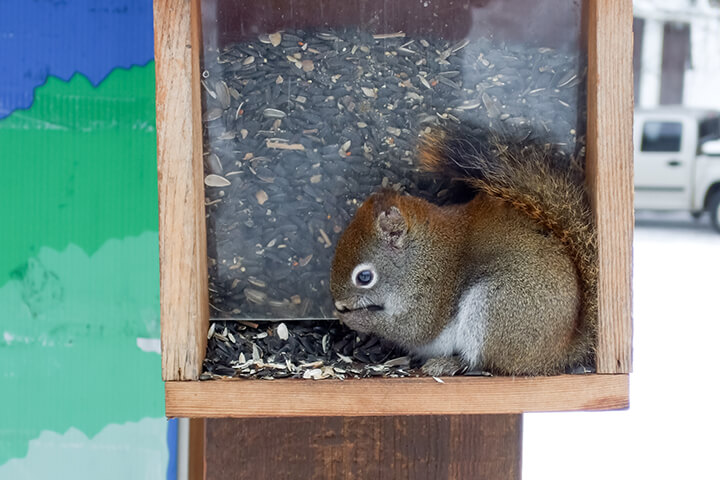 Squirrels are not picky eaters, and they will likely eat whatever fills your feeder. In fact, they can eat their body weight in food weekly!
However, there are specific foods that are easier for squirrels to digest to ensure that your local squirrels can live long, healthy lives. Fruits, vegetables, nuts, and seeds are all digestible and safe for squirrels to eat. In particular, appropriate examples within each category include:
Fruits
Apples, bananas, berries, cherries, figs, grapes, kiwi, mangos, peaches, tomatoes, and watermelon are all appropriate fruits to feed squirrels, among others. These are likely fruits you have in your refrigerator or pantry, and your squirrels will thank you for them!
Vegetables
Some of the healthy vegetables for squirrels to eat include arugula, asparagus, beans, broccoli, brussels sprouts, carrots, cauliflower, celery, kale, lettuce, spinach, peas, and squash.
Nuts
Perhaps this is the most obvious of all the suggestions, as the most common images of squirrels shows the stereotype of a squirrel with its cheeks full of stored nuts.
acorns
almonds
butternuts
cashews
chestnuts
hazelnuts
hickory nuts
macadamia nuts
pecans
pistachios
and walnuts are all favorites.
Lastly, it is vital to make sure the nuts are unsalted for safe, healthy digestion.
Seeds
Like nuts, squirrels enjoy eating seeds and can benefit from the abundant nutrients that reside within their small stature. They are easy to store but are also high in fiber, so they can remain satiated longer.
Healthy seeds for squirrels to eat include poppy seeds, pumpkin seeds, safflower seeds, sesame seeds, and sunflower seeds.
What not to feed squirrels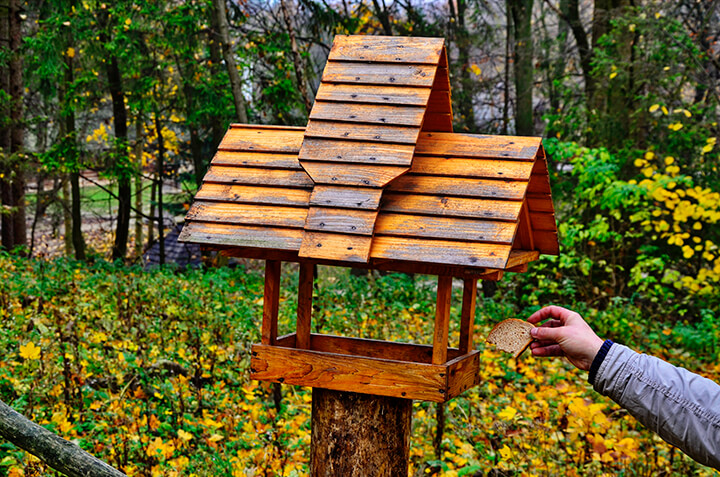 As previously mentioned, squirrels are opportunistic feeders, so they are not picky eaters but will eat almost anything that they come in contact with while hungry.
Because of this, it is crucial to ensure that the food we are providing squirrels with will not make them sick or be difficult for their digestive systems to process.
Foods with little or no nutritional value are also less than optimal for feeding squirrels because they will fill up on these foods without attaining the nutritional values they need to live healthfully.
Corn
While corn can be appropriate in some instances, such as being fresh and cut up into small pieces, it can also be dangerous.
Squirrels have a tendency to gorge themselves and overeat, and corn is difficult to digest, particularly in large amounts. It can also grow mold quickly, which can be toxic or even fatal for squirrels.
Therefore, if you choose to feed your squirrels corn, be aware of these common predicaments!
Peanuts
Peanuts are commonly perceived as a nut, but they are, in fact, a legume. Peanuts do not carry as much nutritional value as other nuts, and they are hard to remove from the shell.
If peanuts are unsalted and shelled, a couple of peanuts will not hurt the squirrel, but it should not be the primary food source.
Cereal
Squirrels will be temporarily happy if you leave out dry cereal. Still, they will quickly gorge themselves with little nutritional value to boast on!
The sugar content might bring them back for more, but it is not healthy for long-term feeding. Because of this, it is wise to find other nutritional sources of food to feed your backyard squirrels.
Dairy Products
Because this is not something a squirrel might come across in nature, it is best to avoid feeding squirrels dairy products.
They might eat the savory treat, but it is hard to keep it from spoiling, and it is more difficult for a squirrel's stomach to digest.
—-
These tips and tricks will ensure that your backyard is a safe place for squirrels, where they can be adequately nourished while enjoying the space.
As the summer months begin and we make plans to spend more time outdoors, our hope is that your backyard will become a place of refuge for both you and your furry neighbors!
—-
Sources:
https://www.squirrelcontrol.ca/blog/what-should-you-not-feed-squirrels/
https://animalinfoworld.com/what-do-squirrels-eat/#What_Do_Squirrels_Eat
https://feedingnature.com/tasty-foods-you-can-feed-squirrels-and-what-to-avoid/