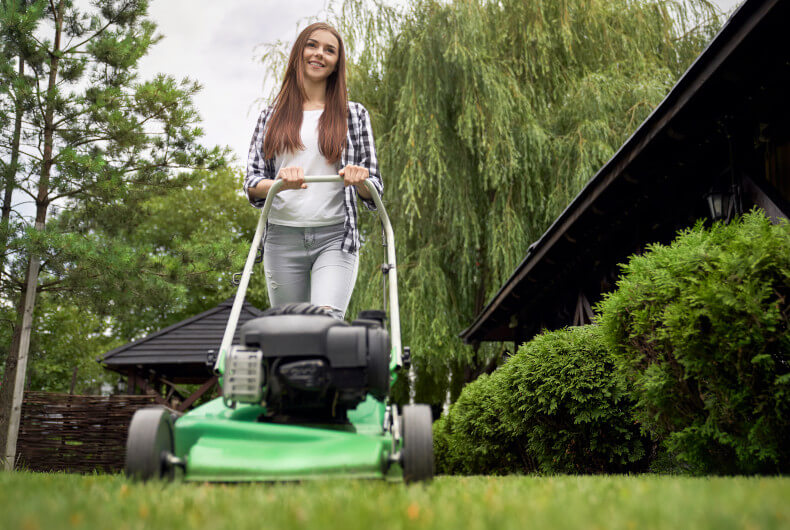 Lawn mowers are outdoor tools. They're going to be exposed to dirt, grime, and moisture.
However, they're similar to water-resistant watches. You can get a lawn mower wet, but you shouldn't subject it to excessive moisture.
One rainstorm probably won't hurt your mower, but repeated exposure to the elements can damage it over time.
Can I Leave My Lawn Mower Outside?
Leaving your lawn mower outside isn't the best idea. One of the main reasons to store your lawn mower properly is that the parts will stay clean and dry with proper maintenance.
Wet weather is undoubtedly a concern if you leave your lawn mower outside. But rain isn't the only thing that causes moisture problems.
High humidity can damage lawn mower elements over time. Fluctuating temperatures generate condensation, which can be as damaging as a rain puddle.
When it gets cold at night, water droplets form on the mower. This can happen even if the appliance is covered. The sun should dry out the moisture the next day.
But if this happens every night, the lawn mower will start to rust and show other signs of premature wear and tear.
Even if you don't leave your lawn mower outside, you should ensure that it won't be exposed to moisture. That means that you should repair leaks in your garage or shed.
Store the mower on high ground that is not likely to flood.
You can even damage your lawn mower by cleaning it the wrong way. Most push mowers have a nozzle on top that serves as a deck wash-out port. Connect your hose to it to flush away dirt and debris.
Never use a power washer on your mower. The pressure will force water into internal areas where it doesn't belong.
What Parts of a Lawn Mower Shouldn't Get Wet?
Lawn mowers are as waterproof as you are when you're holding an umbrella. You might stay dry in a sprinkle, but your legs and feet won't be protected well in a downpour.
The external elements of a lawn mower are designed for durability. The deck, wheels, and handle are pretty water-resistant. But these parts won't stop working if your lawn mower gets wet from time to time.
Still, chipped areas that reveal the metal underneath are susceptible to corrosion over time. As your mower gets dinged and scratched over time, it can become riskier to leave it out in the rain.
A lawn mower relies on combustion to start. If you have ever tried to make a fire with damp wood, you know how that goes. Wet parts have a hard time combusting.
The engine won't start when the carburetor, spark plug chamber, or air intake ports are wet. Usually, the problem will disappear when those parts dry.
You don't need a lot of water in the gas tank to create big problems. Water can seep into the fuel tank through lesions caused by corrosion, a loose gas cap, or gas line leaks.
Fuel and oil won't corrode the tank, but the water will. It sinks to the bottom and gradually destroys the tank. Gas that has been contaminated with water will have bubbles in it.
Water can get into the oil tank, compromising the motor. As a result, the oil won't lubricate the engine properly and can cause permanent damage.
For example, your lawnmower may work for a while with wet oil, but the motor could eventually seize. When water contaminates the oil tank, the oil will turn opaque and white.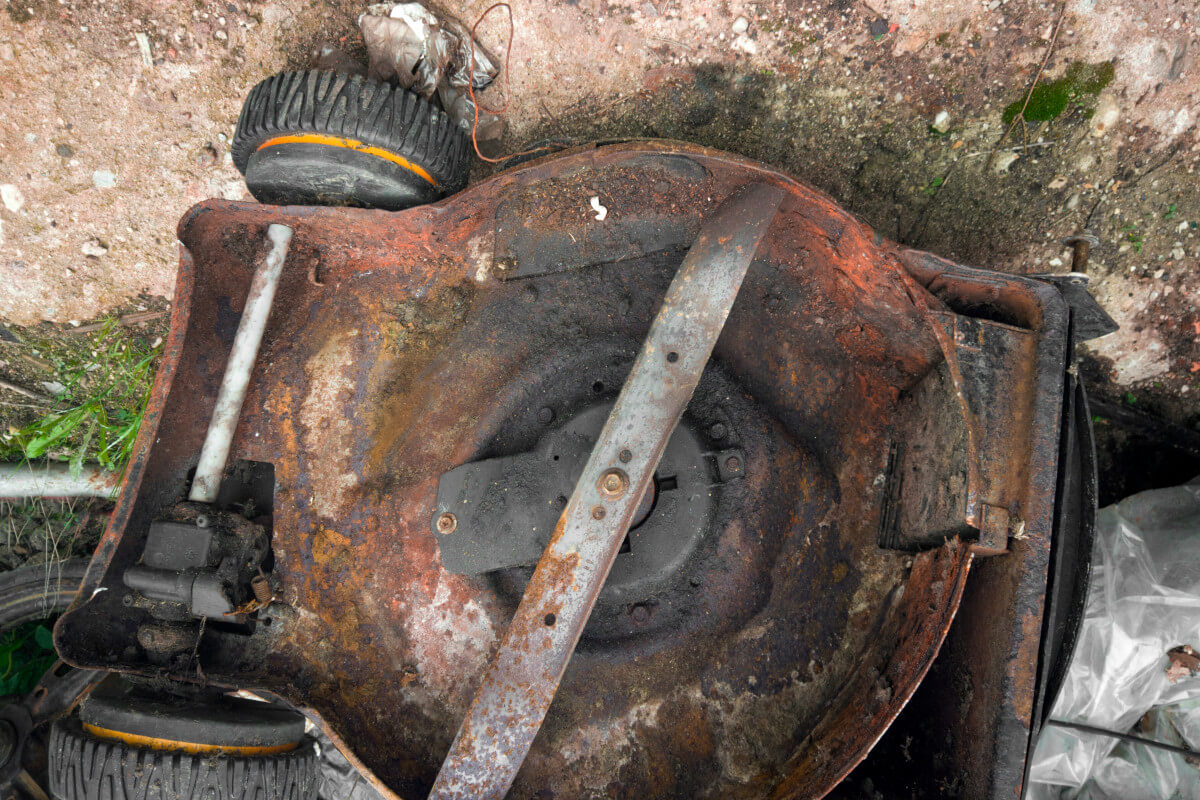 While the lawn mower blades can get wet, they shouldn't stay wet for long. The blades are typically the only part of the lawn mower with exposed metal.
Repeated exposure to moisture can corrode them. Also, rusty, dull blades don't cut your grass well.
What Happens to a Lawn Mower That's Left in the Rain?
Have you ever cut your lawn mowing session short because of rain? Perhaps you forgot to drag the mower in as you ran for cover.
Your lawn mower is going to get wet, but the exterior should protect it to some degree. Still, moisture can seep into the interior and damage exposed parts.
Some issues that happen to a lawn mower that's left in the rain include:
Wet spark plugs
Water seeps into the fuel or oil tanks
Exposed metal parts rust over time
It's riskier to leave an electric mower in the rain than a gas-powered one. Electric mowers enclose the motor and battery in a waterproof case.
Water can get in through vents and openings in the case. Moisture can damage wiring and connections, causing your mower to stall.
Leaving a lawn mower in the rain isn't the only way to trigger moisture damage. For example, mowing wet grass can create a buildup that is hard on the engine.
Likewise, running through cold puddles when the motor is hot can damage it.
My Lawn Mower Was Rained on and Won't Start. What Should I Do?
Once you realize that your lawn mower was rained on, you might feel an urgent need to make sure that it still works. But a wet lawn mower isn't likely to start.
Don't panic. Let it dry out before you attempt any troubleshooting techniques.
If the mower doesn't start once it is dry, try putting starter fluid in the carburetor. If your motor runs after that, keep it on for several minutes.
Running the mower on neutral will generate heat, which will help dry any parts that are still wet.
Don't be surprised if you hear strange noises. The mower might run rough until it is completely dry.
You shouldn't use it to mow the grass until you're sure that it has dried.
After you turn the mower off, remove the air filter. Clean it, and allow it to dry.
Are you still having problems? Take the following steps to restore function to your mower:
Empty the gas and oil.
Replace the spark plug.
Inspect the coil for rust; replace it, or clean it with sandpaper or a wire brush.
With the coil removed, clean the internal magnets near the flywheel.
Use canned air to dry hard-to-reach interior components
If you have an electric lawn mower, act quickly. Don't wait for it to dry out before you take the following steps:
Make sure that the mower is unplugged.
Dismantle the lawn mower to gain access to the motor.
Dry the motor and wiring as much as you can.
Consider leaving it out in the sun or in front of fans to speed up the drying process.
Put electric contact cleaner on electrical connections to prevent moisture damage.
Test the insulation resistance with a ohmmeter; if the result is less than 100,000 ohms, let it dry more before using it.
I Don't Have a Garage or Shed. So How Can I Store My Lawn Mower Outside?
Storing your lawn mower indoors is ideal. But not everyone has this option. You can keep your lawn mower safely outdoors by following a few simple guidelines:
Keep it elevated
Storing your mower on the ground leaves it susceptible to flooding. It also restricts airflow. Even if your lawn mower never ends up in a puddle, it can trap moisture from the environment. Neglecting to keep it elevated can result in a coating of rust.
Cover it with a tarp
A heavy-duty tarp will protect the lawn mower from rain and flying debris. Make sure that the tarp has no tears, and wrap it over the mower tightly. Don't seal the tarp. It should be open at the bottom to allow air to escape and prevent mold and mildew.
Use a storage box
Get creative with plastic storage boxes. A large one may fully cover your elevated mower. Large yard storage bins are ideal for protecting equipment like your mower.
Buy a dedicated cover
Some manufacturers have designed waterproof lawn mower covers that work with any standard-sized model. These are made from more durable material than a tarp and often include UV protection.
Check on it
Inspect your mower regularly even when it's not in use. Look for standing water, condensation, and rust. If you notice chronic moisture, consider storing your mower differently.
—
A little bit of rain won't leave your mower with long-lasting damage. But longer exposures to wet elements can damage internal components and cause corrosion.
So to extend the life of your mower, store it properly, and dry it off after it gets wet.